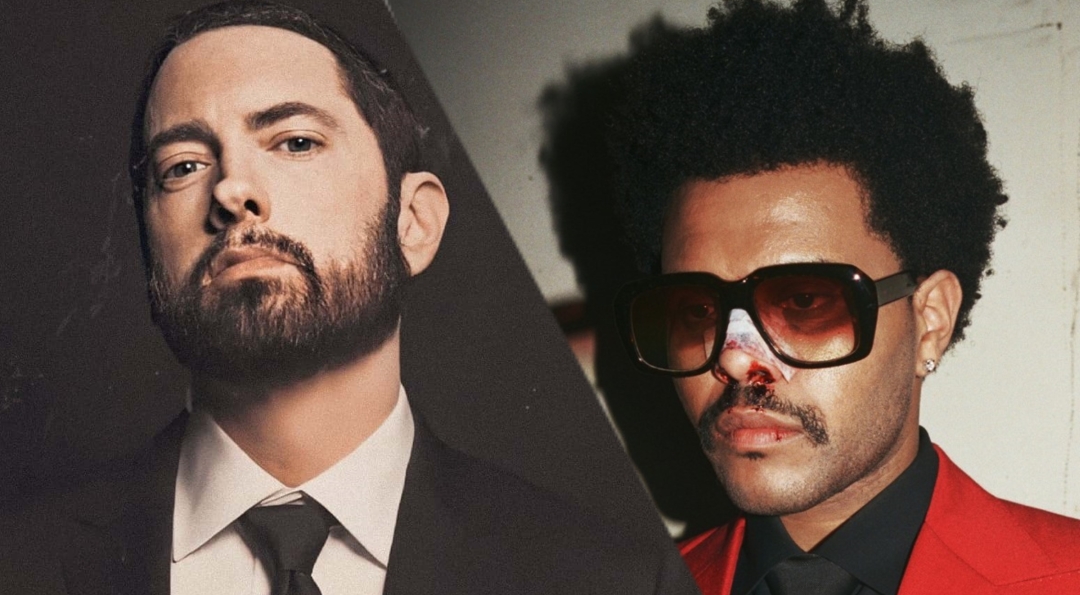 Eminem said years ago that the Recording Academy does not reward the best, and he is not interested in a rigged game anymore. More young artists now realise how right he has been all that time.
In 2021 Nas beat Royce da 5'9 to his first-ever Grammy. It is not that he did not deserve the award. He just should have got it way earlier.
Nas has been nominated 14 times, his wait lasted over 20 years. The Grammys is not the institution that pays much attention to current trends, though. They have their own motives that have very little to do with artistic integrity, and more and more musicians openly protest against it.
We all know that there is no love lost between Eminem and the Recording Academy awards. While he was among the firsts artists who snatched a prestigious back then award for the not that prestigious genre, the Grammys gave him more snubs than recognition.
In his famous "Kamikaze" interview with Sway Calloway, Marshall was brutally honest about his attitude and the Grammys politics:
Every fucking year. I'm tired of seeing it. For whatever reason, they're always pitching this hint that you might win album of the year, which used to be a big deal. I don't think it's a big deal now. I sat at home for the Grammys this year and watched Jay and Kendrick not get it, and I felt like one of them should have got it. I felt Joyner Lucas should have won a Grammy for "I'm Not Racist." Every year we went, I was up for the album of the year, and then "the winner is Norah Jones!"
Don't fucking get us all here, to use as your selling point for your fucking show, and stiff everybody every single fucking time. After that point in time, I said, don't ever ask me to come here again. My answer is no for a hundred million years.
This year a Canadian star The Weeknd, whose remarkably successful album "After Hours" was ignored by the selection committee, joined the boycott. He tweeted back in November:
The Grammys remain corrupt. You owe me, my fans and the industry transparency…

There is no transparency. So now The Weeknd forbids his label even submitting his records for the Academy consideration.
One Direction singer Zayn Malik who has embarked on a solo career and had good chances to get a nomination did not get it as well. He tweeted in more than exasperation:
Fuck the grammys and everyone associated. Unless you shake hands and send gifts, there's no nomination considerations. Next year I'll send you a basket of confectionary.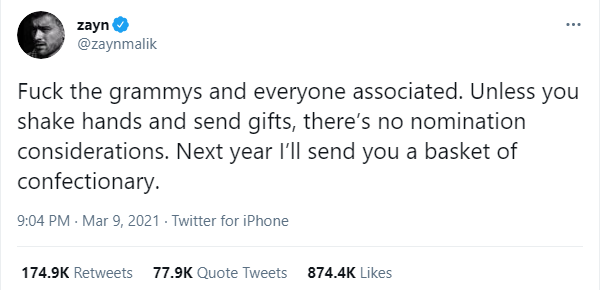 Confectionary might be not enough, as another young and popular singer Halsey suggested in her Instagram story:
It can often be about behind the scenes private performances, knowing the right people, campaigning through the grapevine, with the right handshakes and 'bribes' that can be just ambiguous enough to pass as 'not-bribes'.
Not all artists are consistent in their disdain for the Grammys, though. Several months ago, Kanye West was demonstratively urinating on his Grammy Award, and now the Recording Academy naming "Jesus Is King" Best Contemporary Christian Music Album winner.
Lil Wayne just chimed in with a short but decisive:
Fuk the Grammys
Fuk the Grammys

— Lil Wayne WEEZY F (@LilTunechi) March 15, 2021
Anyway, more and more artists are dissatisfied with how the Grammys handle the situation, and it inevitably changes the value of the award.
EJ Magazine #34 Side B Available Now
Good Evening, ladies and gentlemen. This is ePro with the new EJ. Perhaps, you have already noticed that this issue is special and complements the one that was released for MTBMB. We call it EJ #34 Side B. It's packed with exclusive hi-res images and photos that you've never seen before. They will make your heart skip a beat. Or ten.
So, sit back, relax and enjoy our reviews for Music To Be Murdered By — Side A & Side B… The coroner is on his way.
Download for free from ej.gs or Google Drive.
EJ 34 Side B Teaser: