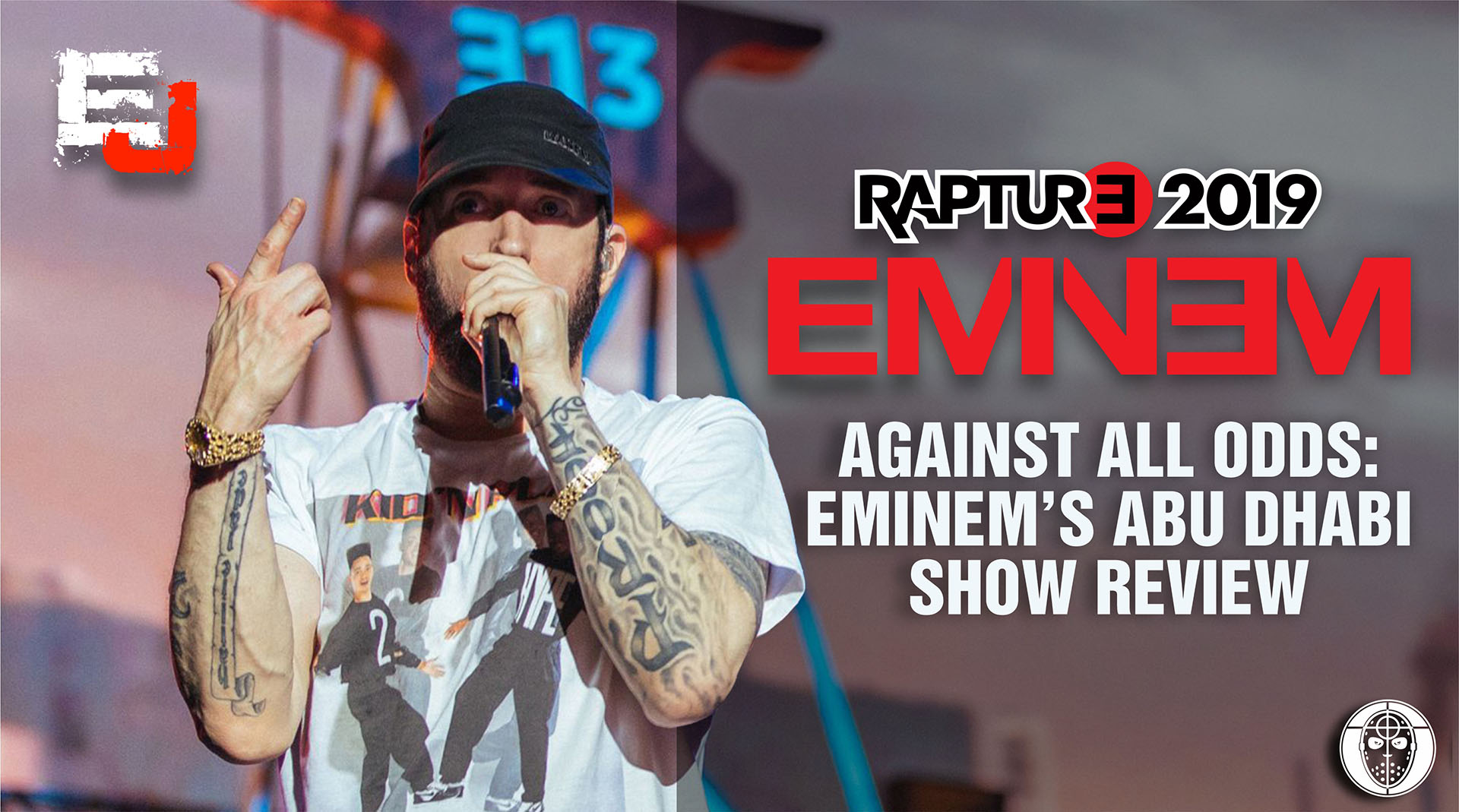 Read our exclusive review of Eminem show in Abu Dhabi on October 25, 2019. This article became one of the main features of Issue #33 of our magazine EJ. Promise, this longread will transport you right to the show. Enjoy.
Recently MTV shared the compilation of old Eminem's interviews taken in the early years of Marshall's career. When I was watching it, I had this feeling that I like "new" Eminem introduced to us in the "Revival" era much more than "early" Eminem of years 1999-2006. Currently my favourite track is "Walk on Water" and my favourite album is… As I wrote in my review, I really liked "Revival" and I had "Kamikaze" on repeat, and in general I feel that Eminem's work now is more mature as the author is himself. He does not pursue high ranks in charts, he is not interested in industry awards, but he keeps mastering rhymes folding layers of meanings in them, keeps offering his perspective on the reality he lives in. Yes, he has changed. As well as we have in these 20 years. We have grown up, we have stepped into adulthood, many have changed their points of view, habits, music taste, social circles and friendships.
Exclusive article from Igor Basenko
Back to Eminem, not only he has changed, the attitude towards him has changed too both from fans and from the general audience that consumes music and media content. Witch hunt against Eminem is only getting worse recently. Media keep chewing on him. Fans became insatiable. Just in several days so much content was dumped into the internet, but they cannot have enough. Some fans get excited and some get upset.
How does the prime Eminem's support, his fandom, look now? The Abu Dhabi show that took place on October 25 at Du Arena gave me a chance to think about it and to come to some conclusions.
Many fans, not necessarily Eminem, the fans of many artists of many genres, follow their idols on tours. There are even special tourism programmes called Music & Travel. Being a keen traveller with strong music allegiance, I often see the shows of my favourite artists and bands all over the world. For instance, I was at Eminem shows 15 times. At these shows I met real fans from different countries. And they met others. We all know each other one way or another. We might not know everyone by their names, we might not stay in touch in between the shows or send birthday messages but we recognise each other and see each other at the shows.
Dig EJ / Download (FREE!): PDF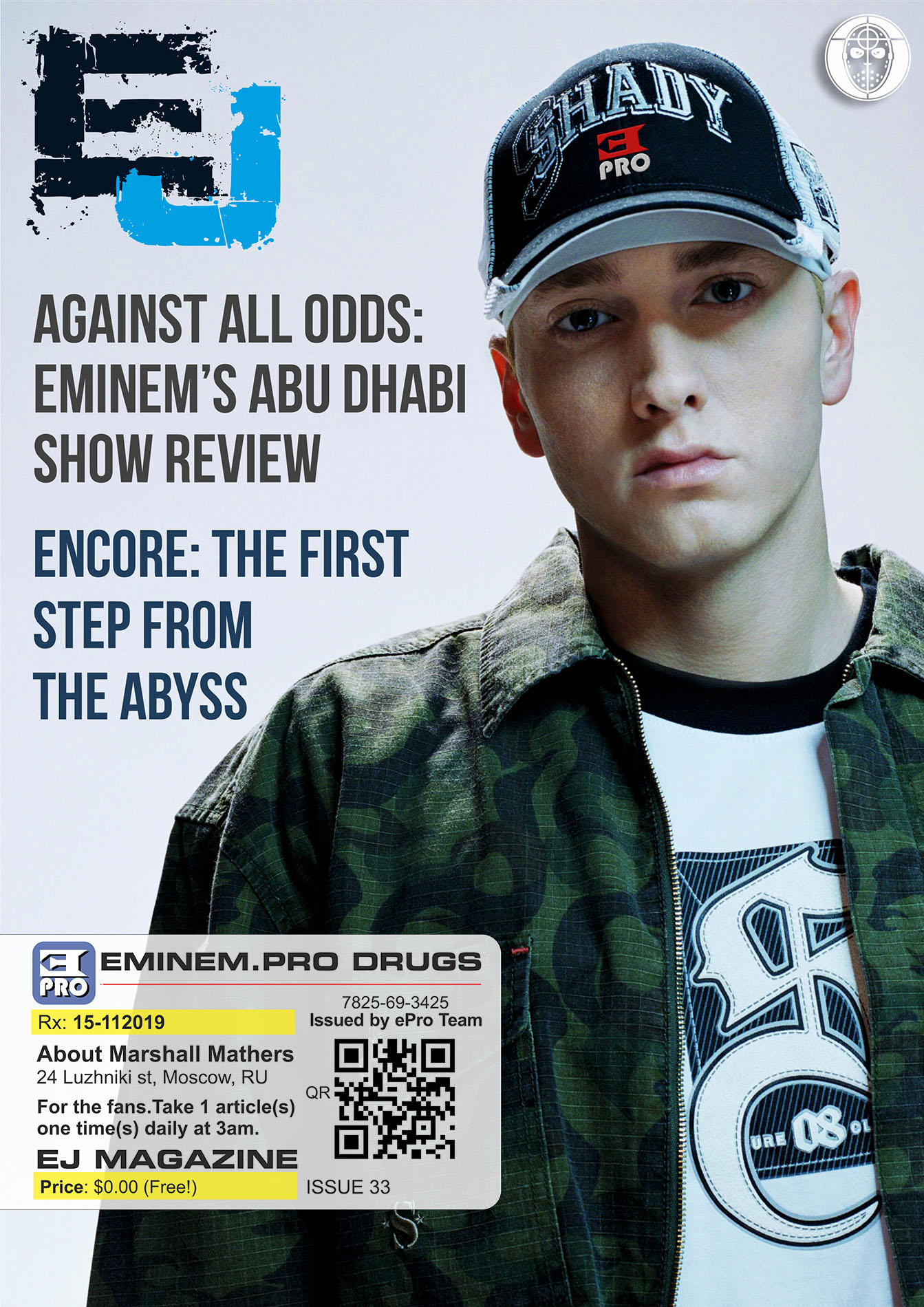 THE WORST ORGANISED SHOW
On October 25, the ePro team and 50 fans came in the early morning to find their place in the queue to Eminem show. We had designed and brought with us cool queue number cards and organised an orderly queue, having agreed, not without issues, with all fans on the procedure — entering the gate according to a queue number, set the rules of conduct based on mutual respect to fellow fans. We wanted all the fans to get into the arena peacefully, without incidents and stress, and enjoy Eminem show. For many Eminem fans who came to his show for the first time that was a dream coming true. The dream that was ruined by the show organisers FLASH Entertainment and their contactor G4S Security.
We gave out special queue number cards and presented the first hundred fans with a special gift from our editorial team. Everything was fine. The queue was organised, the fans were enjoying themselves, chatting and waiting for the gates to open.
— ePro Team (@Eminem_Pro) October 25, 2019
We have a few gift badges left to give out! Find us at the beginning of early entry entrance! 🎁 pic.twitter.com/mE0o3CTHfm

— ePro Team (@Eminem_Pro) October 25, 2019
11.30 am – We are sitting in the specking heat. There are 85 fans queueing already. It's boring and nothing is happening. pic.twitter.com/7pnxbb5jnL

— ePro Team (@Eminem_Pro) October 25, 2019
At 4 pm a G4S Security team arrived with a Flash Entertainment manager. They started to move the fan queue pushing people back. They didn't pay attention to the fact that there was already no space to move, they kept pushing people into the crowd that had been packed already, in the afternoon heat of one of the hottest countries in the world. "Don't care" was the motto of Flash Entertainment on the day of this show. Or maybe ever.
We referred our concerns to the FLASH Entertainment manager, inquiring why they were disrupting the well organised queue and behaving aggressively towards the fans. Their response was: "It's impossible to organize such a big crowd, we don't care if you run, it's up to you". Damn, everything was organised already. They did not care about people, about our safety, our well-being, anything. They only cared about the money they had got from ticket sales.
For the organisers of the show of one of the most famous artists you were behaving unprofessionally, and your attitude towards members of the audience who came from all over the world was below adequate. We paid for the most expensive tickets, but we only got a disgusting level of service and awful experience. At one point the staff, unable to control the situation in the venue, decided to make an impression producing truncheons. What the fuck were you going to do with them? Beat the girls at the front of the queue who could not step back because of people behind them? Who gave you the right to behave like this, you complete morons?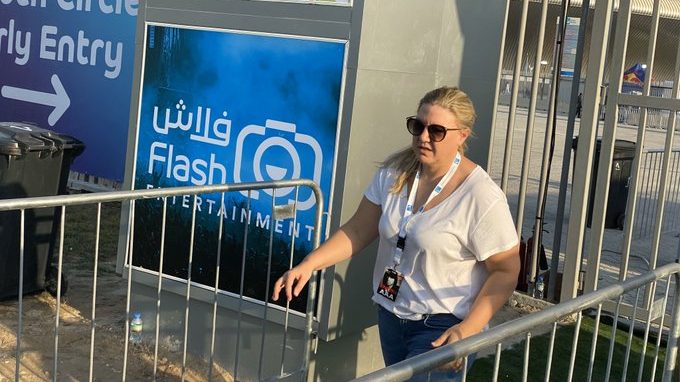 We were forced to spend an hour cornered in the dense crowd by FLASH Entertainment staff. It seemed like they did not understand what they were supposed to do and why they were there. They were not able to deal even with standard issues. For instance, somebody from the audience complained to the member of staff about cigarette smoke that caused them respiratory problems. This member of staff just said that he did not care. He did not even try to resolve the situation. We asked the person who was smoking to stop, and he stopped, that was not that difficult. This is a standard situation the staff should know how to deal with.
There were plenty of glitches with letting fans in and ticket scans, many people were let in without their tickets having been scanned. In the arena we were guarded into another fenced area where we spent an hour and a half. Apparently, the stuff that was supposed to work at the event just was not at place. We saw them hurrying through the gates while we were standing there in the heat, covered in sweat and deprived of water.
When we were allowed to move to the stage we had to run. You know what, it had been a while since I dashed to the front row with VIP tickets. Usually, early entrance ticket holders are let without jumble, to avoid stampede, fuss and possible injuries, but here organisers just did not care for our safety, as they told us openly.
Truncheons and neglect were not the only issues fans had to face. Organising the event in one of the hottest countries on the planet, FLASH Entertainment did not bother to provide water to the fans in a way it is usually organised at such events. Just imagine: 35 degrees centigrade, unbearable heat, tens of thousands people are locked in a dense crowd and there is no water because it was confiscated at the entry gates. How do you like it? After 30 minutes people started fainting of dehydration, they were evacuated from the crowd. After an hour dozens of fans fell victims of dehydration and exhaustion. People were begging for water, but FLASH Entertainment just shrugged it off, stating that there was no water. We could not get water at the place, we could not leave the place to get water. Ironically, the venue staff was provided with water and they were not shy to drink it in front of the parched audience.
You know what was even more ironic in this shitty situation? This circus was sponsored by Lay's, Pepsi and Du. Pepsi especially should be ashamed of being involved in this. The company producing soft drinks sponsored the event where tens of thousands of people were deprived of water and were fainting of dehydration. You should think twice before working with FLASH Entertainment again.
When we got to our places in the front row, I had a look around and spotted familiar faces. Almost everyone who was queueing with us from the early morning managed to get to the front row.
OPENING ACT
About an hour after we got to the stage the opening act started. That was the worst warm up I can recall. A small DJ table was placed in the corner of the covered with a white curtain stage prepared for Eminem. At 7pm a local DJ came to it and started playing somebody's tracks. He did not try to engage the crowd, he did not try to warm us up for the headliner. He just played records for two hours. While we were standing without water in the packed crowd in the 35 degrees heat. That was bad. Very bad. I had not seen a warming up act worse than that.
In addition, at 9 pm, when Eminem show was supposed to get started, there was an announcement that the show was being delayed. The entire arena was filled with booing and dissatisfied shouts. It became known later that at that moment there were thousands fans outside the arena who could not get through the entrance gates. This demonstrates the absolutely appalling level of incompetency of the FLASH Entertainment staff in all aspects from organising access to the venue to security checks to scanning tickets.
After that announcement the DJ decided to utilise Marshall's spotlights and started projecting light spots on the curtain. We all know what these searchlights mean. It's a damn Bat-Signal that marks Eminem's entrance. Thousands phone cameras were aimed at the stage with no Eminem in sight.
In our Twitter feed someone said that according to a backstage crew source there was a possibility of cancelling the show. That made me worried. Is it really possible to cancel Eminem show? For the first time in years? That was a gloomy prospect. White searchlights kept dancing, and when the fifth beam joined, the feeling that there was no show to come became even stronger.
Suddenly, the curtain fell. It was taken away clumsily and not without issues, in the same manner as the entire show was organised. For 20-30 second the stage was completely empty and dark. Then musicians, back-up singers and DJ Alchemist took their places. Then the opening video of giant Eminem destroying a city was projected on side screens. The organisers failed again, and the main screens on the stage came to life with a noticeable delay.
HIS SHOW CANNOT BE WRECKED!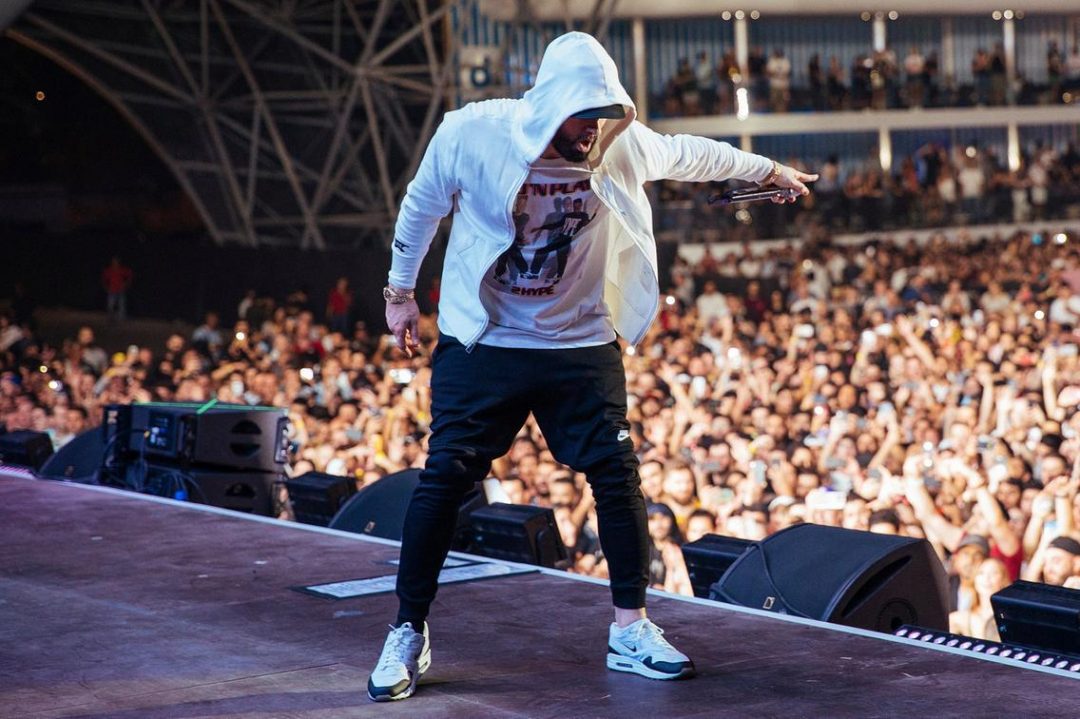 With more than an hour delay the show started, but Eminem, of course, saved the day. Whatever happened before, he came to the stage and delivered.
A helicopter was successfully smashed, a broken glass web appeared on every screen and the stage lit up. The mysterious sound of the show intro marked Eminem's entrance.
He started rapping while being backstage and stormed the stage spilling out his rage with "Greatest". At some point he came to the very edge of the stage as to show to everyone worried by the long delay that he was there in all his glory.
He was in a white hoodie (the one from the collaboration with Rag&Bone, very cool and of high quality), black Nike trainer bottoms, his signature Kangol baseball cap, a gold watch and a bracelet, and a white t-shirt with Kid 'n Play debut album "2 Hype" cover print. Back at his show in Wellington Eminem explained why at every show he wears a new t-shirt with some album cover print. This is him paying respect to great names in hip hop who contributed to the genre and inspired him. So, as Eminem said, if you don't know what is on his t-shirt, go back and listen to it and understand how hip hop has evolved.
The heat was extreme. Still, Em and Porter were running around and jumping on the stage adding to the heat. I could not help but notice that Eminem was especially emotional and emanated anger. It was evident on the transition to "Won't Back Down" that was filled with fury. Damn, that was the best live performance of "Won't Back Down" in my experience. You can watch out concert video to feel it.
Pay attention to Eminem's face. He clearly enjoyed the performance as much as we did listening to him. It seemed like Marshall was missing live shows in these months the same way the fans were missing him.
Before "White America" Porter mentioned the show delay: "Abu Dhabi! I say Abu Dhabi! How are you doing out there? Is everybody here? We were set to wait to get you everybody in here. Hey y'all, everybody's here in this bowl, have a look!". "How y'all in the back? We can't here you back there. What's up? Okay", — joined Em.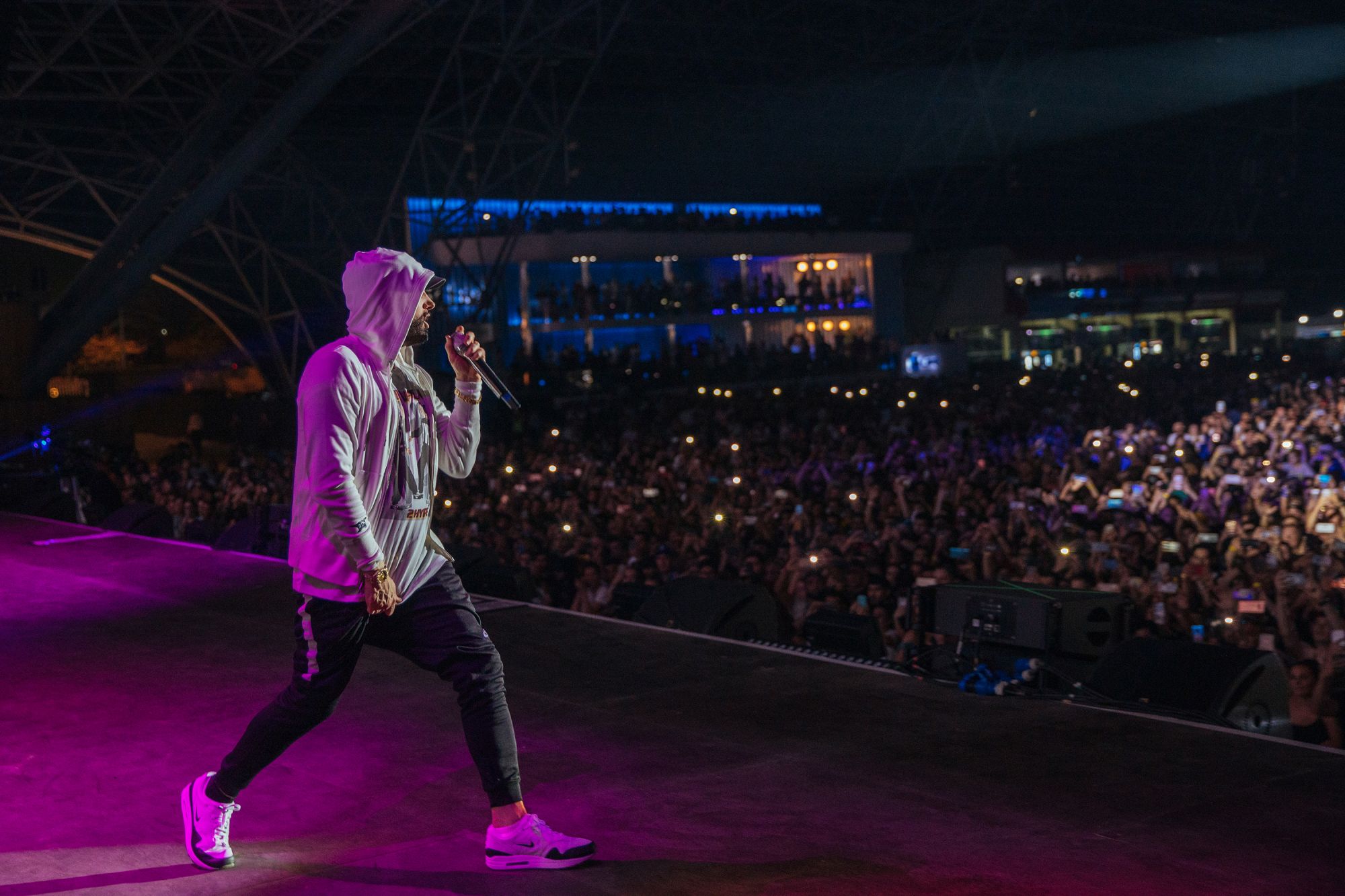 "I know we won't want start the show without everybody's being here. So. I don't know what is happening but that's good to see you everybody here. How you doing?"— Mr. Porter continued talking about the delay. It was good to know that guys had waited as long as possible to let all the fans to see the show. It again shows that Em and his team work on making our show experience the most enjoyable.
"Hey yo Abu Dhabi! It's been seven years since we fucking was here last. Did y'all miss us? Cause we missed fuck out of you man. We love y'all so much. Me and Mr. Porter we don't really like taking planes and we are not really crazy about hot-ass weather but we said fuck it because we are going back to Abu Dhabi, we're gonna see y'all, the people of Abu Dhabi! So I didn't fly. I jumped from the States and landed on stage. So Abu Dhabi, since we missed y'all so much man we sat on this 14 hour plane ride that sucked ass. So let me tell you a little something about where we're from" — this is how Em introduced "White America" to the public.
I told you, I bloody told you that live intro to "White America" gives me an eargasm… It sounds so cool.
After the first part of the show that Eminem usually delivers without breaks, Porter announced the arrival of Rap God. Marshall rushed out of the stage to the wing where he dropped his hoodie, had a sip of water and got ready to shoot his epic supersonic verse. When you watch the video of this performance recorded live from the front row where he is standing there and raps at supersonic speed — it is fascinating. But this time the bad organisation of the show resulted in a glitch. Right in the middle of the verse something happened to his mic and in-ear piece and it threw a spanner in Em's delivery. Watch the beginning of this entry on our channel to notice how in the very beginning of the song Eminem fiddles with the ear-piece and flicks it. However, being a professional, he powered through the song despite the issues.
People who goes to Eminem shows often know his set-list and how he performs and how he works on stage. I could feel that even beside these ill-fated glitches he was not satisfied with the organisation and it certainly affected his performance. Maybe it was not obvious for everyone, but dedicated fans who saw many of his shows also noticed that. Take for instance the ending of "Rap God". Usually, having finished raping, he turns his back to the audience and spread his arms as it pictured on the single cover. This time his arms stayed down. A tiny detail but it made a difference.
When performing "Sing for the Moment", Eminem, who came on the stage with a black towel around his neck, threw it to the front rows. Of course, a battle ensued to get hold of this artefact. It has been a while since Marshall threw something in the crowd. And it was funny.
In the beginning of "Like Toy Soldiers", following the tradition he set, Em asked all the fans to shout "Big Proof, we miss you!" paying respect to his best friend murdered in 2006.
The highlight of the show was the performance of "Lucky You". The track from the tenth studio album "Kamikaze" is loved by the fans and it was performed live for the first time for the fans in UAE. The crowd went nuts listening to it. On "Lucky You" Marshall rapped his fast verse flawlessly to the happy and noisy crowd.
On "Forever" Eminem almost never left the stage front and was bursting with energy giving his all.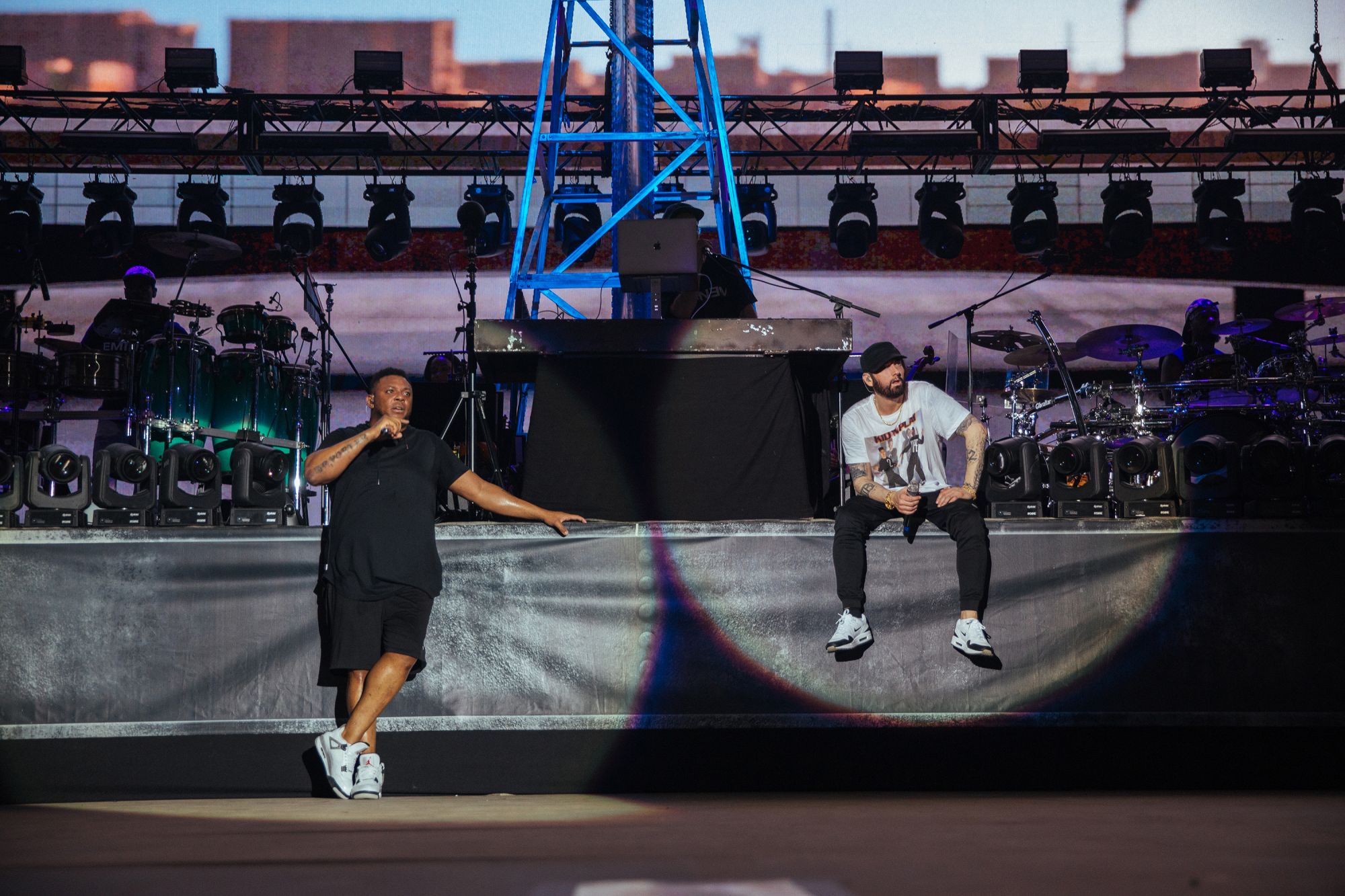 Having finished "Forever", Eminem left to the wings to have a water break. His hype man took a place at the DJ table and struck a long conversation with the audience. "Abu Dhabi, y'all still with us? I don't believe you. You ain't loud enough. I said, Abu Dhabi, are y'all still with us? Hold on man, on the count of three I need y'all to let me know, to let us know, to let Em know that y'all are still here. One, two, three. [YEAAAAAAAHHHHH!!!!!] I checked this up, I checked this up. So, how many real Eminem fans are here tonight? How many day one Eminem fans is in here? Okay, let me do a test. How many of y'all here get The Slim Shady LP? [A massive response from the crowd.] Okay, hold on. How many of y'all here get The Marshal Mathers LP? [AAAAAAHHHHHHHH!!!!!] Oh-oh, there are some. How many of y'all get Relapse? How many of y'all here get Recovery? Y'all don't really sound like fans, you sound more like… What is the word I'm looking for?" – Mr Porter asked Eminem who got back and kept quiet taking the interaction in. "Family, — chimed in Eminem. – You sound like family to us in here tonight".
"Okay, look family, – Porter took over the conversation again. — If y'all go around with us since day one then I know that you noticed that motherfucker's shoot. Right here." And that was a transition to "Just Don't Give a Fuck". Just imagine, this is the one of Eminem early tracks from 1998. Most of us were knee-high to a grasshopper back then. And he can still perform it live on stage, more than 20 years later. "Abu Dhabi, you know what time it is? Everybody put you motherfucking middles!", — Em threw himself in "Just Don't Give a Fuck" rapping aggressively.
One more surprise came to UAE fans with "Fall" that Em performed only at early "Kamikaze" shows. This is one of the major album singles and in the video for this track it was presented as a link between "Revival" and "Kamikaze", the story that continued on the video "Venom".
Marshall even mentioned attention seeking Lord Jamar who recently tried to question Em's position in the hip hop game. "I had a dream last night", — started Eminem just to be interrupted by Mr. Porter: "You had a dream and it was… it was hot?". "No, listen, — Eminem kept talking. — I had a dream that I was a fucking nobody who sucked at rap. And when I woke up you know who I thought I was Mr. Porter?".
Mr. Porter passed his: "Who?".
"Lord Jamar!!" — Em delivered the line with such comical horror that you could only appreciate his acting talent.
Mr. Porter: Really?
Eminem: But I don't really care Mr. Porter. Do you know why?
Mr. Porter: Why?
Eminem: Because I'm a Criminal…
And Eminem went into Criminal's intro.
Rewatching live videos, one can notice how expressive Eminem is on stage. His performance is thought through up to the tiniest detail — facial expressions, gestures that correspond with the narrative, body movements. Maybe that was not that noticeable before because it is difficult to spot from a distance, but modern cameras capture everything and make it clear to everyone to notice. This is high-end acting performance. Watch, for instance, the live video of "The Way I Am" and you will see what I mean. "Abu Dhabi, y'all still with us? We need y'all help us sing this motherfucking please" — asked Eminem before "The Way I Am", and thousands of fans joined in the chorus.
Eminem's band deserves a special mention. They added even more life to his performance. The final multiple guitars solo in the "The Way I Am" ending flagged the finale of the second "act" of the show (I believe that any Eminem show can be seen as a four-part play).
"BITCH, I WROTE 'STAN'"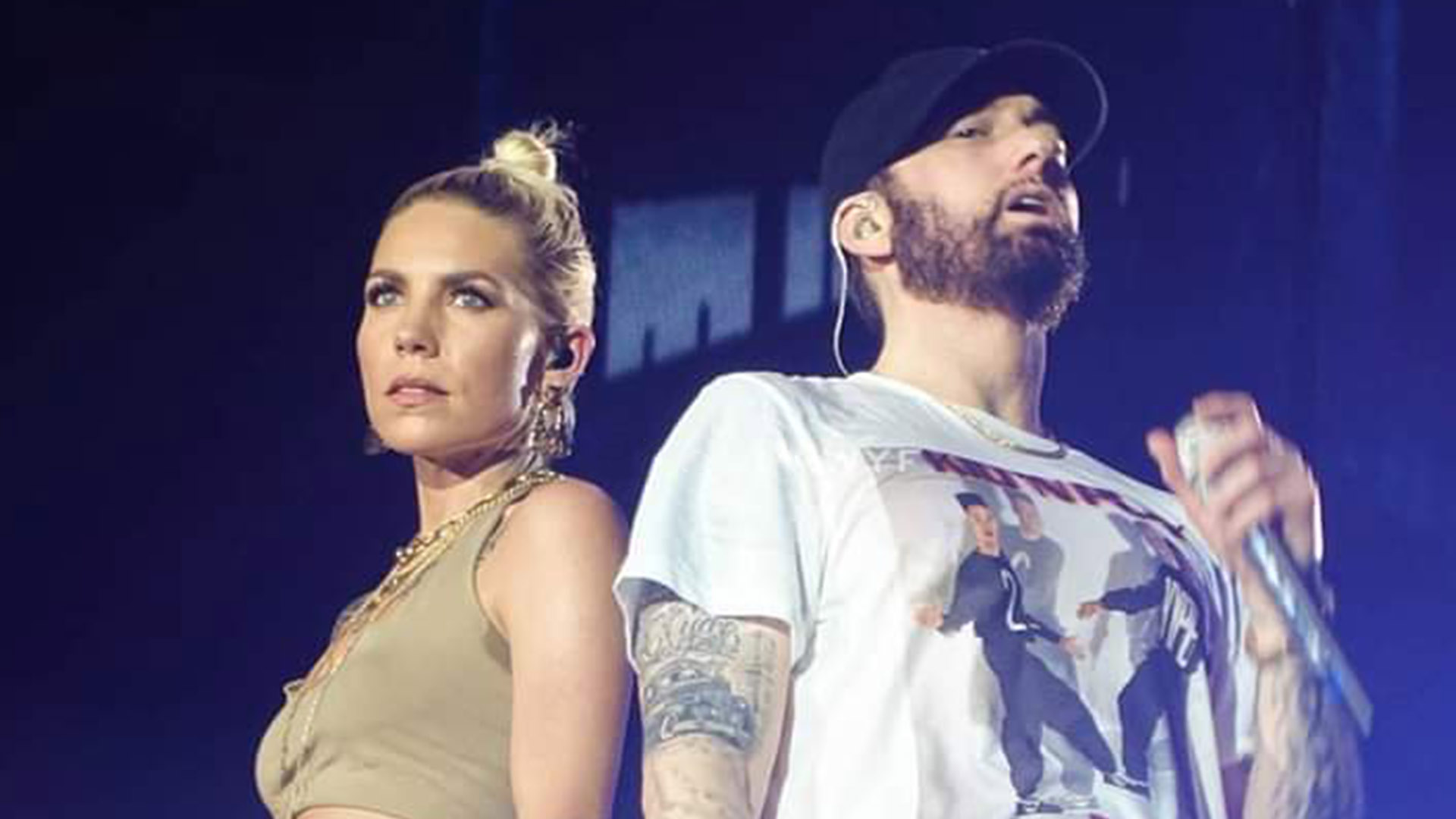 The third part of the show was my favourite. It started with "Walk on Water" with outstanding Skylar Grey on the chorus. Back then, before the "Revival" release, when ePro readers asked me about my favourite track, I would say "No Apologies" with no hesitation. Nowadays, my number one is "Walk on Water". I love every single line of this song that is full of meaning.
The meaning and the main topic of "Walk on Water" are inflated expectations from all successful artists which resonates not only with Em and Skylar but also with all this situation around Abu Dhabi show. People on social media started blaming Eminem for the bad organisation of the show. Of course, we only expect from him the best shows, the best service and the best performance. However, we should not forget that he is human just like the rest of us. He is not impervious to mistakes, he can forget a line just like any other person. Also, he has no power over everything that is going on around him. Let's not get riled up about it.
Interestingly, Skylar Grey, who had written the chorus for "Walk on Water", said in an interview that it was the song she had been trying to write since age 6, when she first took up the piano. Every time she wrote a song, she hoped it would be this good. It is symbolic that Eminem and Holly perform this deeply personal song together on stage, that both of them have gone through what they sing about.
Skylar Grey was standing in the limelight oozing sensuality. As my friend and ePro colleague Katya Malik noted, Skylar is at the top of her form. This entry was a delight, her voice was beautiful, and I couldn't take my eyes from her.
Eminem delivered "Walk on Water" in a very calm way, he was just standing by the mic stand and rapping allowing the public to enjoy the moment and take a breath. But everything changed in the end, when rapping the final line "Bitch, I wrote 'Stan'!", Em threw away the stand and transitioned to the next number.
In addition to "Walk on Water" Eminem performed two more songs with Skylar – "Stan" and "Love the Way You Lie". They go so well together. The intro with the sound of the falling rain was epic in the scorching desert heat. For many year Eminem tells his audience the story behind one of the most successful of his tracks that put the word 'stan' into dictionaries and gave it a life if its own.
The next song had also been created with Holly, and it was clear even before she started singing that she liked performing that track. She started "Love the Way You Lie" alone on stage, beautiful in the red beams of searchlights. And then Eminem stormed in the spotlight with his t-shirt sleeves rolled up showing his tattoos and transferring the stage into the scene from the "Love the Way You Lie" video. Their chemistry on stage was palpable.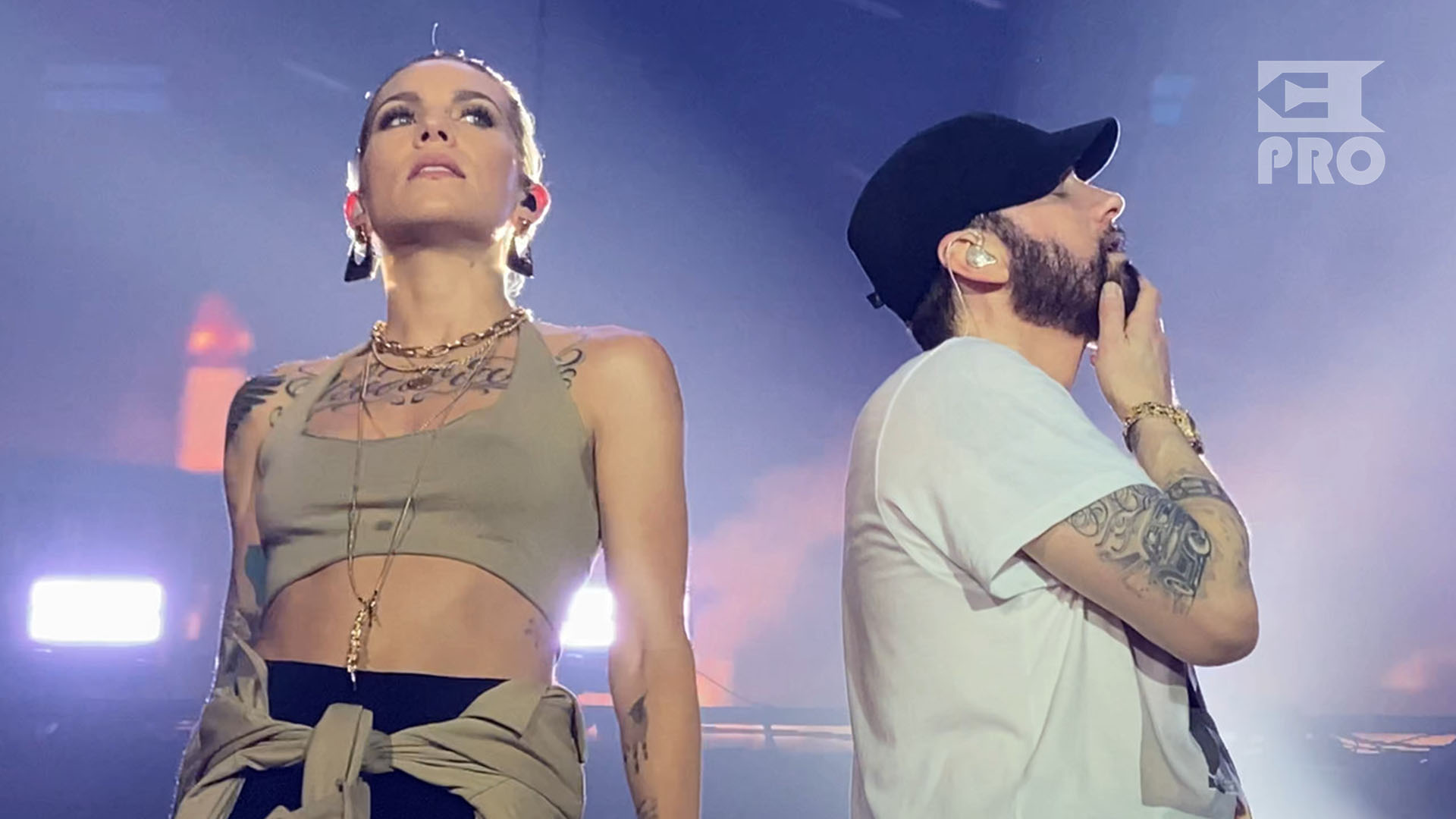 By the end of the song they moved to the centre of the stage, so close to us, and Eminem called "Abu Dhabi, make some noise for Skylar Grey!" And we made that noise because she deserved an ovation. Later their photo was shared by every fan-page because they looked great together.
"Hey ladies, are y'all here tonight? — Mr. Porter stepped forward while Eminem had a short break backstage. — Okay, I'm gonna make a check. On a count of three, ladies, I need each of you to make some motherfucking noise, just ladies. Ladies, one, two, three! Wow, hold on, alright, I need to do it one more time. One, two, three! [To Eminem:] Do you wanna do it?" An exciting new addition to Eminem's set list at the Kamikaze Tour is "Majesty", and Mr. Porter flagged up a transition to it. Eminem followed the suit with: "Hold on, hold on, hold on. What about the fellas? Fellas, where you are? Okay, we see ya. But ladies, I just want to ask the question. Is it cool if I dedicate a song to ladies right now? Okay. Fellas, don't get mad cause every other song is y'all. I'm kidding". Thousands of phone cameras turned to the stage to capture this moment, capture Eminem rapping his fastest verse, the one that he raps even faster than supersonic "Lucky You" and "Rap God".
After "Majesty" Eminem just smashed the stage delivering one after another his most fiery and aggressive tracks — "Berzerk", "'Till I Collapse" and "Cinderella Man". I wish he had used here the same video with mini guns firing from the giant boom-box he had used for one of his promo shows for MMLP2.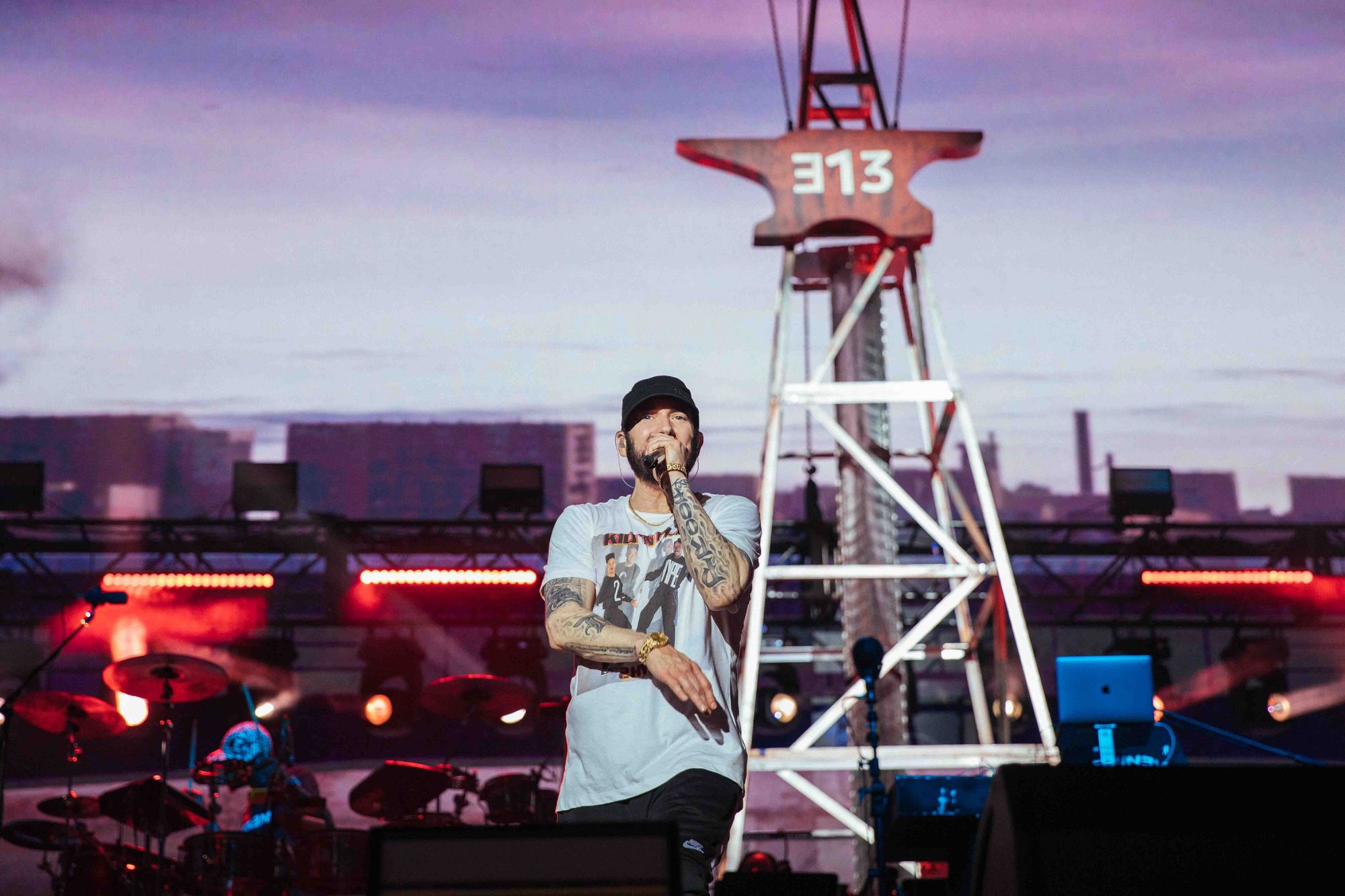 Between "Berzerk" and "'Till I Collapse", Mr. Porter started shouting "Fuck You" from the stage, it matched the beat and soon all the fans joined, echoing his words and clapping hands. I think these words were addressed to Flash Entertainment that failed to organise the event properly.
Before "'Till I Collapse" Eminem paid respect to Nate Dogg who passed away in 2011. And after that song DJ put on a sample from "We Will Rock You", the recognisable beat by Queen. It was an epic moment when thousands of fans joined the rhythm, repeating historic unity between the band and the audience familiar since Queen shows. This moment cannot leave anyone unmoved.
After "Cinderella Man" Eminem left for a short break and Mr. Porter started to entertain the audience.
"Just do a real quick soundcheck one more time. How y'all doing in the back? Y'all in the back, y'all over here, y'all over there, I count to three, make some motherfucking noise. One, two, three!.. Honestly, listen, I have a question for y'all. How many motherfucking real hip hop fans are in the house now? Who's here for hip hop? I am, because I love hip hop. We love hip hop all our life. And she brought us all the way over here to be in front of y'all beautiful people […]. But I have a question for y'all. My name, if you don't know, is Mr. Porter AKA Mr.[…] AKA, I don't know what else to say on AKA. But that's our DJ, his name is DJ Alchemist. I feel like I need another AKA, I've got short cause I got caught up in the moment…" That day DJ Alchemist celebrated his birthday and of course his bandmates took the chance to send him birthday wishes from the stage. "You have a lot of AKAs", — mused Alchemist over Porters statement. Mr. Porter did not argue: "I do. S'up, listen, we with Alchemist were having a long debate earlier today about what was the greatest hip hop song ever created, one of my favourite hip hop songs ever. And we couldn't narrow it down. But we could pick one and I want see what y'all think cause I was saying, and he was saying, that you probably know that motherfucking song. 'You wanna check it out with me real quick? I think y'all know it. Hold on, if you know it, you gotta say that you know and I win it. Y'all ready? Hold on, hold on. AL, drop that shit on" — signalled Mr. Porter and the beat dropped – the greatest hip hop hit of all time "Nuthin' but a "G" Thang" that Alchemist and Mr. Porter performed together. I love these moments at live shows, unique moments that cannot be repeated, the salt of live performances.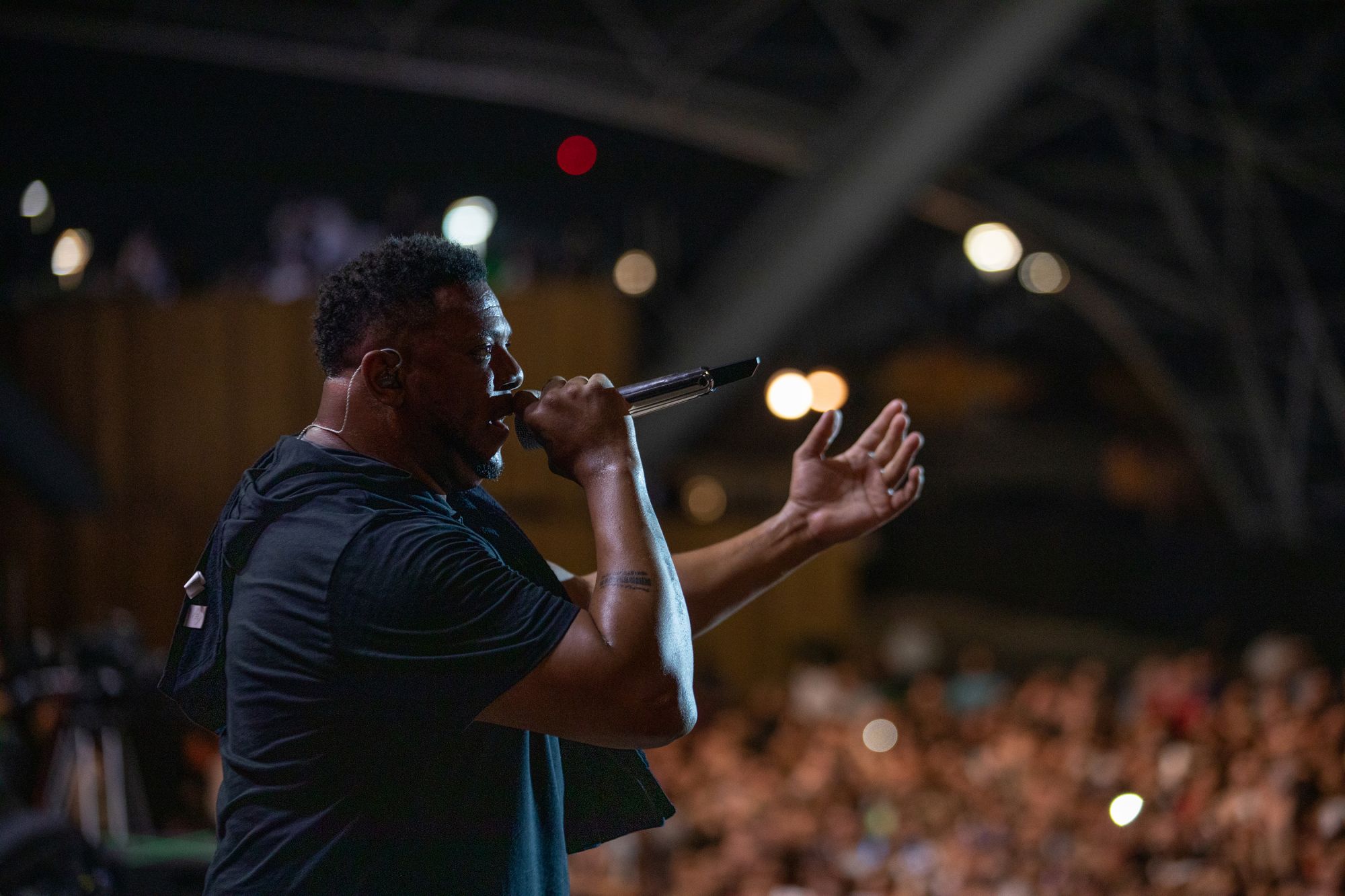 After "Nuthin' but a "G" Thang" Mr. Porter pulled Eminem into the conversation: "Hey Eminem, we are in the right place!" "Yes, we are, — agreed Em. — Ladies, there is one more song I want to dedicate to y'all", and "River"started with Ed Sheeran's verse while Eminem was entering the stage to rap his verse from the popular single from "Revival". I would not say that it is my favourite track, but it sounded amazing live.
"The Monster", however, which Em now sings with Skylar Grey, became the hottest number — virtually and literally. Fire columns of stage pyrotechnics were spilling heat into the front rows making this very hot day in Aby Dhabi even hotter. Another reminder about Flash Entertainment that tortured the audience depriving it from water. You are disgusting.
I used to think that only the front row could feel the heat from pyrotechnics, but now, having seen the proper fire show by Rammstein this summer, when the fire heat was noticeable even in the bleachers, I think that "The Monster" got fried everyone at the show.
Finishing "The Monster" Eminem once again asked to make some noise for incredible and wonderful Skylar Grey. She said thank you to everyone, hugged Em and left the stage.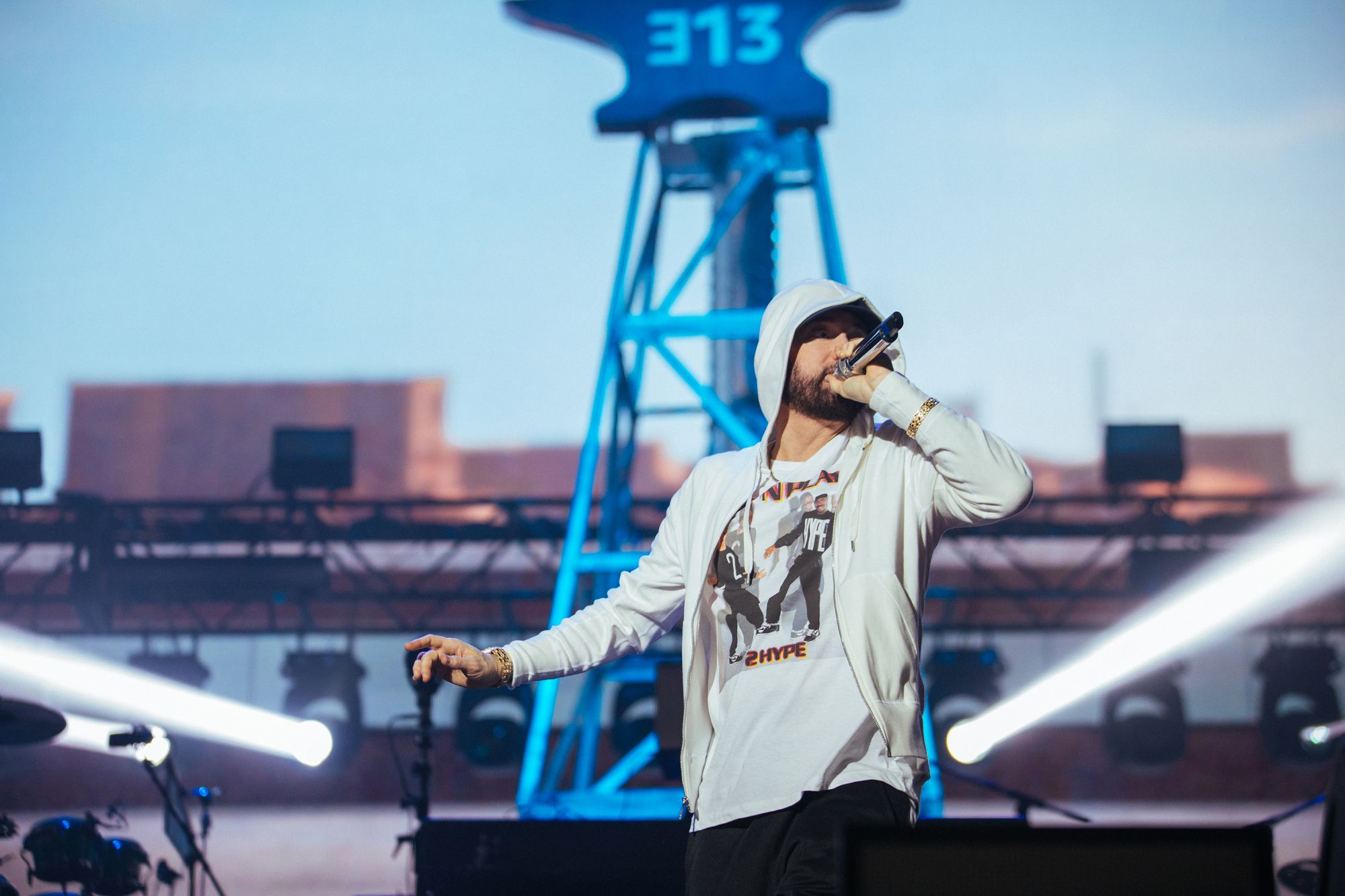 Hold on, did I mention that it was Alchemist's birthday? Yeah, I did. So, after "The Monster" Eminem and Mr.Porter started wishing him happy birthday. Flustered Alchemist was grinning. Porter asked to make some noise for Alchemist and all three of them made a selfie on stage. Em, as usual, made a funny face.
WILL THE REAL SLIM SHADY PLEASE STAND UP?
Having finished with birthday fun, Em and Porter moved to their playful routine with the audience that led to the final part of the show.
Mr. Porter: All the way over here, everybody all the way back on this side, they are louder than everybody over there. Make some noise up here.
Eminem: Abu Dhabi, can I do my side real quick?
Mr. Porter: Which is your side? Don't try to come over here. You get it, this is the line. Don't cross it right here. Come on, where are you going? Where are you going, where are you going? I'm sick of this shit y'all.
Eminem: So my side from here, hold on, from here [runs across the stage] to here. I think we won.
Mr. Porter: Alright, look. This is really incredible time for us because I believe when we used to do shows back then we couldn't remember shit 'cause we used to be so fucked up we couldn't remember nothing. So tonight is special because we get to remember how motherfucking incredible all y'all motherfucking was in Abu Dhabi.
Eminem: Is there anybody's in here who might be fucked up? On some kind of something? We gotta say don't. 'Cause you gonna be mentally, mentally fucked up too. How many people in here are mentally fucked up? Abu Dhabi, can we take you back to a motherfucking time… Abu Dhabi, can we take you back to when we used to get fucked up? Can we take you back to when I first started becoming mentally ill? Hold on, one more time. Abu Dhabi, can we take you back to that time?
Em did not even finish his line when "My Name Is" started. We went right to 1999, to the beginning of Eminem career when he just got famous. Everybody knew that track and everybody rapped it together with Em and after that without missing a beat moved to having fun to "The Real Slim Shady" and "Without Me".
And don't even try to tell me that you have never mimicked the lines "May I have your attention, please? / Will the real Slim Shady please stand up? / I repeat, will the real Slim Shady please stand up?" to "The Real Slim Shady" or have never sung along "Guess who's back, guess who's back" to "Without Me". I don't believe you. Damn, you would at this show!
That cheerful "La la la la la, la la la la" was so catchy and uplifting… But a shot rang out and Em shouted his final "Kids!" and moved to a serious topic.
"That's the best motherfucking crowd we've ever had", – Mr.Porter went off. "No disrespect to any other crowds we've been with, – added Eminem. – You might be louder now than y'all were last time we came here. … Right Abu Dhabi. Before we get out of here man, I want to dedicate this last song to anybody and everybody who's been through some kind of struggle and also even if you have it Abu Dhabi, this song is for y'all 'cause y'all helped me get through mine". The final entry started. The main Eminem anthem "Not Afraid". Everyone who has ever faced some shit and has gone through hard times can relate to this track.
Eminem finished with: "Abu Dhabi, if y'all motherfuckers enjoyed yourself as much as we did… Abu Dhabi, one more time, I hope you had as much fun as we did. Abu Dhabi, thank you, I'm coming out man, drive safe, we love you, we love you". And he left the stage.
Eminem performed in UAE for the first time since 2012 and it looked like many people did not even know what to expect. Some even decided to leave…
The band started playing a coda to "Not Afraid" and for a moment the stage went dark.
ENCORE.
"…IN ONE MOMENT"
And suddenly all screens transformed into an enormous universe filled with billions of stars. A mysterious intro to the final song of the show started. It was a magical moment. Simultaneously soothing and exciting. When the band started playing "Lose Yourself", everybody went quiet for a moment. Eminem entered the stage, no, he stormed onto it, his sleeves rolled up, and started rapping his main hit. Performing an encore for all his fans who missed him in the long months of his silence.
Recently Eminem tries to add some new details to each closing performance of "Lose Yourself". In Australia he added some funny moves and in Abu Dhabi he decided to make heart-hands to the fans. So passing by me, he noticed my camera and made a heart right for it.
Just look at Eminem's face when he was running up and down the stage in the ending part of "Lose Yourself". He looks happy and excited. I believe that he likes performing for us as much as we like watching him, he gets thrills on stage and the audience gets them too.
"We love you! — shouted Eminem to the crowd and noticed that Mr. Porter was trying to make a video of him. — Fucked you up with them…". "You got it, — laughed Mr.Porter who tried to capture Eminem reflecting lazer beams pulsing in synch with drum accents. — Pull for the break! Do it again, do it again, do it again! I've got ya, I've got ya!". He had got him, you probably saw the result already.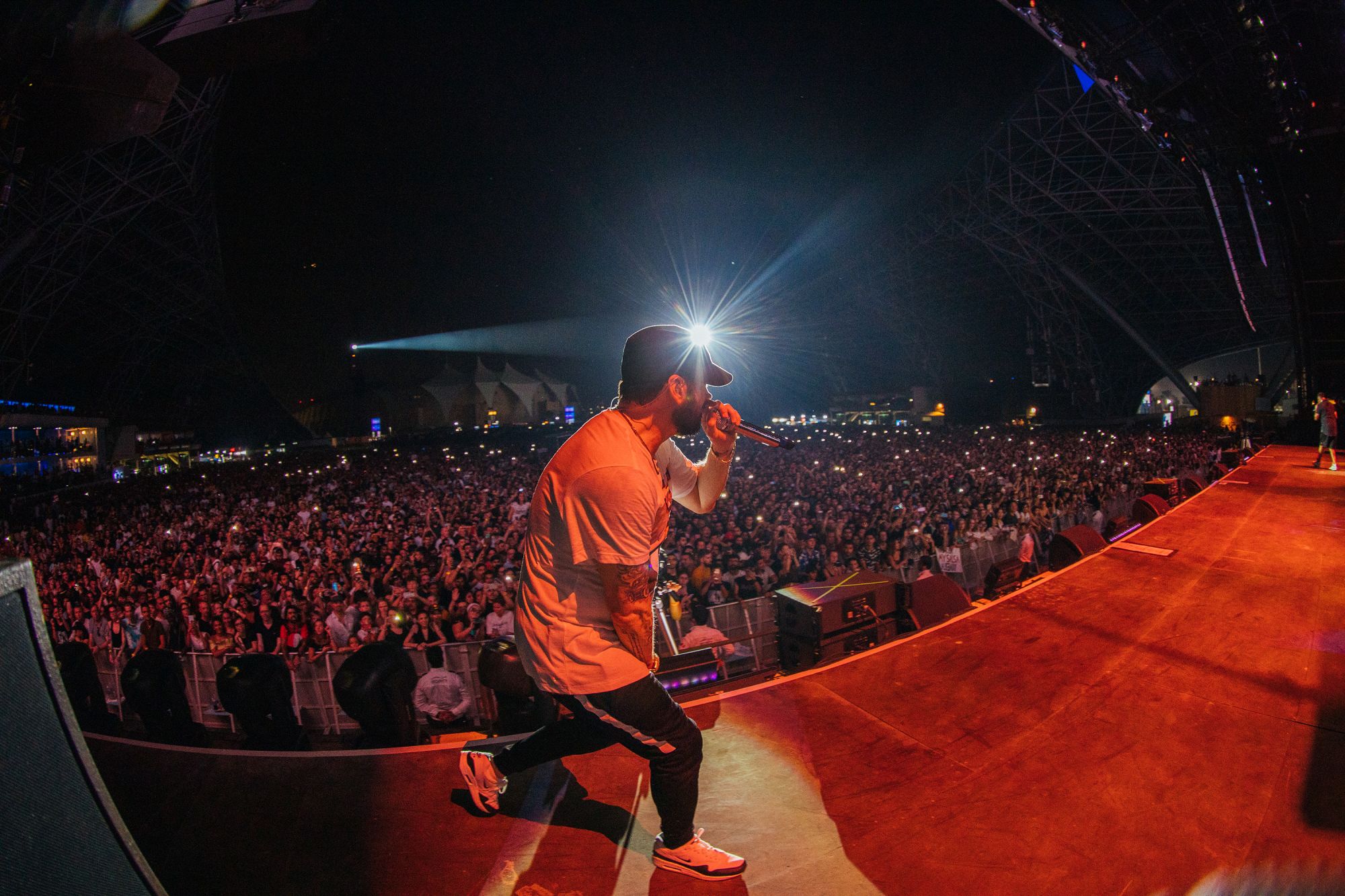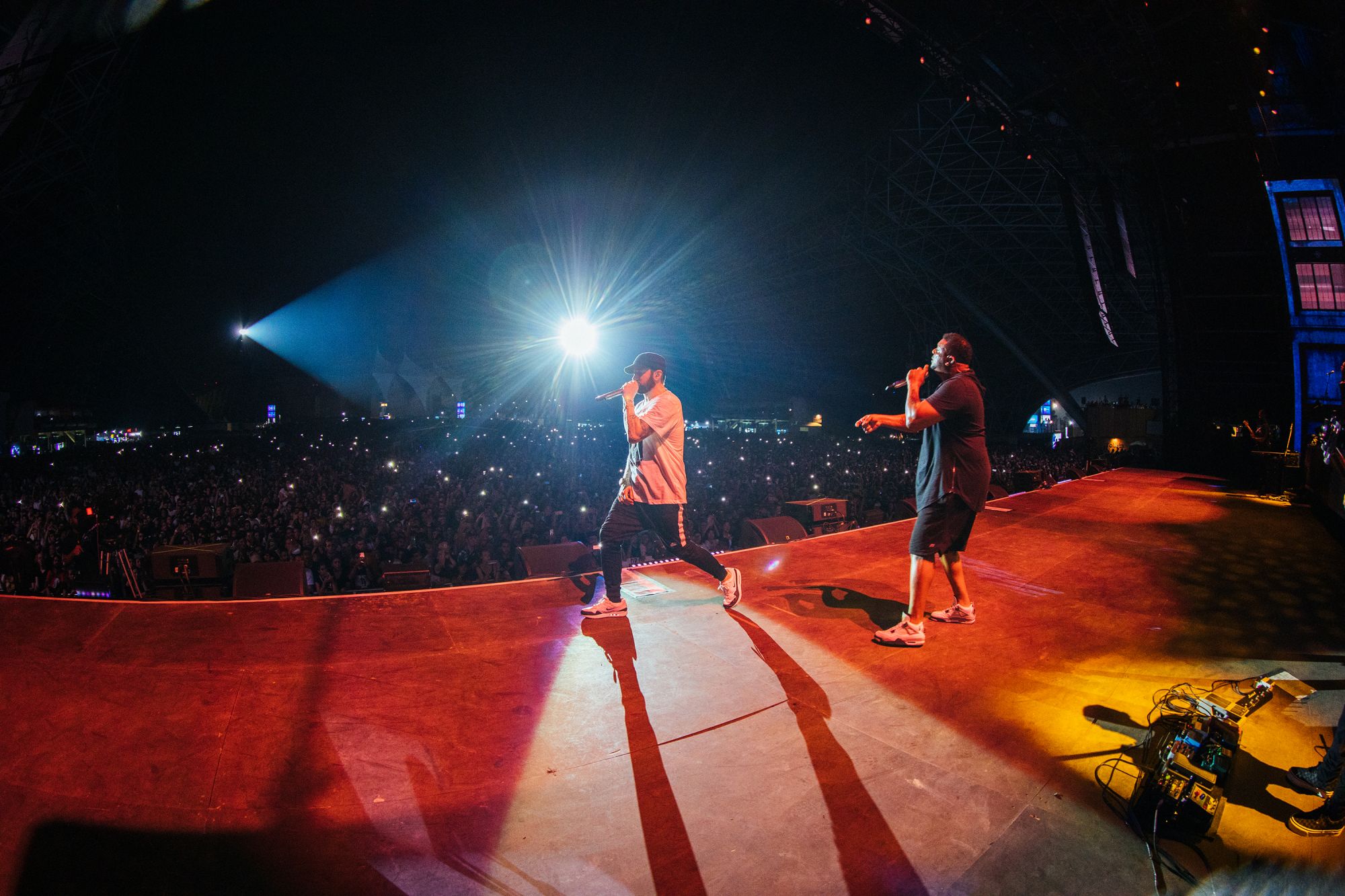 "Abu Dhabi, god damn, y'all are incredible, make some noise for yourself y'all. Abu Dhabi, everybody make home safe. We'll be back" — shouted Eminem leaving the stage.
Hold on, did he forget something? Of course, he had to make his signature gesture, his middle fingers… "In the back, I see you, I see you, on top, on the sides. We love you, we outta here, until next time Abu Dhabi, peace", — Em popped in the back on stage for a moment showing his middles.
At his recent shows the set-list is not different and I tried not to repeat myself in this review focusing on the most exciting moments of the Abu Dhabi show. Hope you liked it!
GAVE HIS 101%
Just 10-15 years ago it seemed impossible to see Eminem show, not even to mention to see him, one of the most mysterious and removed from the public eye artists, at a distance of a couple of meters. I said it before in my articles on ePro and I will say it again, Eminem shows are incredible, thought through down to the tiniest detail, it is exquisite and you have to see it at least once.
In recent years I have been to more than a hundred concerts all over the world from small gigs of local acts to the shows of the most best-selling artists, including several Eminem shows in different countries. This experience allows me to form and express my competent opinion on what was going on at Du Arena. I have never faced the shit I saw at the event organised by FLASH Entertainment. This Abu Dhabi show is the worst organised event I have been to, and only because of Eminem's talent we were able to forget this mess and seize the night.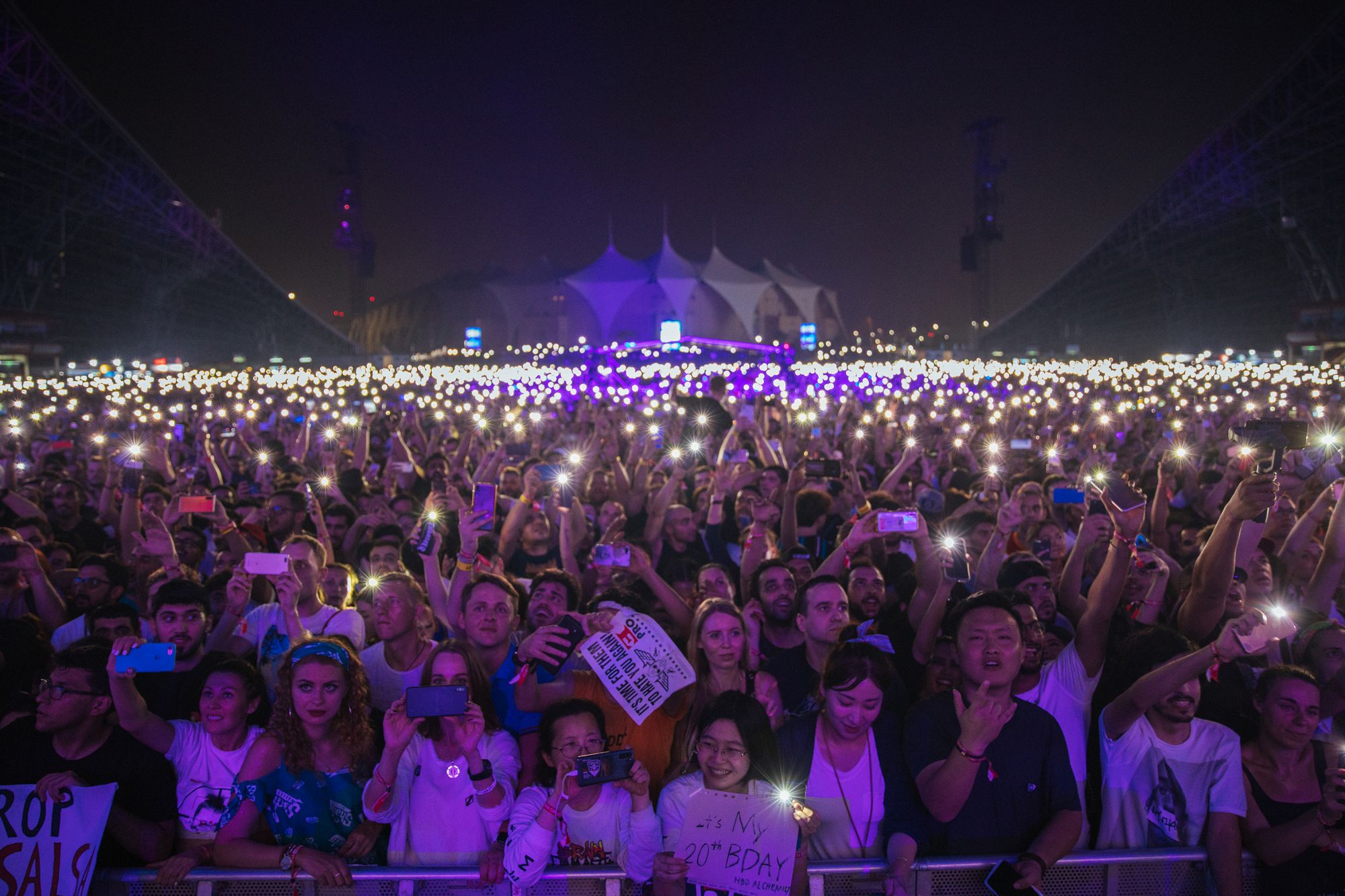 FLASH Entertainment keeps pretending that everything is fine, that everybody is happy. They post photos in social media with cheerful captions, describing their success in putting up an "amazing show". But if you open the comment section in any of these posts you will see many and many Eminem fans leaving angry comments and describing the way the show was organised as "the worst" and "awful". And I can relate to the anger and disappointment of the people whose night was ruined by this company.
Many people on social media started blaming Eminem for the badly organised show, which is not fair. This is absolutely not his fault. He came on stage and delivered, he gave 100 percent. Meanwhile FLASH Entertainment have not even apologised and now they just delete comments from the public, trying to mask their incompetence.
I hope that our experience that we share with your through our writings on ePro will help you one day to get to Eminem show, or any other show, safely and without issues.
#SHADYFAMILY
Hold on, there is one question left that I asked in the beginning of this article. How does the core Eminem fandom look now? Eminem fans have changed in these 20 years. However, I am glad to see that the fandom core that was built a long time ago still supports Marshall. For instance, at this show we met a girl who went to his show in 1999 and now, 20 years later, she is grown up but she still listens to his music and goes to the front row at his show. In the entrance queue we met a girl who grew up listening to Eminem music and kept listening to it since. She was in a beautiful dress from Shady branded fabric she had made specifically for the show. Tens of fans who had dreamed to get to Eminem show since they were kids, came together with us from Russia.
For many of them that was a challenging task both financially and emotionally. However, all of us, with all our differences, we were together in that queue finding a common ground, we were communicating and helping each other. We became friends with many of those we met at that trip and we stay in touch.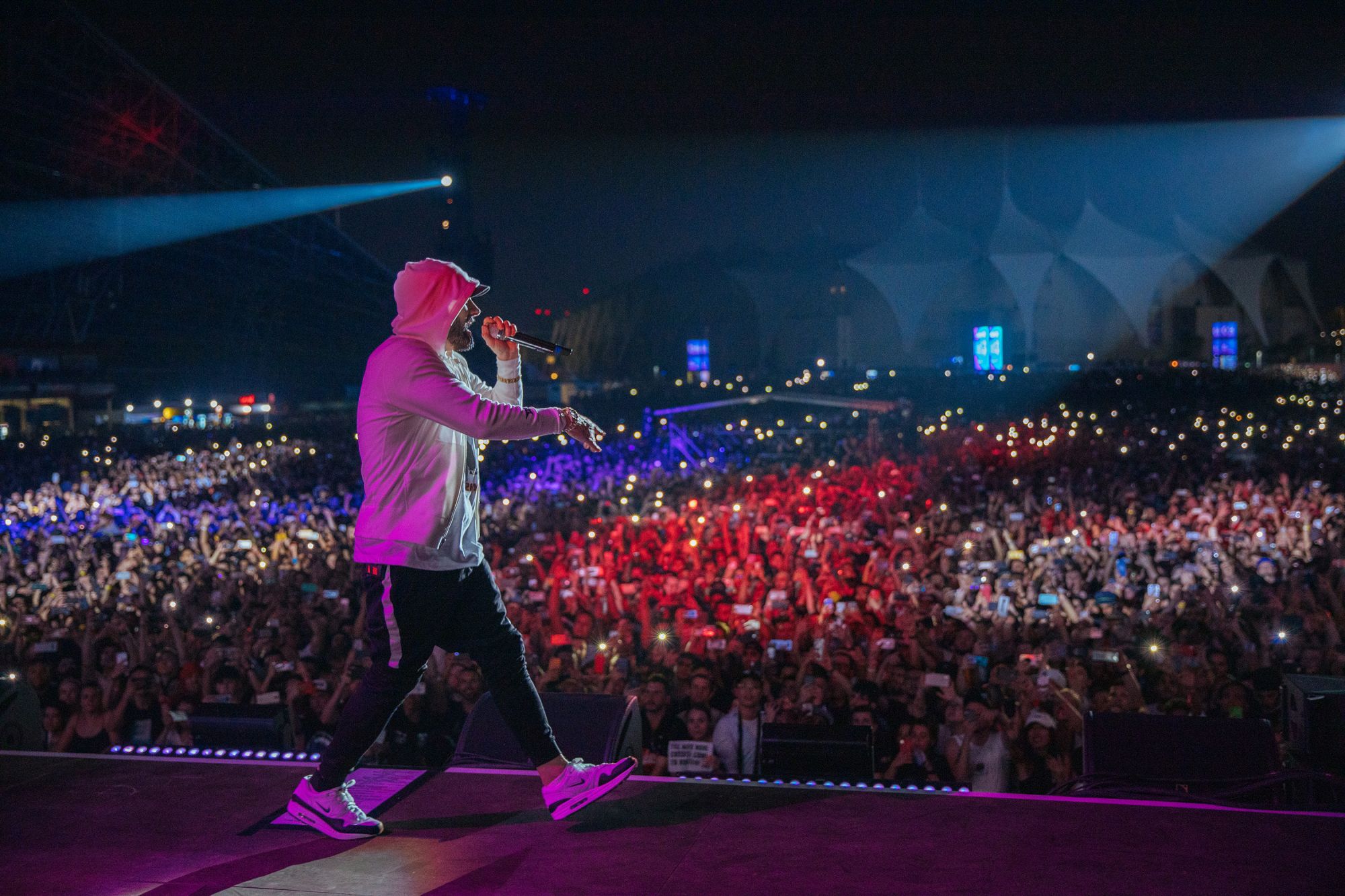 Marshall's fandom has changed in these years, it has grown bigger. Now it consists not only of American or English-speaking European audience but also of people from tens of other countries. Seriously! You would be surprised to learn about people standing in the same show queue with you. They came from different countries, from different lines of work, they were of different ages and they spoke different languages. There was a grandad in the head of the queue who was around 70 years old (you can see him on the photo on ePro Instagram), there was a girl from China with her mum, a guy from Poland, a hardcore fan from South Korea, entire families that came together to the Eminem show. The uniting power of Eminem music never ceases to amaze me. It is incredible how many people we met at the shows and became friends with during these years, people who stayed in our lives. It is truly incredible.
So what is Eminem fandom now? The answer is simple — it is family. When Flash Entertainment held us packed in the 40-degrees heat, everyone supported each other, nobody stomped over their fellow fans, nobody (but a small number of sad exemptions) tried to jump the queue. I saw this support on social media where people shared their stories about what they had faced at the show. I saw this support when dehydrated fans shared the only water bottle so that people next to them could get at least a sip. I am happy to be part of this fandom. Peace.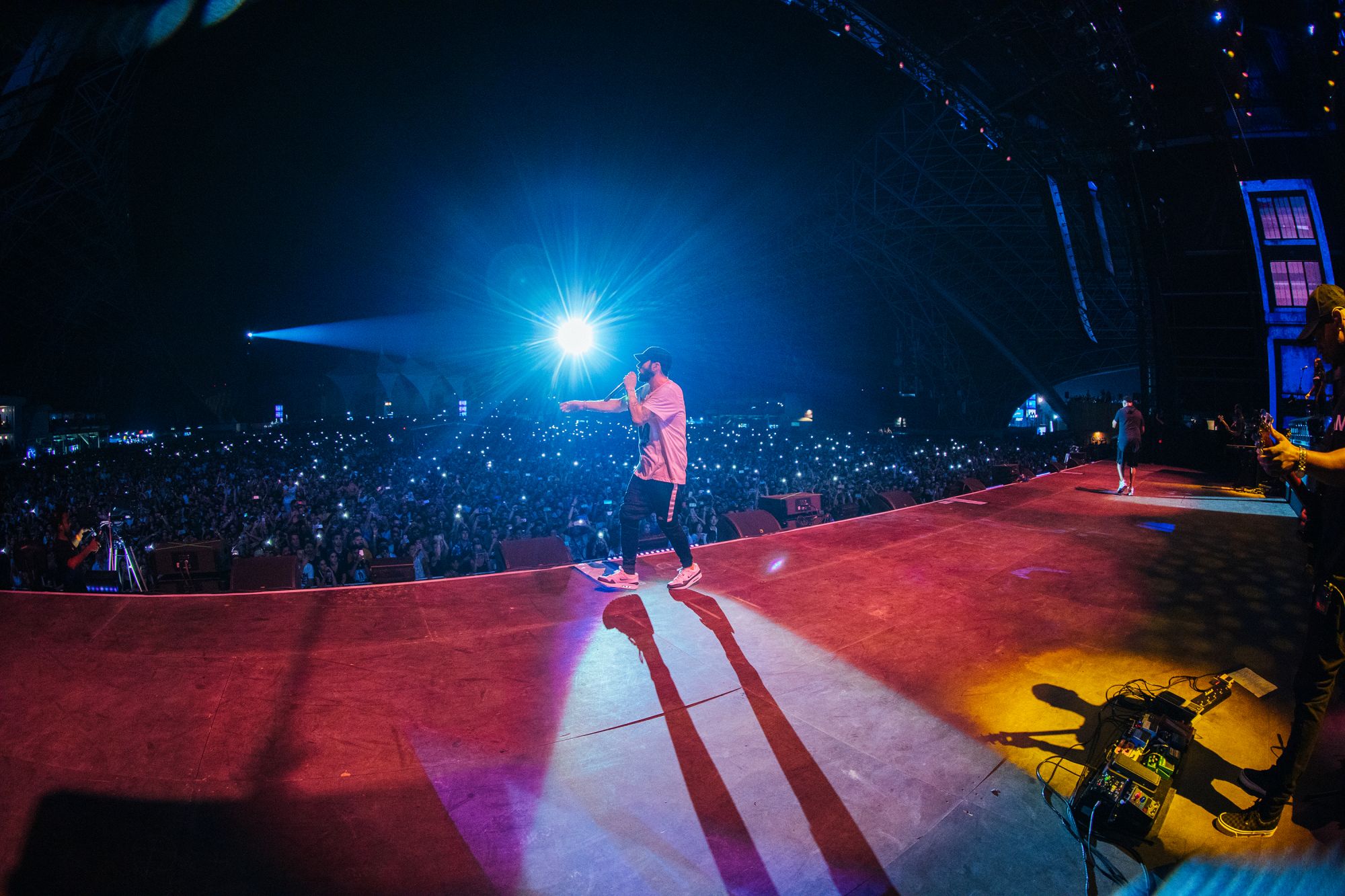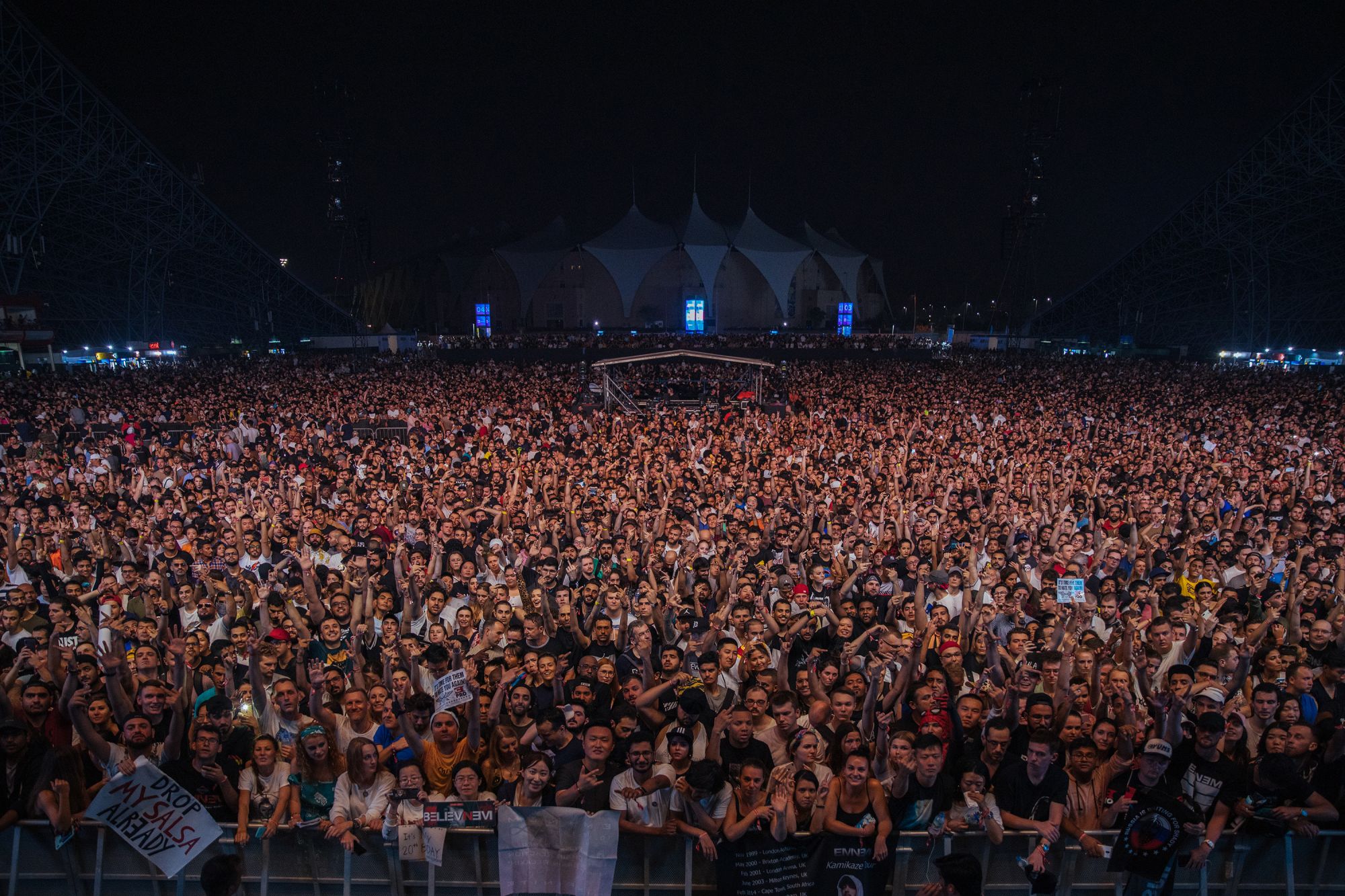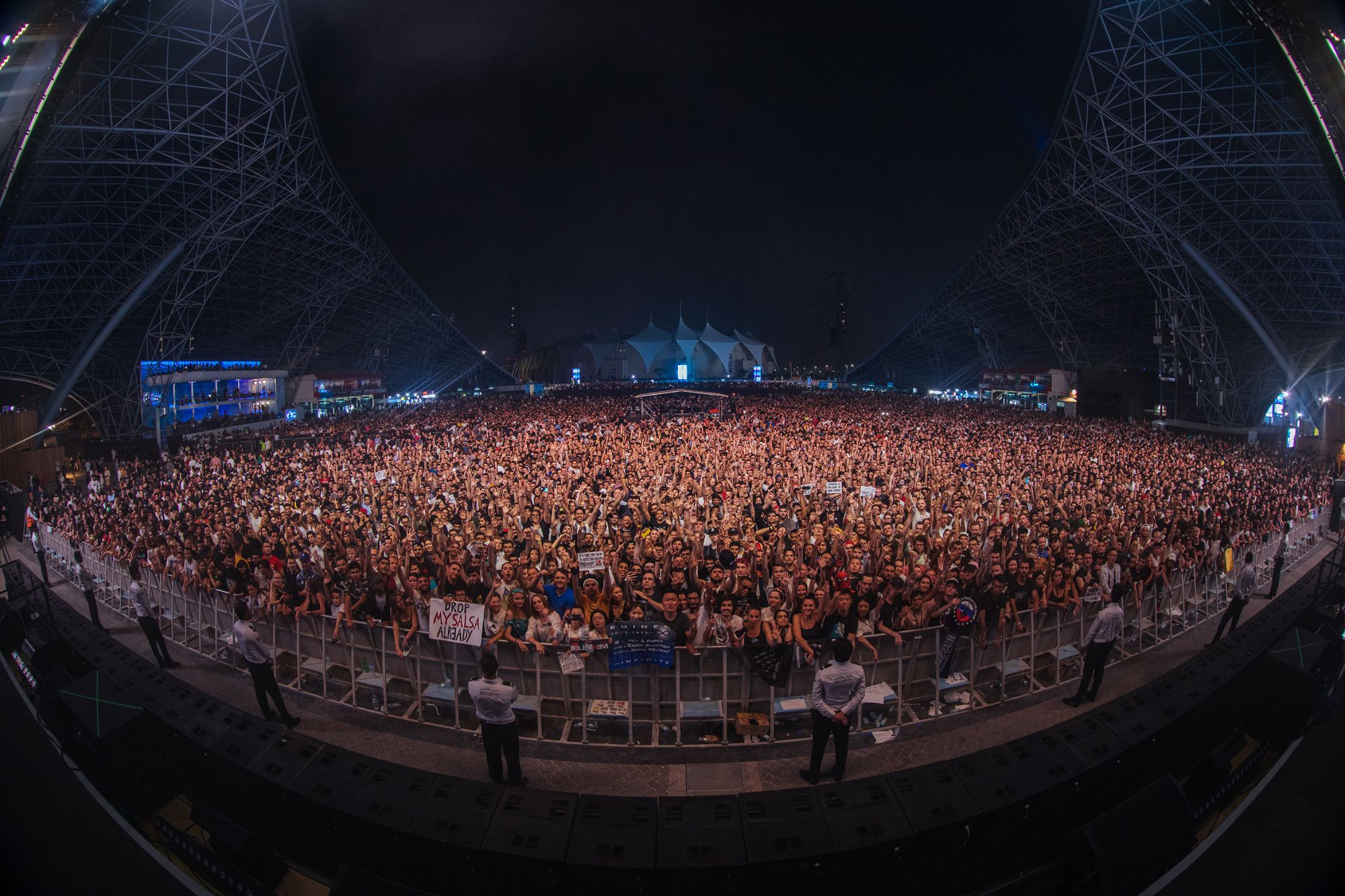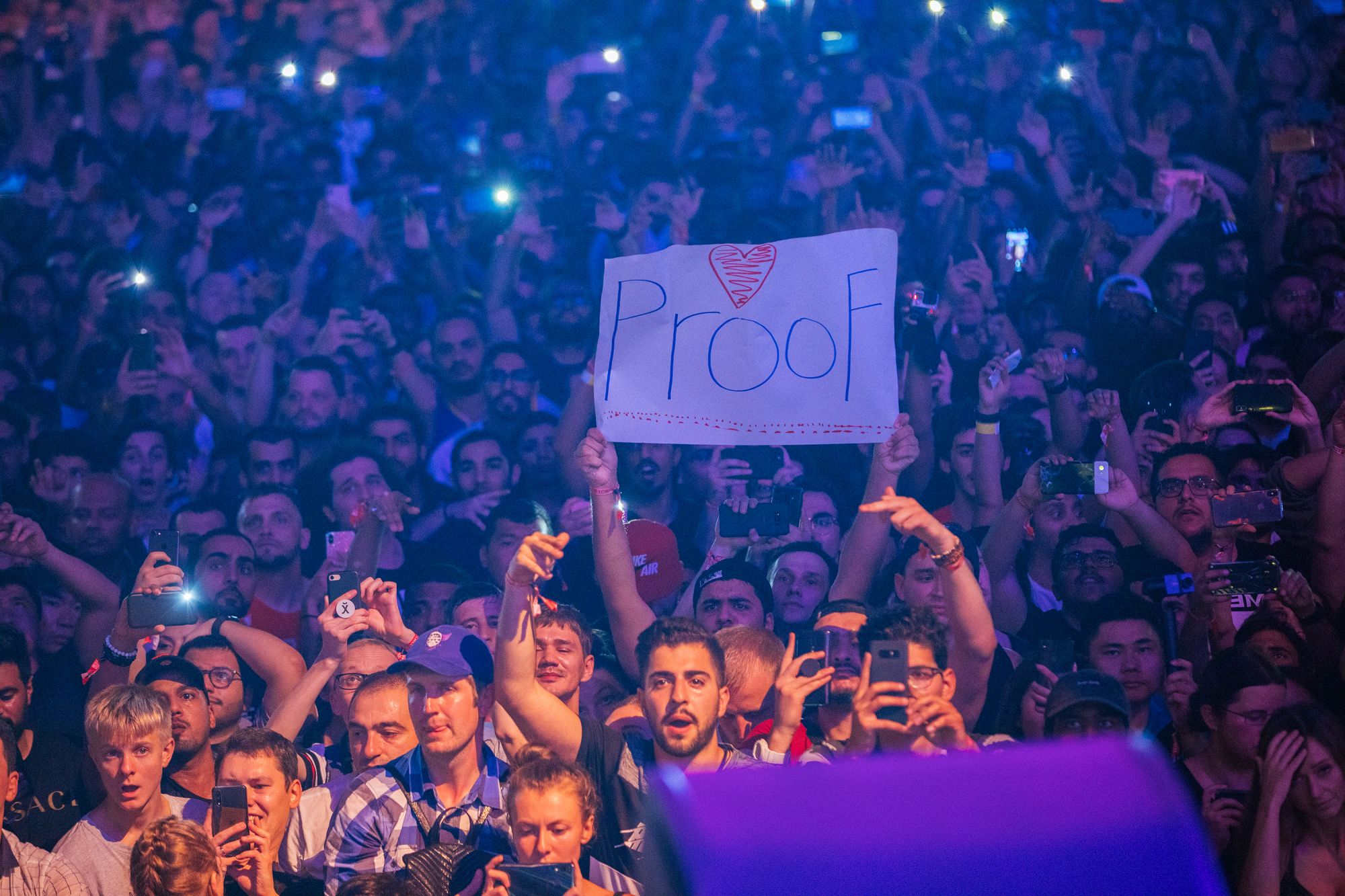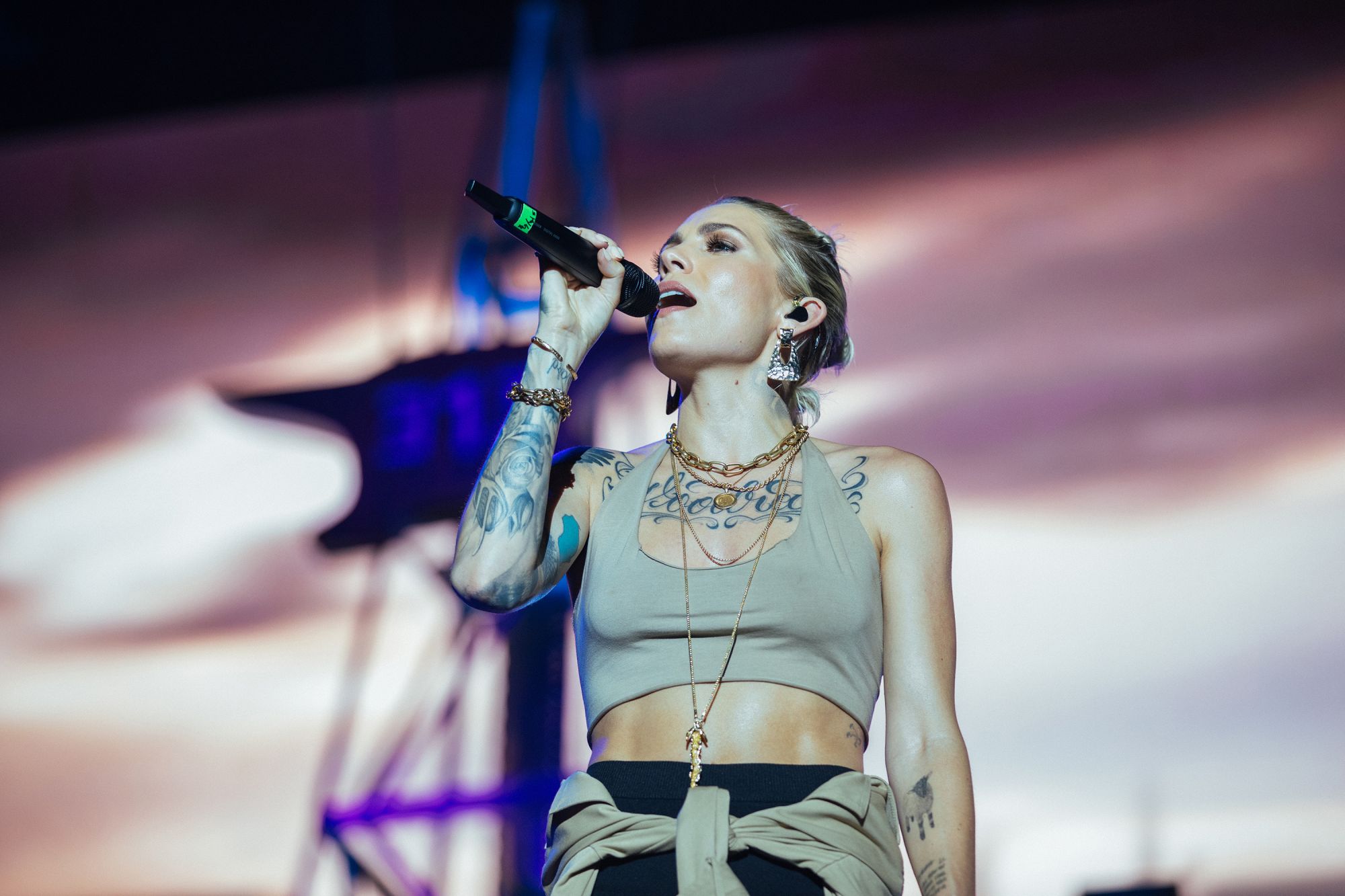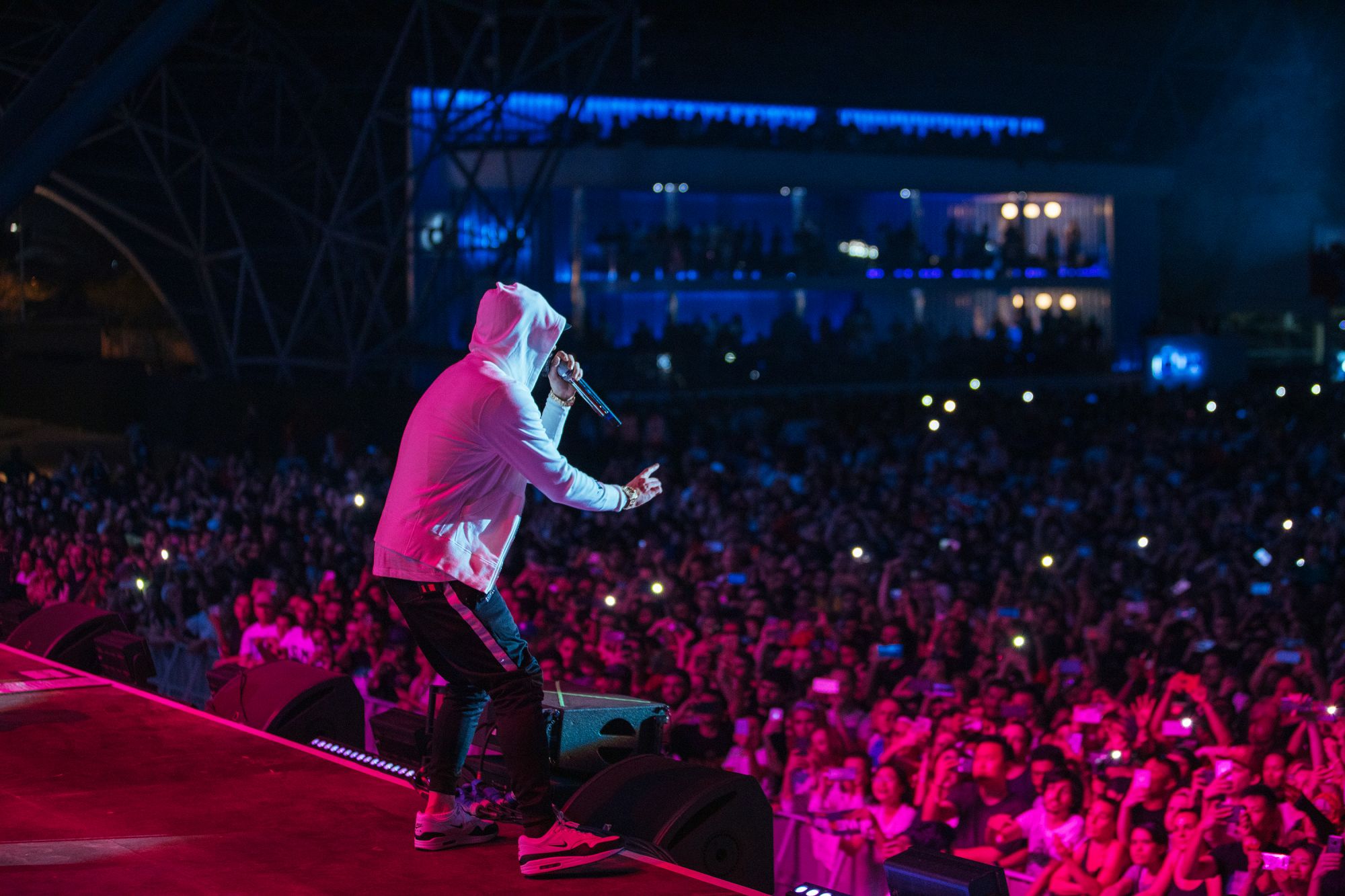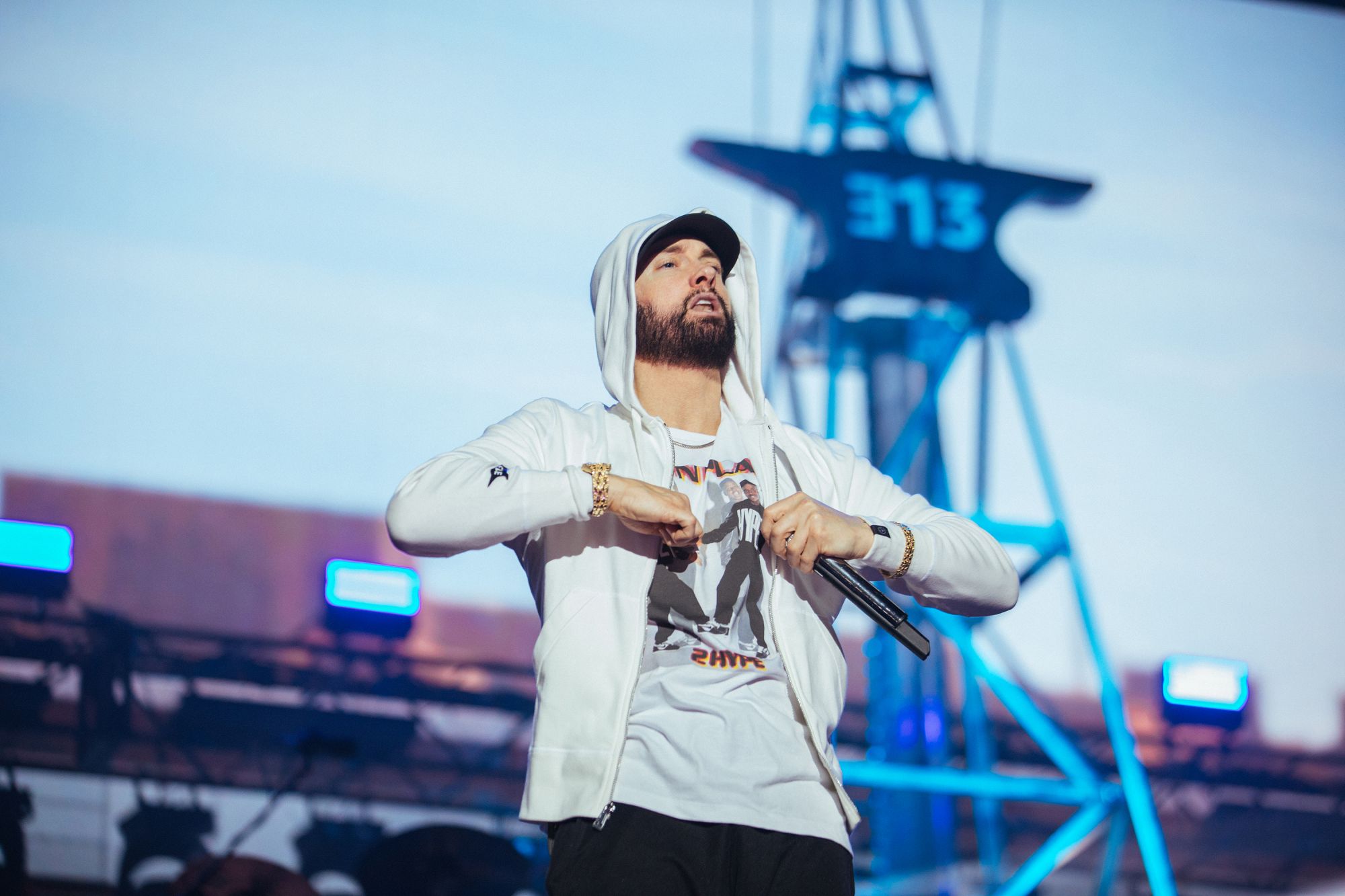 Watch video from Eminem Abu Dhabi October show in full. The best quality for #ShadyFamily.