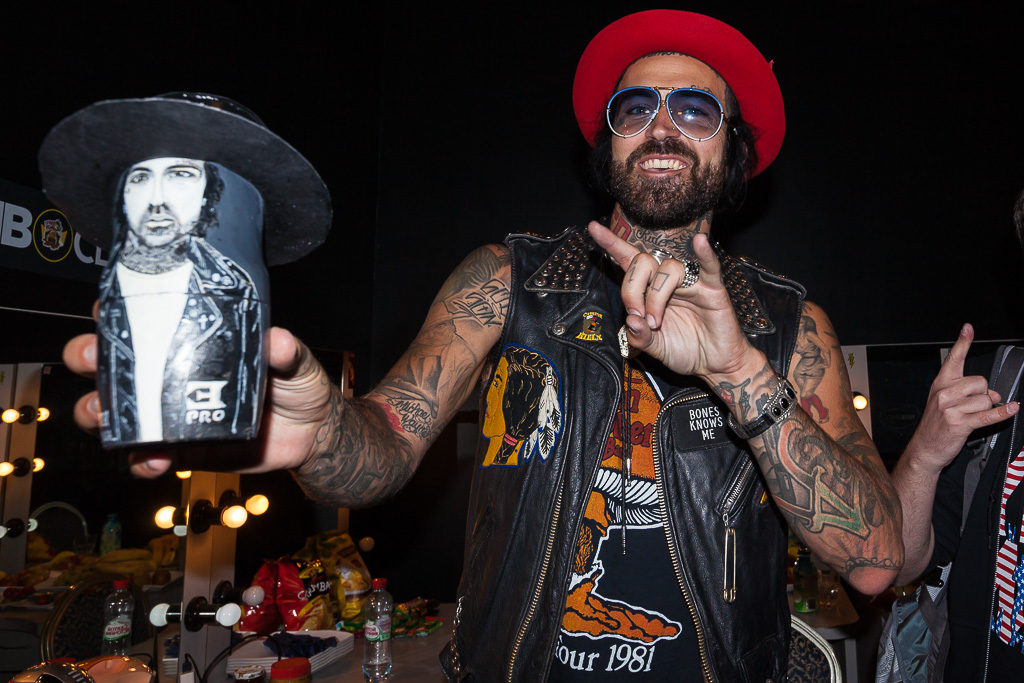 On August 27, 2015 before the start of his concert in Moscow, Yelawolf gave a short interview to the editors of Eminem.Pro.
30 minutes before the concert we were invited to Yelawolf's dressing room. After passing through the narrow, long and winding corridors of the Yotaspace club, we found ourselves in a crowded room. The space was full of energy. Oxxxymiron was tying his shoelaces and getting ready to go on stage, Yelawolf's hefty manager was sitting at the corridor to the dressing room and was vigilant to ensure that no outsider disturbed the Star.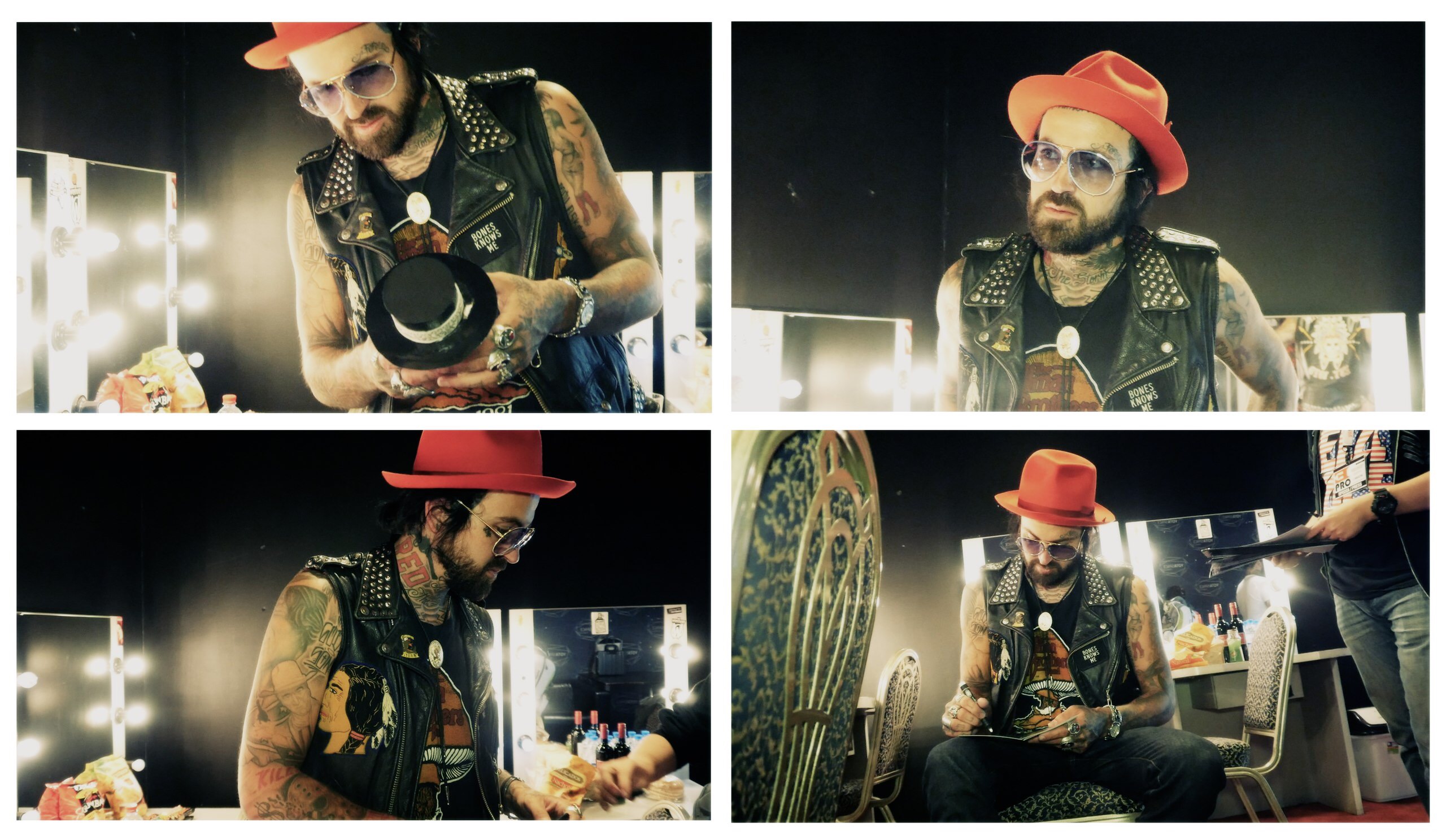 Once we entered the dressing room, we found ourselves in a room filled with light. Yelawolf was sitting at a table in front of a mirror, Bones and Klever were relaxing on a sofa in separate corners of the dressing room. Klever was hiding behind a huge white hat. The silence of the star-stricken room was broken. Yelawolf shook hands with us.
ePro: Hello Michael, we represent a fan project covering news on the Shady movement — "Eminem.Pro" and we are glad to finally meet you.
Yelawolf: It's nice to see you too.
ePro: First of all, we would like to give you a special Russian matryoshka as a gift.
Yelawolf: Matryoshka?
ePro: The guys did a great job and we think you will like it very much.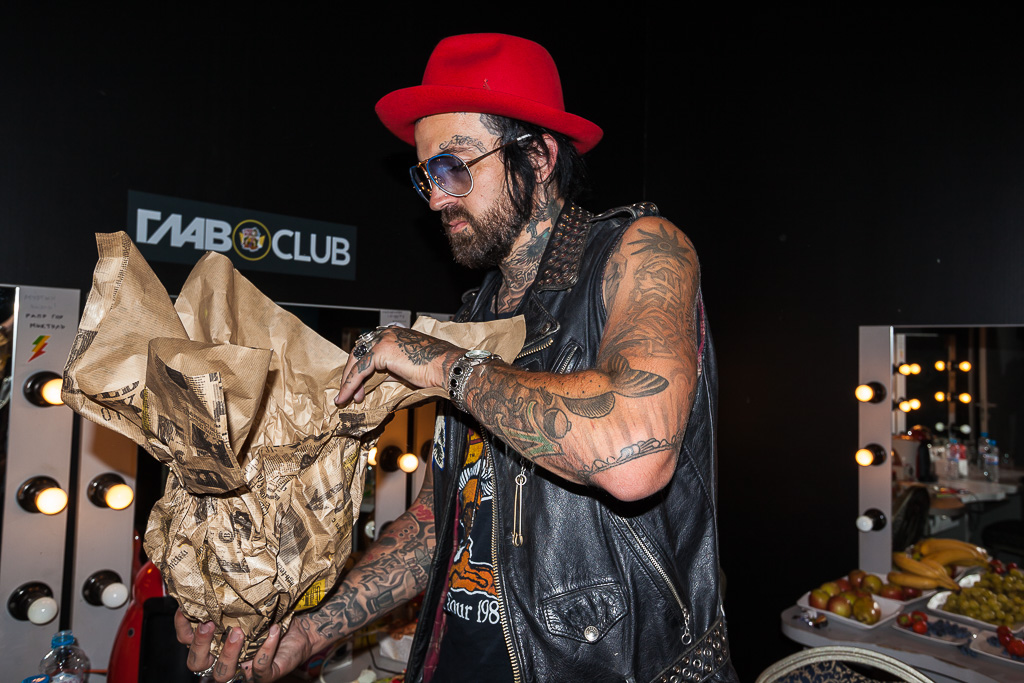 Yelawolf: Thank you. Your English is good.
ePro: Did you have the chance to see Moscow?
Yelawolf: Not much. Last night we went to Red Square – It was amazing. It's a beautiful city. [reacts to the nesting doll] Wow, this is awesome! My God, what a cool thing. I don't believe my eyes. Very cool, it's amazing.
ePro: there's a message for you on the back side
Yelawolf: [reading] Thank you so much, that's great. Does it open?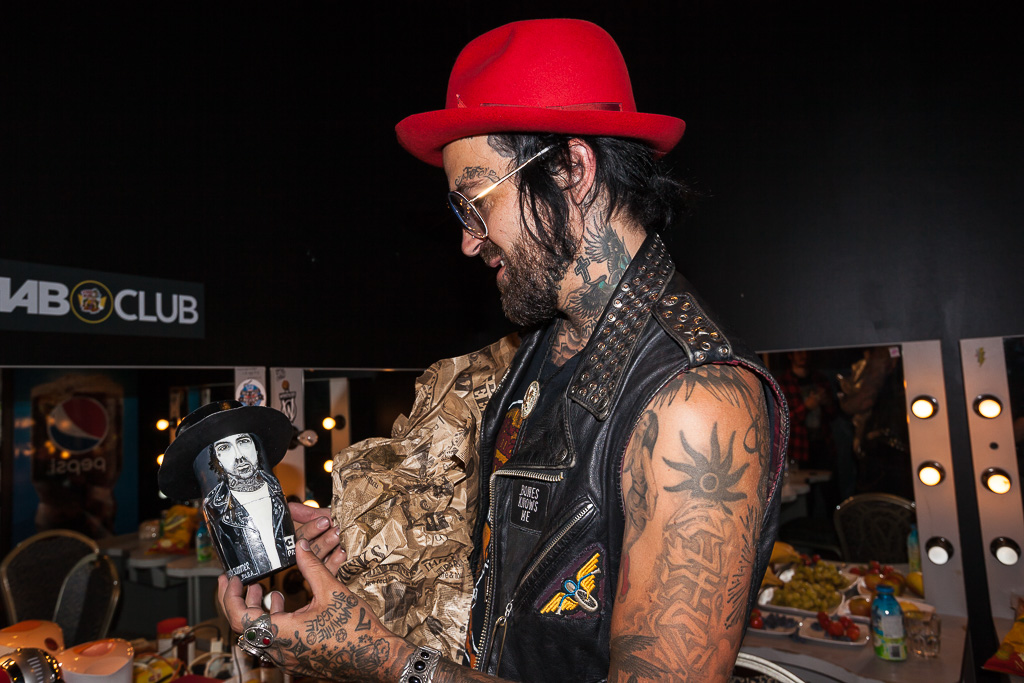 ePro: Yes. You can open it.
Yelawolf: I'm afraid to open it. [tries] I'll do it later.
ePro: Open it when you get home, it's a surprise.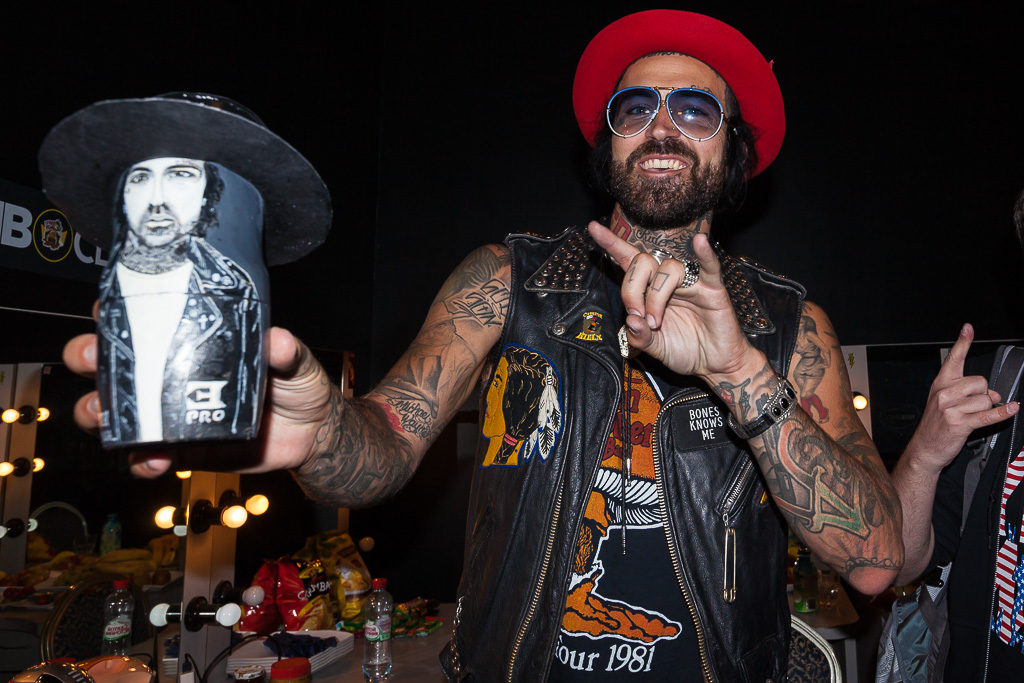 Yelawolf: Okay.
ePro: Tell me how you feel before going on stage. Are you nervous?
Yelawolf: Yes, sometimes… Generaly, I don't really … Probably, to some extent. It's more excitement. Yes, it's excitement. it's more of a tense state. It's not anxiety, I'm not scared. I feel a surge of energy.
ePro: You've been touring for the last few months. Do you feel tired?
Yelawolf: Yes, I don't feel very well. I had to get used to the schedule and the flights. You know, an eight-hour time difference is almost a complete transition into opposite time. Yes, this journey was especially trying.
ePro: Do you mean the trip to Russia?
Yelawolf: altogether. the trips to Europe as well. And even when I'm here it doesn't stop. Planes, trains, cars, constant moving. But I'm fine.
ePro: Tell us about the "Best friend" collaboration with Eminem. What is it like working with him?
Yelawolf: As for Shady Records, it's a great honor to be part of Shady records. Marshall is one of a kind. There won't be another like him. It's amazing that he noticed me and paid attention to what I'm doing.
ePro: I'm sure you impressed all your fans with "Best Friend". Are you going to release something in another musical genre.
Yelawolf: It seems to me… It excites me that people dig into music, in its diversity. This is the beauty of working on music – not to be bound to just one style, but to create the style yourself.
ePro: Do you mean the process of making music?
Yelawolf: Process? A.. No. No two songs are written the same – the process is always different. Songs are born in my head in different ways. I can walk around the house and suddenly a song starts popping into my head – a guitar tune, a piano or a whole beat comes to mind. Sometimes it comes in parts…
ePro: Do you write music yourself?
Yelawolf: Sometimes. I was quite involved in the process of working on this album [Love Story].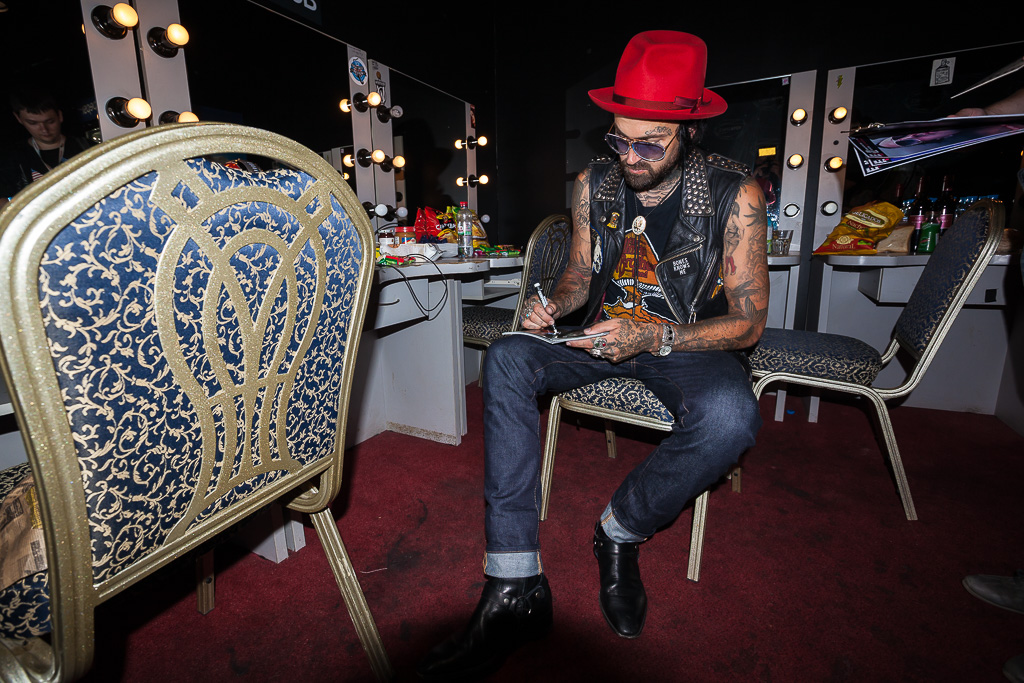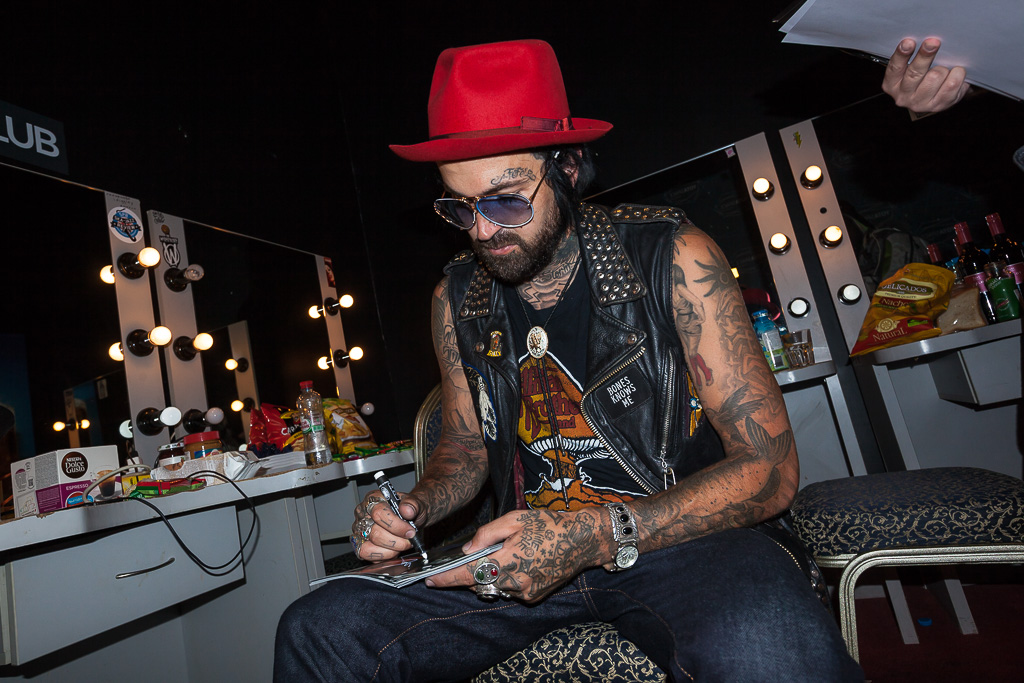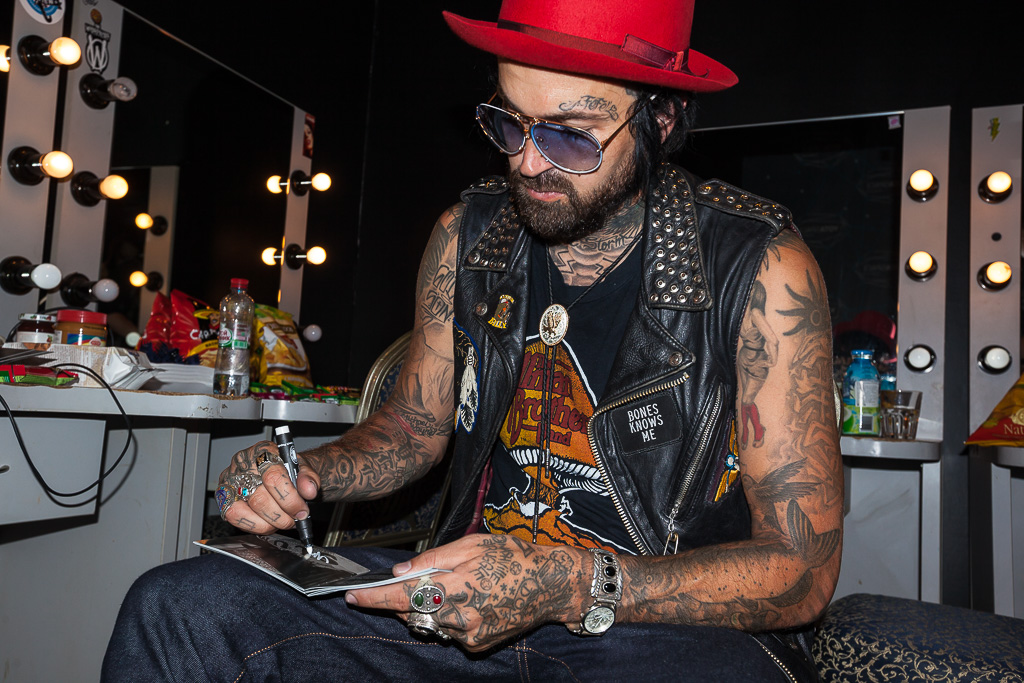 ePro: Nice to see you and good luck on the show!
Yelawolf: Thank you.
We shook hands and went to enjoy the first Yelawolf concert in Russia.
Yelawolf – Full Concert at Yotaspace, Moscow, Russia, 27.08.2015 ePro Exclusive