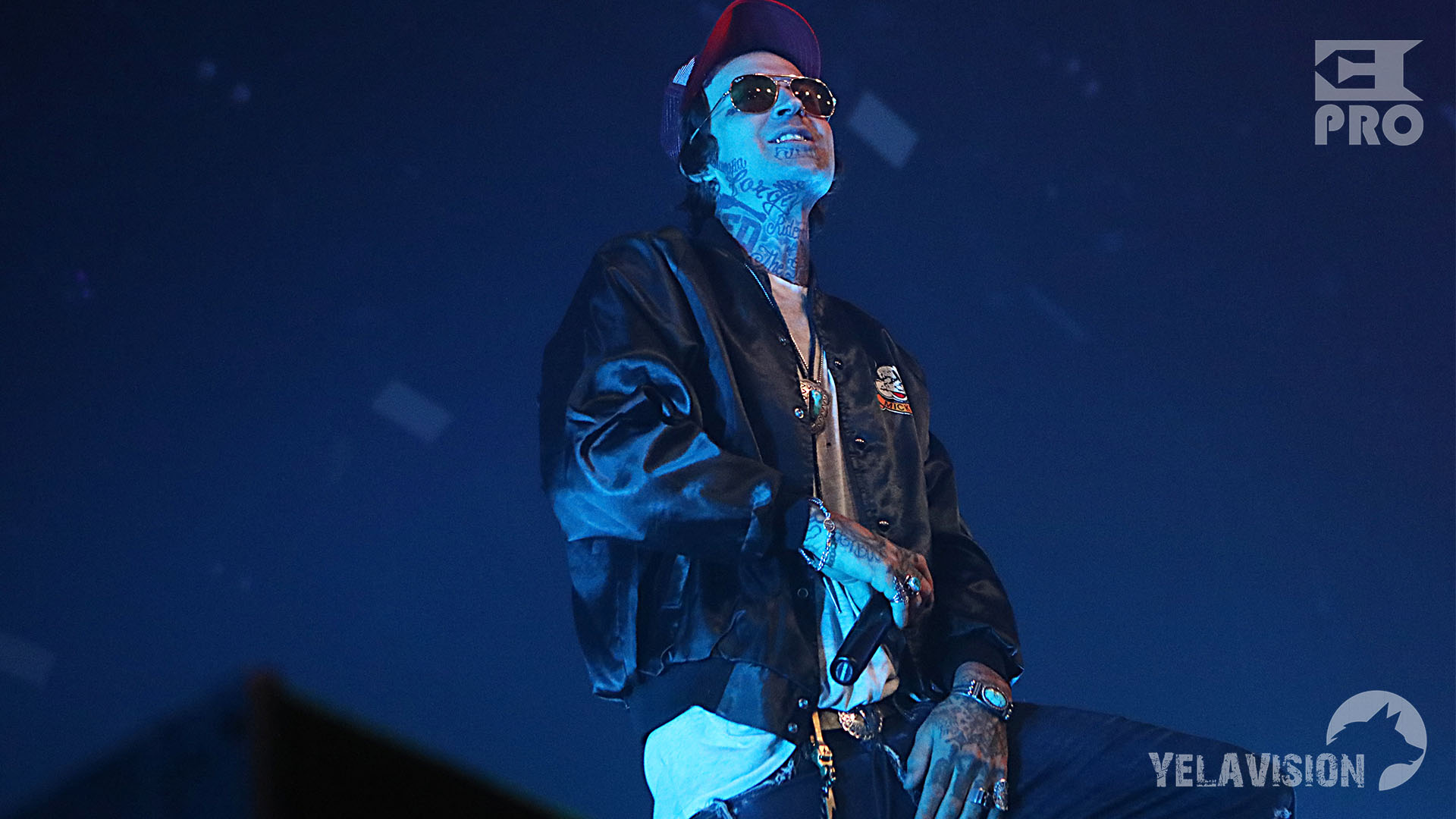 February 29. A train Saint Petersburg – Moscow. Our small "Eminem.Pro" delegation going back from the shows that kicked off Yelawolf's European tour in support of his album "Ghetto Cowboy". Two incredible shows in Moscow and Saint Petersburg, both remarkable in their own ways. Here is Eminem.Pro review of two unforgettable Yelawolf's Russian shows, the review that was written on the go when still on high from the shows.
Our editors did a big interview with Yelawolf before his Russian shows, so we knew what to expect from his performance. By the way, if you have not read our interview with Michael yet, you can find it here.
Yelawolf show in Moscow was excellent, there were no other options. On stage he is in his element and he always commits in full. However, his performance in Saint Pete was much more than just a show. It was truly special. It was an hour and a half of genuine symbiosis between the artist and his fans. That Saint Pete show was an example of the pure magic about which I often write in my show reviews for ePro.
I've ticked a big box off. For a while now I wanted to get to Yelawolf show in style: to the first row, no fuss, no job, just to enjoy the show. I could not do it properly for years, something always got in the way: I was either busy with ePro/MHQ business, or focused on an interview, or late… It was my sixth attempt not to just be there and watch what I can from the back row (😈). I told myself, that's enough, I should make it happen! And I did.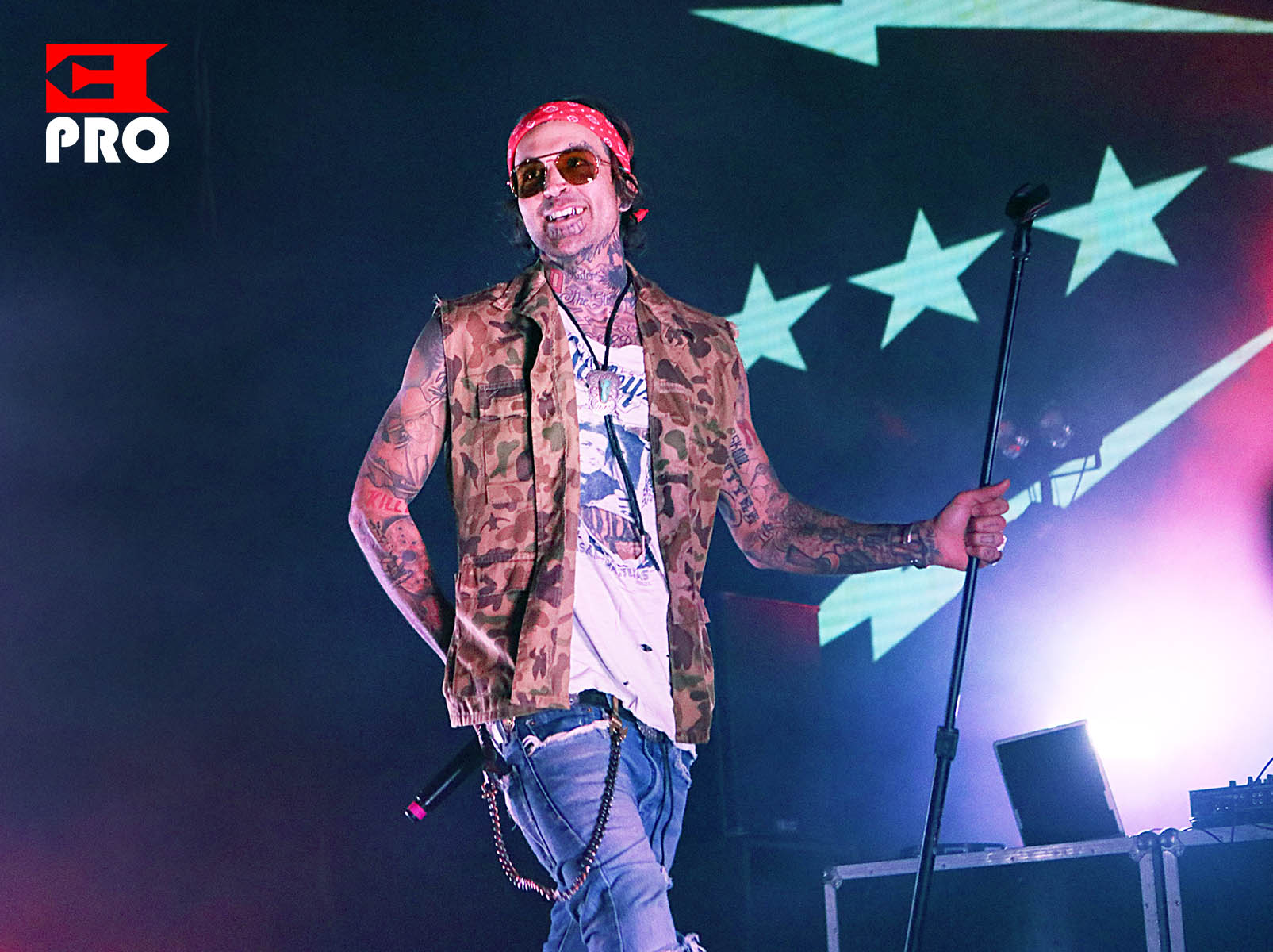 If you want to feel emotions, to feel high of a live performance, then you should get to a fan-zone, as close to the stage as possible. The first-row centre would be ideal. This is where the magic happens. This is where you feel the connection to the artist.
I will never stop saying that any song sounds better from the stage. The song on an album can leave you unimpressed until you hear it live and it hits you right in the guts. It happened to me more than once. It is the magic of live music. I don't know how it works, it just happens. And it happened again at this Yelawolf show.
Michael's music is special and versatile, it speaks to all his fans – those who have been with him from the very start, those who found him when he became part of the Shady family, those who follow his life-style brand Slumerican, speaks to his biker community and many more. Yelawolf's fanbase is a layered cake, and so is his music. Some songs might not resonate with you immediately, but a live performance can bring something new out of them.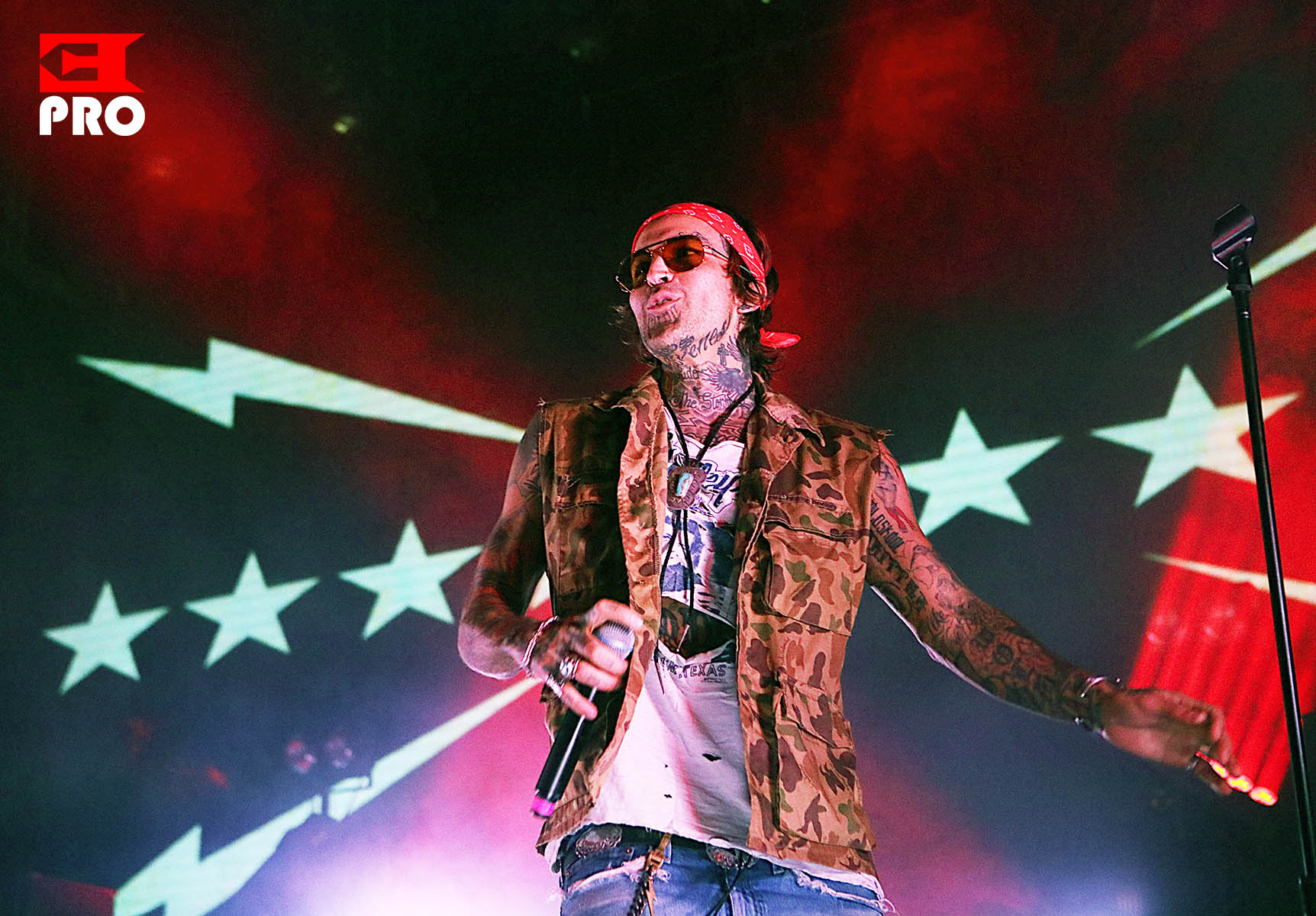 As per usual, Yelawolf started his show with a significant delay. Oh well, he is a star, we cannot argue now. When the stage was filled with smoke to the point when it was not possible to see anything, people started chanting "Yelawolf-Yelawolf-Yelawolf". After a little while a pink light lighted the stage and Yelawolf entered to the roaring cheer of the crowd, rapping his first number: "Trunk Music 3" from his last Shady records album.
Damn, his live performance is so dope! Michael is a badass and a real pro on stage. He can do everything at once: he demolishes the stage and at the same time notices what is going on in the crowd and shares it with his team. He simultaneously spits his bars as fast as a machine gun, dances all over the stage, controls everything and even shows a photographer a good shooting point. It was a pleasure to see.
Having finished TM3, Yelawolf hit the stage with my favourite track from that album – "Trailer Park Hollywood". It had been on repeat for a while on my playlist. Its live version did not disappoint, and its cool intro sounded live even better.
Mind you, since his last show in Russia in 2015 Yelawolf released a lot of new material. So it was nice to see a well-balanced set-list that included not only his classic hits such as "Daddy's Lambo", "Growin' Up in the Gutter", "Catfish Billy" and "Pop the Trunk", but also new tracks from his three recent albums that were not performed live before in front of Russian or European audience.
Yelawolf also performed several hit songs from "Love Story", the album that is adored by fans and has become his most successful album so far. There were his signature "Outer Space", especially good in live version, "Empty Bottles", where Yelawolf switched flow several times showcasing his skills, referring to his idol "Johnny Cash", his classic mix of hip-hop and country "American You" and, of course, the main Yealowolf's single "Till It's Gone" – you surely know it or at least heard it at least once.
Yelawolf Russian shows were full of special moments.
Take, for instance, the last part of his Moscow show, where Yelawolf invited Russian artists Noize MC to join him for "Opie Taylor" and they just vaporised the club. Noize MC later explained on his Instagram that he told Yelawolf backstage: "You should have told me that you would come with no guitarist this time — I could have learn the riffs!", and Michael responded with "Let's play "Opie Tailor" together tonight!". So Noize MC learned the riff just hours before the gig – to the utter joy of both artists and the public.
There was a memorable moment when Yelawolf decided to record a birthday message to his wife Fefe Dobson, singing Happy Birthday together with two thousands of his fans. This song transitioned into "Tennessee Love", the song dedicated to his wife, and it was very symbolic and moving.
Another special moment of the Saint Pete show happened when Michael performed "Best Friend" and became so emotional that he even shed a tear. This performance was so powerful that the crowd started chanting "Yelawolf- Yelawolf- Yelawolf- Yelawolf". Michael took a moment to cool down his emotions, said thank you and rapped the last verse a capella.
I have always liked Yelawolf not only for his ability to rap fast but also for his musicality – his vocals in refrains are great. He proved it again during his Russian shows.
He also performed "Johnny Cash", "American You" and "Daylight" a capella. Whether he did it to emphasise the meaning or to flaunt his technique, he opened up to his fans and they in return supported him and joined their voices with him. It was an incredible experience, not just a show but a symbiotic connection between the artist and the audience, fans and guests, the connection that fed both ways. I was reminded once again that Saint Pete has the best music crowd.
All in all, applause, cheers and chanting carried on through the entire show, and Yelawolf could not stop smiling. That night was filled with an atmosphere of unity with the artist, filled with emotions. Yelawolf saved the moving and melodic "You and Me" to the end of the show, addressing his fans:
"Saint Petersburg. I was here in 2015. Who was here in 2015? My first trip to Russia. Hold up, if this is your very first Yelawolf concert, let me see your hands to the sky. This last song I play for y'alls, for the fans. I love you so much. Thank you"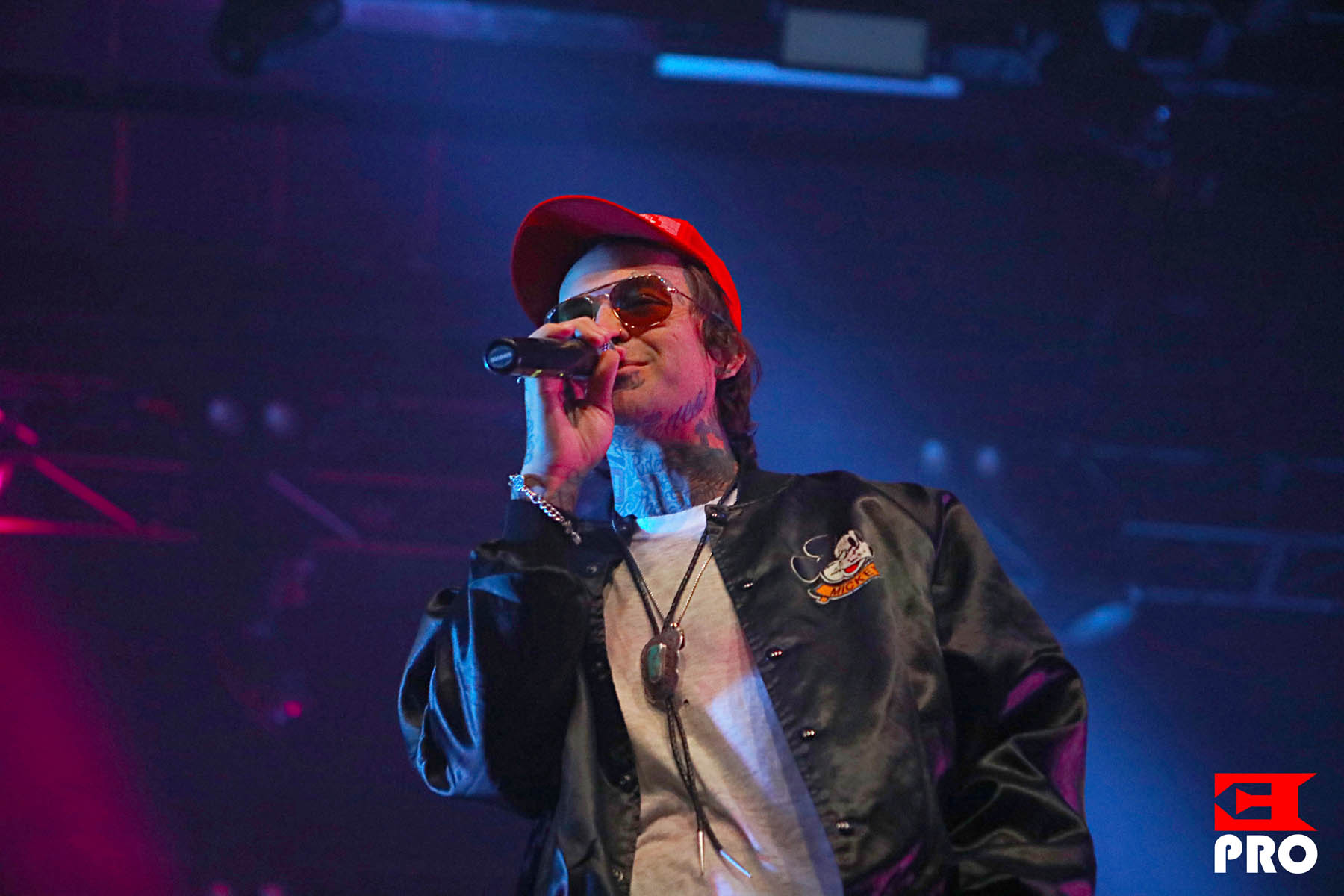 A2 was shaking that night. Everybody, not only his fans or music fans, would like this show. Because it is done artistically, professionally and with 101% commitment. Yelawolf gave his best and performed so many live tracks from his recent albums, giving his audience emotions and memories that will stay with us for a long time.
We recorded for you some special moments from this show, you can watch them below.
Respect to everyone who was involved in organising this show! ГЛАВCLUB and A2 GREEN CONCERT — excellent job, nothing to fault. Thank you for bringing this incredible artist to Russia. We would like to see him more often. 😉 He has lots of fans here who are always happy to meet him.
About the fans, by the way. I don't know about other countries, but Russian Yelawolf fans are extremely loyal. In Moscow they presented him with his portrait on a big wooden panel. He took it to the stage and later it appeared in his Instagram stories from the Oslo airport. It seems like another item from Russia will take place in his collection next to our Yela-Russian doll. They also waited for him at the club until midnight to have a word, take a photo or ask for an autograph. The most patient were rewarded.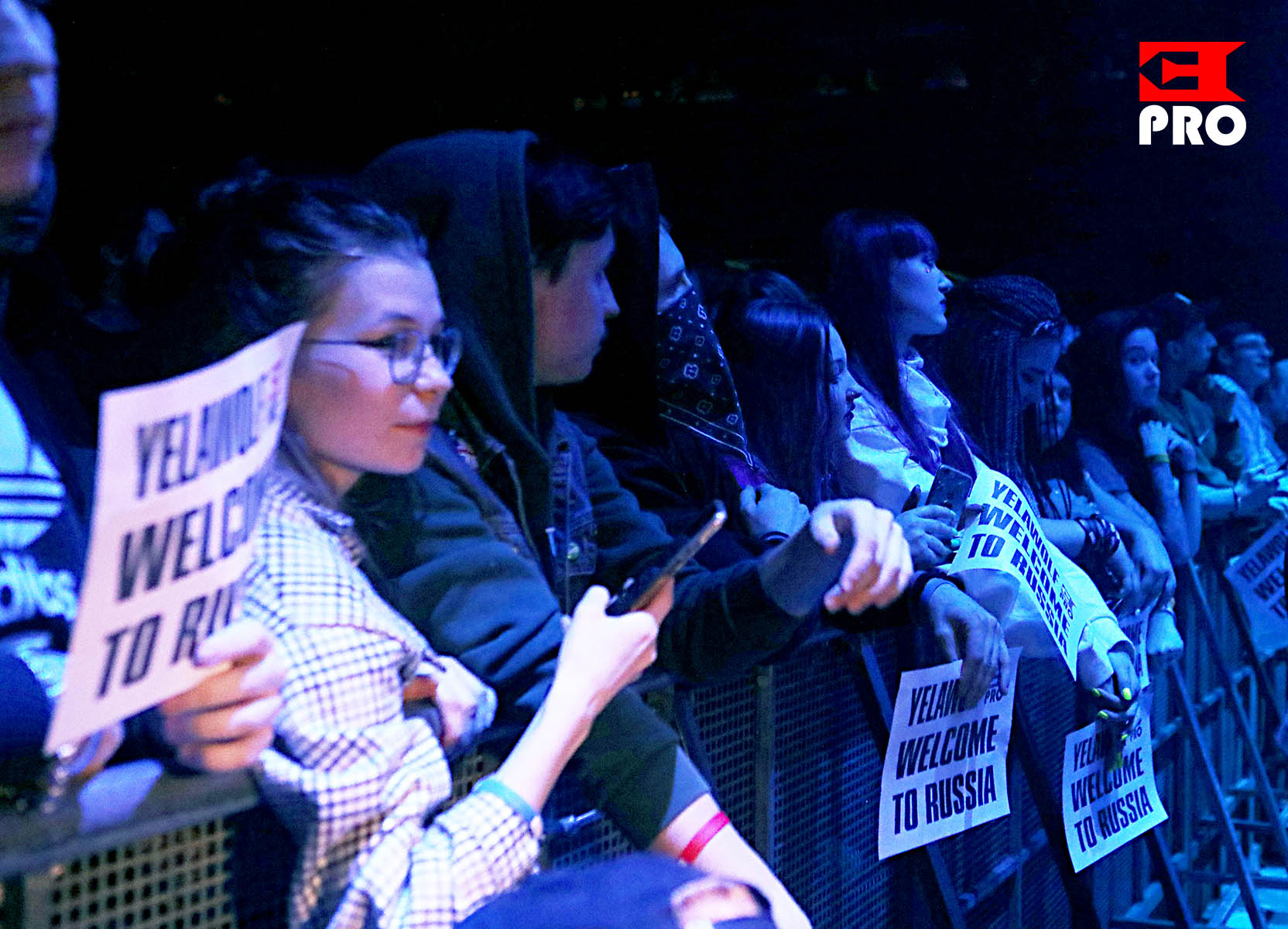 Fans from Saint Pete did not fail as well. Apparently, I took the same train to Saint Petersburg with Michael and his crew. Peacefully sleeping all the way, I only realised that when was awaken by a knock on the window. This was when I noticed Yelawolf, who was quietly sitting at the same window behind me. Saint Pete fans organised him a warm welcome at the platform, rapping one of his tracks.
That's all from me. Peace.
Our photographers had a field day, check out their photo trophies on Eminem.pro website: Moscow show, Saint Petersburg show.
Setlist:
Trunk Music 3
Trailer Park Hollywood
Daddy's Lambo
Billy Crystal
Outer Space
Growin' Up in the Gutter
Best Friend
Empty Bottles
Johnny Cash Acapella
Daylight
Happy Birthday to FEFE
Tennessee Love
Till It's Gone
American You
I Just Wanna Party
Catfish Billy
Catfish Billy 2
Encore:
Pop the Trunk
Unnatural Born Killer
Here I Am
Lightning in a Bottle
Opie Taylor
Encore 2:
You and Me