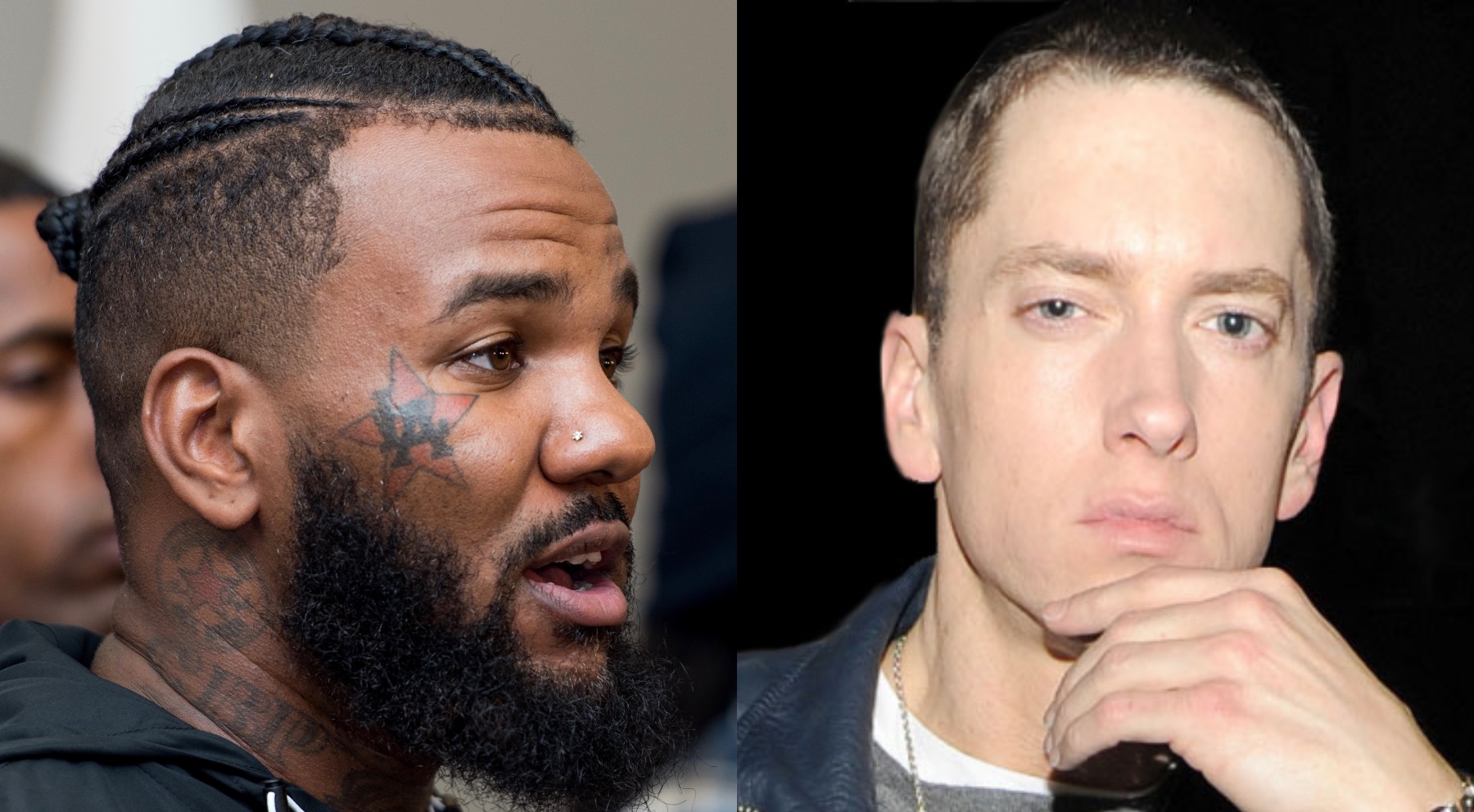 The Game keeps pushing his narrative of being a better rapper than Eminem. With a new addition of a tired statement that Em's music is irrelevant.
The Game sat down with the All the Smoke podcast and, after singing praise to Kanye, proceeded to repeat everything he has been saying lately about Eminem: namely, that Em is popular because he has support from Dr. Dre and the label:
Eminem is an outstanding lyricist. Now you put him with Dr. Dre, who is from N.W.A. You put him under the machine, Interscope, the biggest label in the world, and they tell you this white guy is next. So we were told that Eminem was the greatest, and by the way, he's white, and that played a huge part in his success because you could get white America, so you are super solid as far as album sales, and he was with Dr. Dre so he got niggas too. Interscope put money behind it. When you put the money behind the pile of shit, and you put shit on TV every day.
The Game also maintains that it's a healthy mindset for a fighter to think that he's the best and expands it from basketball drafts to the assessment of his abilities:
So when I'm saying that I want a battle with Eminem or Eminem is not the greatest rapper, and I'm better than him, it is not like when I see Eminem, I'mma drown this nigga or I'mma beat this nigga. I'm supposed to think that I'm better than every single rapper, else, why would I do this shit at all?
But instead of offering the rapper a reality check, one of the hosts stepped in with an old song that in his neighborhood people do not listen to Eminem's music. The Game was only happy to join:
When have you ever heard Eminem song playing in the club? When have you ever heard his shit in a locker room? It might happen when niggas are training for Olympics or white boys are surfing. I'm not taking away from that, but I don't hear Eminem in the streets. It's not saying that he can't rap. The skillset is there but I'm just a better rapper. I just haven't been given the light that he's been given. They didn't put money behind me that they did for some. But as soon as I showed up my ass and was a little too black the budget stopped. I could not pushed to Eminem heights, 50 Cent got pushed to those heights because he played nice. Eminem and him are like this. Niggas didn't even know Eminem was not going to do the Super Bowl unless Fifty was on it.
Seems like The Game still cannot come up with any new strategy to promote his upcoming album and relies on this Eminem diss he promised to the public over a month ago.