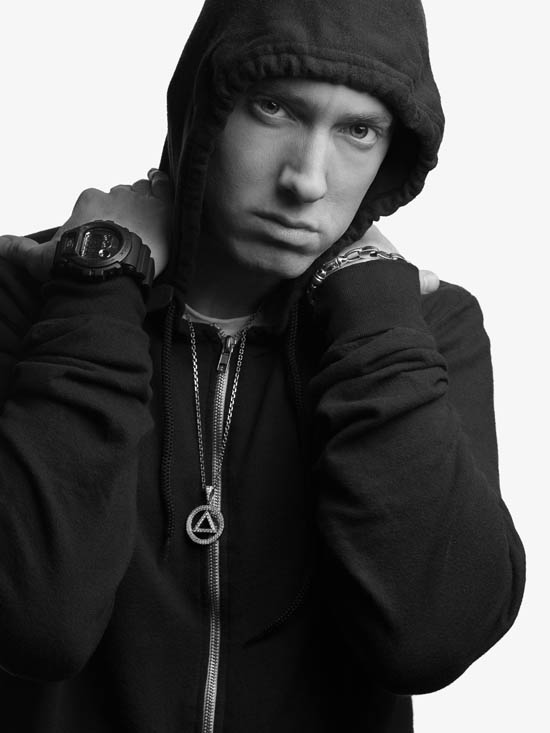 New Song from Music Icon to be used Weekly on TV's Most-Viewed College Football Series; Sneak Peek of Official Music Video for "Berzerk" Premiering on Saturday's Notre Dame-Michigan Telecast.
Eminem's "Berzerk" will be the featured song on the 2013 season of Saturday Night Football Presented by Windows on ABC. "Berzerk" – the first single from Eminem's much-anticipated new album, The Marshall Mathers LP 2, which is set to be released on Tuesday, Nov. 5, 2013 on Aftermath/Interscope – will be used as the open for the weekly college football series and throughout the telecast in various capacities, including highlight packages and coming in from, and out of, commercial breaks.
ESPN will televise a world premiere sneak peek of Eminem's official video for "Berzerk" on Saturday, Sept. 7, at halftime of No. 14 Notre Dame at No. 17 Michigan (8 p.m. ET on ESPN).
Eminem and ESPN will also collaborate on a video of the song for exclusive use on the Saturday Night Football broadcast. Saturday Night Football, the most-viewed and highest-rated college football series among all networks in 2012, will use the music from September 14 to December 7. The first weekly prime time series on broadcast television is in its eighth season and is called by Brent Musburger with analyst Kirk Herbstreit and reporter Heather Cox.
Over the course of his career, Eminem has sold over 80 million albums and 120 million singles worldwide. He was Nielsen SoundScan's top selling artist of the 2000s with 32.2 million albums sold in that decade in the U.S. alone. In addition, Eminem was also named Billboard's Artist of the Decade for the same period, 2000 through 2009. Eminem has won 13 Grammy Awards and an Academy Award. His last album, Recovery, sold 7.2 million albums worldwide. The Marshall Mathers LP 2 will be released on November 5, 2013.