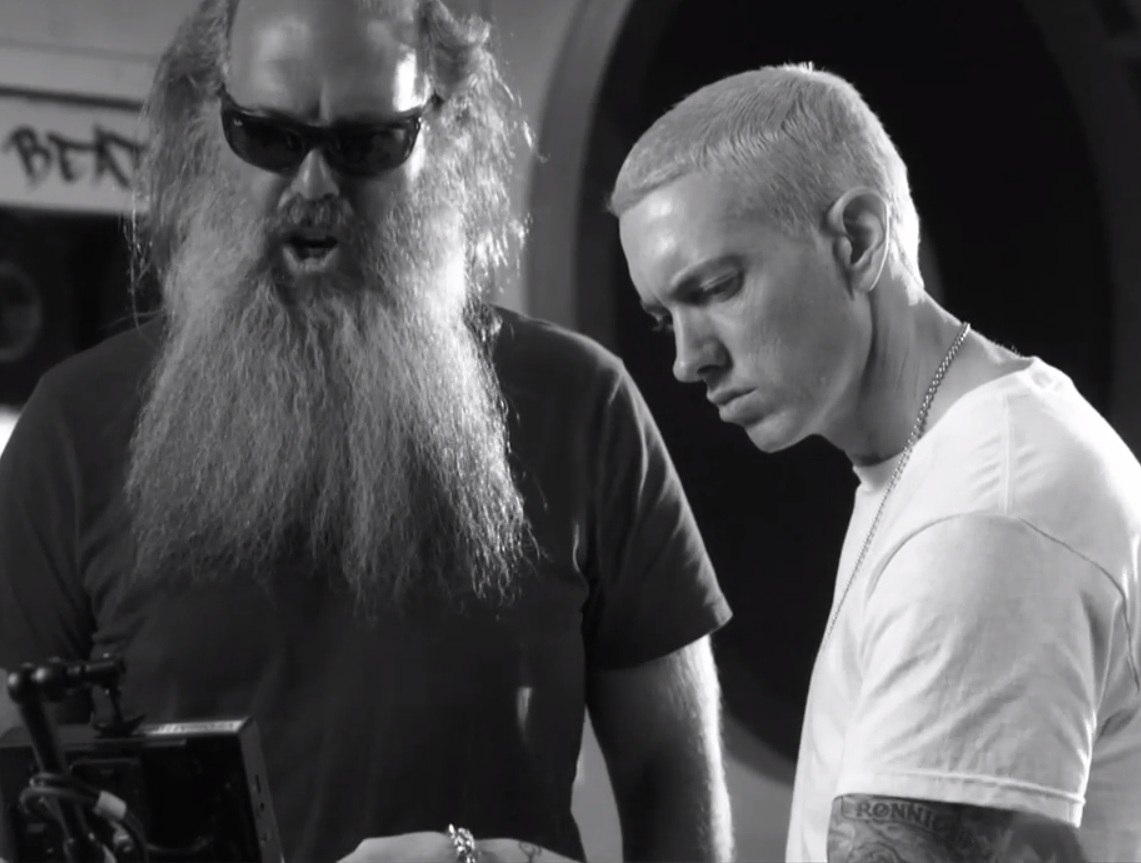 Rick Rubin discusses the lead single he produced for Eminem's "The Marshall Mathers LP 2."
Eminem's upcoming album, The Marshall Mathers LP 2, slated to be released November 5, is set to be executive produced by Rick Rubin and Dr. Dre. Rubin recently addressed his work on the album's lead single, "Berzerk," during a behind-the-scenes interview at the selection's video shoot.
"I think it's unlike any current Hip Hop songs," Rubin said. "If you listen to what's going on in Hip Hop, this is not what this is. We wanted to do something kind of throwback to some of the early records we were making in the '80s, and it more reflects that energy of the early days of Hip Hop."
During the interview, Rubin also explained how the song evolved from its original stages.
"We were working in the studio on a bunch of ideas, and this was one of the later ones to come up," Rubin said. "It started with a sample, and the sample that we started with ended up not being in the record. The song sort of evolved. It started one way, it kind of got programmed and written to, and then it changed into a whole different song."
"I thought the track was really strong, and didn't know what direction it was going to go vocally," Rubin added. "And then, when I heard the vocals, I was pretty excited. It was not at all what I expected. Just the energy in it, and the lyrics, and the style of it. It's so well done, and so smart, and so funny."
During the interview, Rubin also said that his work with Eminem has been planned for years.
"I had met Paul [Rosenberg], Em's manager, a few years ago, and we always talked about the possibility of getting together to work on something at some point down the road," Rubin said. "It just worked out that it was meant to be at this time."
Aside from working with Eminem, Rubin also produced Kanye West's Yeezus album this year. In June, Rubin spoke about his work on West's collection.
"Kanye came over to play me what I assumed was going to be the finished album at three weeks before the last possible delivery date," Rubin said. "We ended up listening to three hours of partially finished pieces. The raw material was very strong but hadn't yet come into focus. Many of the vocals hadn't been recorded yet, and many of those still didn't have lyrics. From what he played me, it sounded like several months more work had to be done. I joined the project because after discussing what he had played for me, he asked if I would be open to taking all of the raw material on and help him finish it."
Rubin's rise to fame was as co-founder of Def Jam Records, where he was instrumental in the careers of LL Cool J, Run-DMC, Public Enemy and the Beastie Boys, among others.
Watch the interview below: