It was exactly ten years ago, on 15th May 2009, when Eminem officially got back on stage after a four-year hiatus, releasing his sixth studio album — "Relapse". The record was a reflection of all what Marshall had gone through in those four years.
Autor: Alexey Mostovoy, Editor of "Eminem.Pro".
He had a lot to say. Depression, writer's block, exhaustion — which resulted in cancellation of European tours, and the prescription pills which, ultimately, became the result of it all. Remarriage to former wife Kim didn't go well either — divorce hit in less than three months. Then followed his best friend Proof, shot to death during a hassle. This was the hardest blow to rapper's condition, hardening his affection to pills and alcohol.
Having nearly died from overdose in 2008, Marshall called it quits on drugs and booze, beginning his full-scale "Recovery" program. It was sobriety that allowed the artist to come up with new ideas and concepts for future songs. Free of any clutter, his mind was running so fast that recording the lyrics took more time than writing them. Old projects were set aside — King Mathers was scrapped, unreleased songs written under the influence were reminding Marshall of those dark times of his life and, overall, were of low quality by his opinion. Creative run which powered "Relapse" went further — Eminem would go on to write a second part of this album, which sounded totally different — but ran on the same fuel. The world would come to know this sequel as "Recovery".
"Relapse" is often considered as a "meh" album, criticized so intensely that later on Eminem himself would cringe whenever the album would be mentioned. Critics of "Relapse" like to put it next to "scapegoat" "Encore", point out the accents and lack of new themes in the songs — well, it's Slim Shady's old arsenal once again. Here the opinions take a deep split — some see a terrible sequel to "Encore", others praise the work and consider it as something that deserves way more than the pop-infested "Recovery".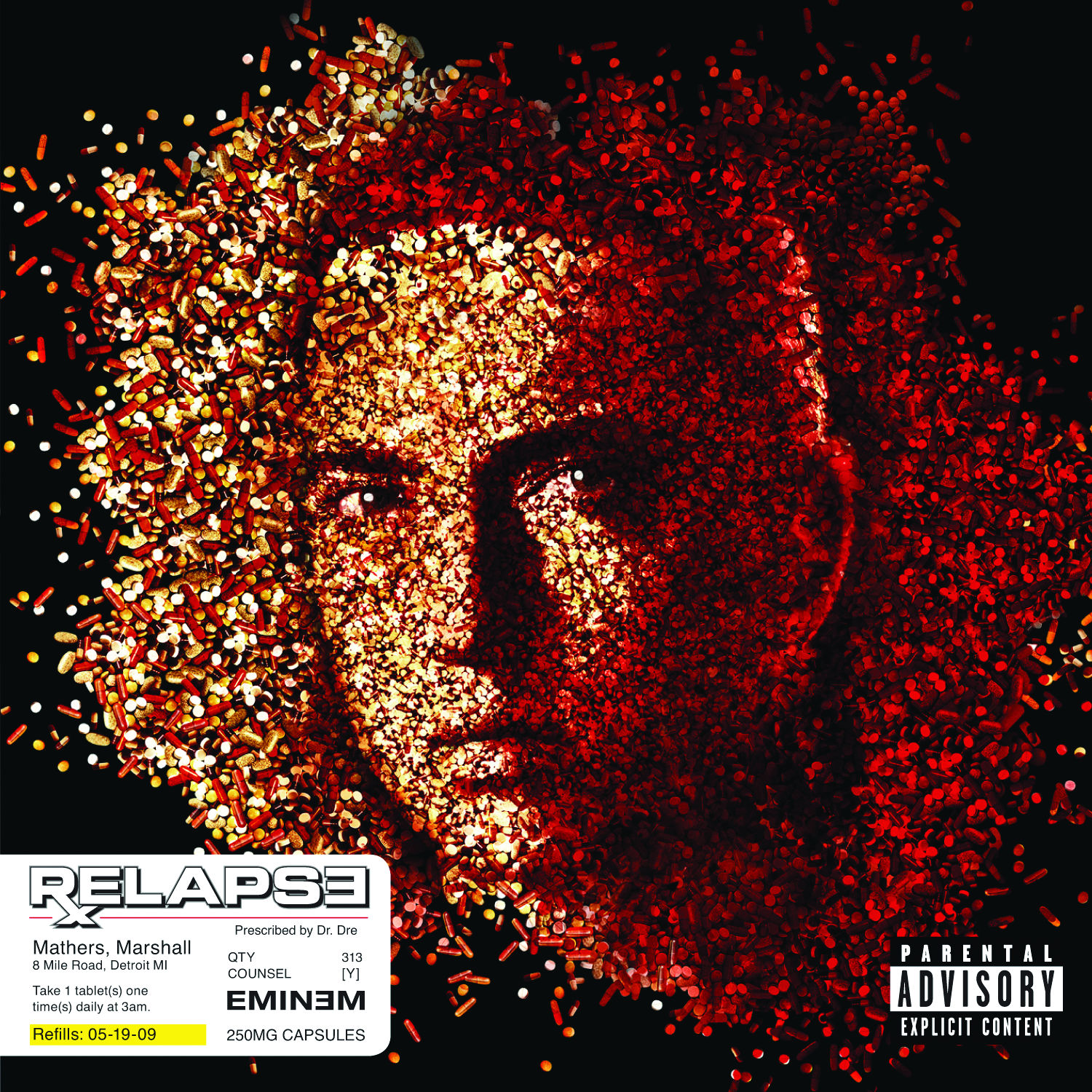 Is writer's block really a thing with "Relapse"? "Crack a Bottle", first single from the album is reminiscent of good old times — enhanced by guest appearances from Dr. Dre and 50 Cent. "Beautiful", the only track recorded before Eminem became sober (save for Deluxe Edition tracks), is arguably the most emotional and serious work on the album. It is one of the few songs where we can hear Marshall's true concerns and emotions. "My Darling" (from Deluxe Edition) makes one recollect "Encore", both lyrically and musically — Marshall is getting devoured by drugs, which are portrayed as a demon. "Insane" shocks right from the start; "We Made You", a gleeful and carefree dance song, sounds quite eerily surrounded by a company of songs about rapists and hard drugs. Here, Marshall doesn't forget about the promise made to his mother ten years ago on "My Name Is", and makes a record about doing drugs — naming it after her.
Themes about murder, rape, dugs and horrors arise on the album with such creativity only Slim Shady is capable of. Lyrics of "Relapse" contain the highest concentration of serial killers — as if it's overdosed with them. Substances and celebrities are on par too — Slim keeps his game and casually disses a number of famous people. Pussycat Dolls, Miley Cyrus, Rhianna, Amy Winehouse, Christopher Reeve… the list goes on. "3 a.m." and "Underground" possess phenomenal multi-syllable rhymes, while the second verse of "Stay Wide Awake" is considered to be one of the finest in Eminem's entire career. Overall, rhymes trace Marshall's manic moves with astounding detail on every track.
"Relapse" indeed has unique sounding — the album is well known for its often-mentioned "accents" and doesn't resemble anything from rapper's career. Even though Eminem has played with horrorcore before — "97 Bonnie and Clyde", "Kim" — you name it, but it's the "Relapse" where this genre becomes prevailing and dominates the entire album. Here, Dr. Dre's impact cannot be underestimated, who provided amazing set of beats for "Relapse". Doctor fully mastered the minor key, picking macabre bangers for his horrorcore friend Slim Shady, matching the grim and dark lyrics with top-notch music for this kind of setting. Interestingly enough, "Relapse" is the only album that was produced almost entirely by Dre.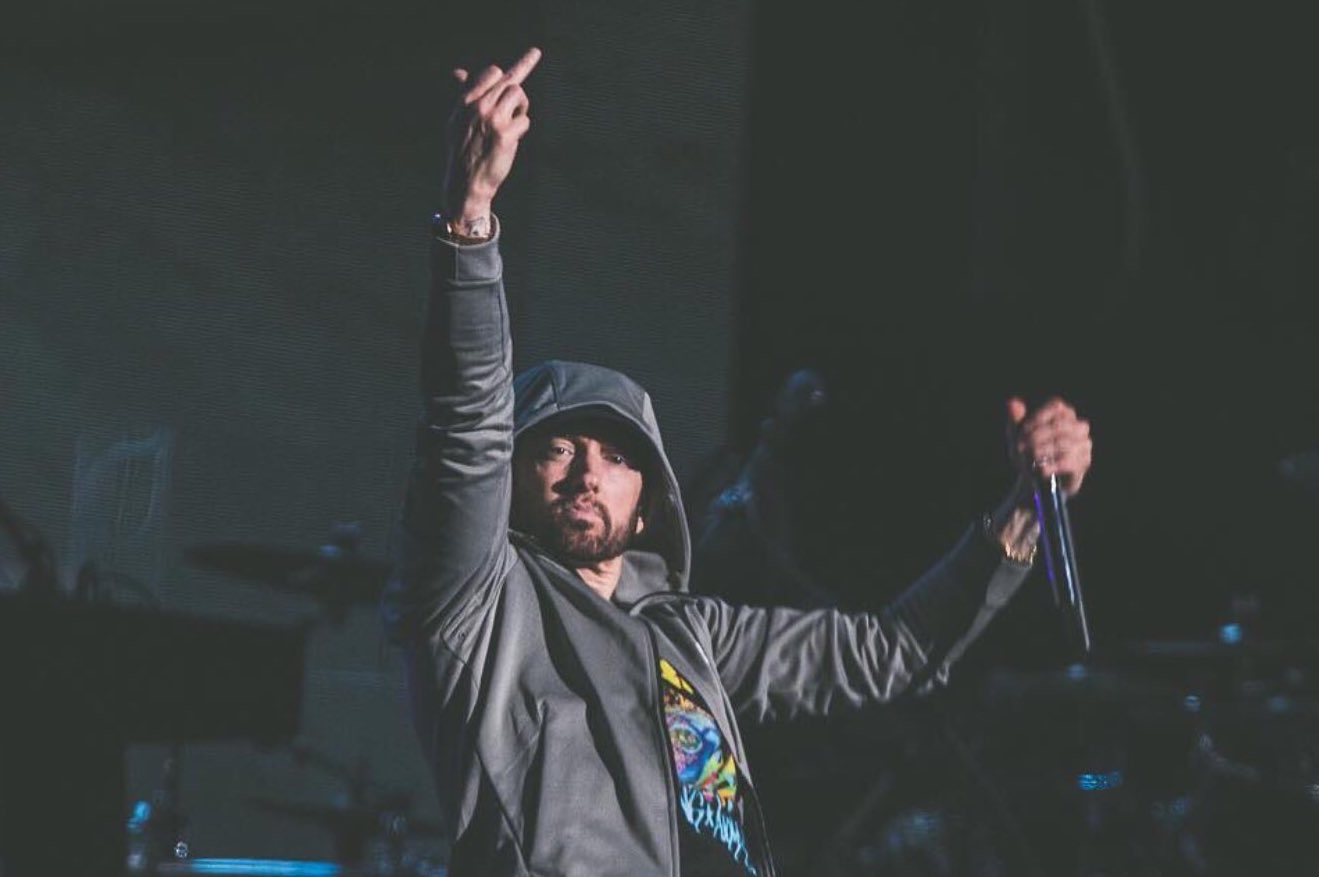 Any story about "Relapse" would be incomplete without Refill. A wonderful collection of savory and spicy tracks, brilliant enough to be a separate album. Eminem's play with rhymes and accents is clearly present. "Forever" looks forward towards "Recovery", "Music Box" would fit perfectly on MMLP, just like "Сareful What You Wish For" — on "The Eminem Show". "Buffalo Bill" excellently matches an aggressive beat with Slim Shady's verbal and physical aggression.
So why "Relapse" received such a reception? Very few anticipated so much darkness on a comeback album. Moreover, Marshall himself raised the bar high with his SSLP, MMLP and "The Eminem Show". Everyone wanted another album of such caliber, another phenomenal performance…but Eminem decided to give this one to Shady. Eminem is Eminem, no matter what — and what can be a success to many would be a loss to him. This happened to "Encore" (and, recently, to Revival). It left its mark on "Relapse".
But despite all the criticism, "Relapse" became the top-selling rap album of 2009, easily debuted at #1 on Billboard 200, and earned a well-deserved Grammy for Best Rap Album of the Year. The product truly deserves attention and delight — conceptually, emotionally and technically "Relapse" is a masterpiece. Perhaps, it's the last album where every part of Marshall's work sounds like an art. True art, not an exercise for rap-bot squashing syllables into the song and disregarding the delivery. Every song on "Relapse" has its own charm and harmonically intertwines with others into the common theme of horrorcore. As for us, we may only hope that a "Relapse" of creativeness of such kind is not the last one in Eminem's career.