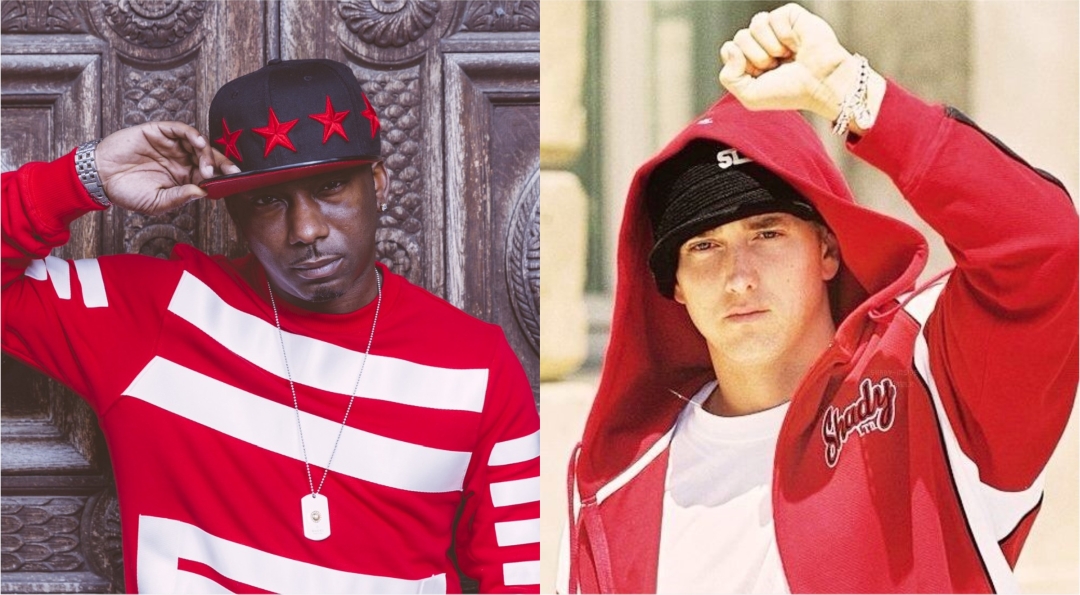 The Californian rapper who was about to get famous in the late 1990s remembers crossing paths with Eminem and gives insights on how Marshall signed 50 Cent.
Ras Kass whose career was interrupted in the early 2000s by mismanagement and one too many criminal convictions was asked about touring with Eminem when Marshall signed 50 Cent so Rass Kass had to set a timeline straight first of all and remember when he shared the stage with Em:
He was already putting out an album a year because he was doing so well. "The Eminem Show" already came out if I recall correctly. Maybe, the album wasn't out yet. Maybe, "Marshall Mathers LP". And "The Eminem Show" was coming out but he already had the art, his show was designed like "The Eminem Show". He hadn't even heard of 50 Cent yet.
However, Ras Kass pointed out, his relationship with Eminem did not start during this legendary Anger Management tours, they had met before:
First of all, I knew Eminem before Paul Rosenberg and Dr. Dre. I knew him from Detroit, he opened up for me. I brought my homeboy who was signed to Jay-Z with me to Detroit because I was staying at Jay-Z's house and had a show in Detroit. But I already knew them, like they were dope: Guilty, Hex, Trick Trick, Proof, Royce, whatever, they were just dope people. Cliques man, you've got to remember. If I'm good at what I do I got to go to Detroit and prove that there. And then they got to come to LA and prove it there. So-and-so got to go to Brooklyn, and Brooklyn has to come to Compton, and Compton… People were beating all around the world, all around the country.
However, that was a healthy competition, not a war and people from different circles used to help each other out. Ras Kass for one has a story to tell about how Detroit connections helped him to get a hustle:
Funny, there is a movie that is a fucking "Blair Witch" knock-off that Paul hit me about… Because Eminem's manager, when Dre brought him, really wasn't even Dr. Dre, when Iovine brought Eminem to Dre I was on "Rasassination". My first show for "Rasassination", my release show or whatever, Em popped up. He was in LA, he was like, "Yo, Dre got me out here". His manager was a black dude from Detroit. It was not Paul Rosenberg. That's how far we go back. Fast forward, and with Em that happened pretty fast, to maybe 8 months or something and Em hadn't got a record yet but he had signed the deal. And "Blair Witch" just came out, and that movie was a knock-off of "Blair Witch". Paul was like, "Yo, they're paying $3000 and they want you to do some shit in the movie, Em did it". And I'm like, "Fuck yeah, I'll do it". All I got to do was be like scared. So Paul made me money. It was all love. It was a lot more innocent back then, to be honest. It's something I always try to remind people, like, we used to just be kids with dreams. Everybody helped each other. It got a lot more political and a lot more adversarial. I liked it when everybody had talent, skill and believed in each other and worked with each other.
This connection came in handy once again when Ras got a place on the Anger Management tour roster:
Paul started managing Xzibit, I had my record deal, everybody had a record deal, that's how I met Obie [Trice]. Obie just came out with "Real Name, No Gimmick". I was working on "Goldyn Chyld", this is before shit was going completely bad. Xzibit had whatever album he had out, he had already did the Dre shit, so he was in a great place. I came out with Xzibit, "Golden State", it was me, Saafir and Xzibit. And then, of course, Eminem was coming out with D12 and Obie Trice. He hasn't heard of 50 Cent yet. And we went and did the Anger Management [tour].

First, we did Fujifest, that's the first time. The first time I've seen a million dollars in cash, you know, whatever. I think that was the first time any of us had seen a million dollars in cash. Se we went to Japan and did a show and Em headlined. Xzibit, me and Saafir were the act right before him and then D12 and Eminem performed. And then we went on Anger Management. X-ecutioners, Papa Roach, Ludacris, Xzibit, D12, Eminem. We went through this whole country. And then it came overseas but I already had my criminal case so I couldn't go overseas. Because once I didn't turn myself in when I would've come back they would've just arrested me at customs. So that's when 50 Cent joins.
Despite not being at Eminem's side during that time Ras Kass seems to be well informed about how Marshall came to learn about Curtis Jackson back then:
He signs 50 during Anger Management. Eminem never heard of Fifty. I knew 50 Cent because we used to work in the same studio, at Jimmy Henchman's. The small world of people, I keep telling you, we all know each other. So, Eminem's bodyguard were all these Manhattan bodyguard dudes, they were New Yorkers. They had mixtapes, they played 50 Cent's shit. That's how Eminem heard of 50 Cent. Those bodyguards, if they would have just got 1% for what they ended up doing – life-changing, they would have been rich. So that's how quickly things can change. Em signed Fifty.
Watch the full segment of the interview with Rass Kass below: