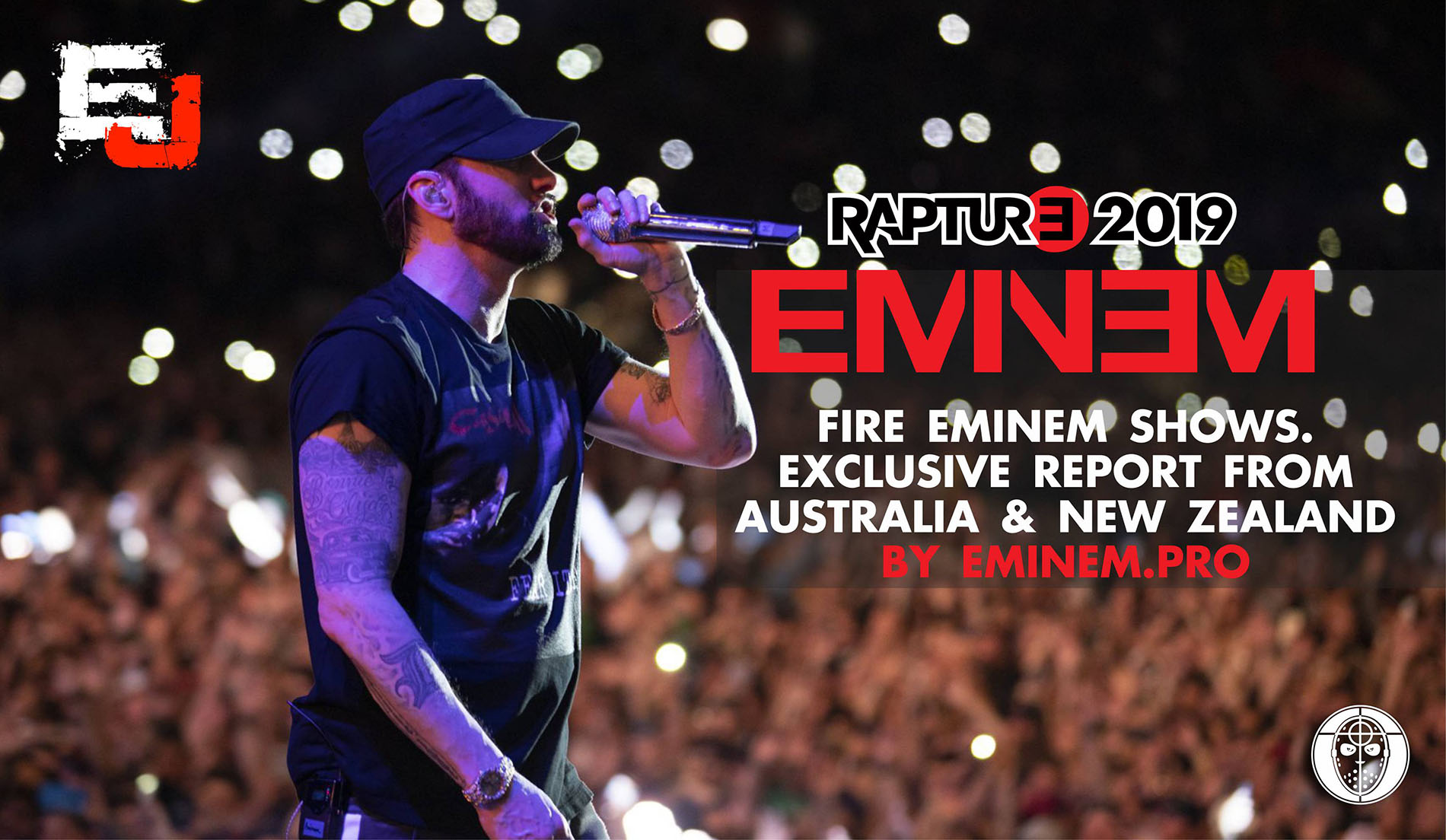 The main theme of the 32nd edition is our report from Eminem's shows in Australia and New Zealand, which were part of Rapture 2019. While reading you are guaranteed to feel yourself in the moment of being first row at Marshall's concert. You can also check out our live coverage of the shows on ePro's YouTube.
Eminem was long awaited in Australia and New Zealand — the rapper made his last appearance there 5 years ago, as part of a Rapture Tour 2014. Aussies weren't the only ones anticipating Eminem's visit — Stans flocked in from all parts of the world, overcoming long distances to see the legend perform live (Our editor, Igor, was one of them). Tour dates matched a huge milestone in Em's career — a 20-year anniversary of "The Slim Shady LP", the record that brought him worldwide recognition and gave birth to Slim Shady — Marshall's iconic alter ego. It was no surprise that this fact would be reflected both on-stage and in the crowds.
Many people ask, why go to Eminem's concerts if it's the same songs over and over? It's kind of hard to explain. You get to feel the energy of a man who continues to craft lyrical songs that are played all over the world — proving his critics wrong again and again. You get to see a man, often labeled as "irrelevant", "outdated" and "losing his grip" bring together record-breaking numbers of people on the world's greatest stadiums and arenas, with the majority of the crowd being younger than some of his albums — too young to witness the golden days of Eminem's career. What else can be a better proof of his relevance than young and energetic crowds, uniformly chanting along, eyes locked on stage?
To Eminem, his art is his life. He remains an honest and outspoken person, sometimes scandalous, sometimes politically incorrect, sometimes a bit weary — but explicit all the time. It is this explicitness that wins the hearts of his followers and attracts them to his shows — not only because they want to hear the songs, but also because they want to feel like they are a part of this legendary man's life. The man who helped them go through their own struggles.
This is why new generations keep discovering Marshall's legacy and, just like decades ago, his lyrics help alleviate stress, cope with anger and deal with hardships. No matter what the critics say or how they rate him, fans continue to occupy the stadiums, travel around the world and stand in long lines to get to see the legend live. His personality, honesty and talent are an outstanding and inspiring example to many. Undoubtedly, he is a true artist, a master of ceremonies, able to grasp the attention of the crowds, delivering a phenomenal performance. When the curtains are down, everyone is screaming for encore.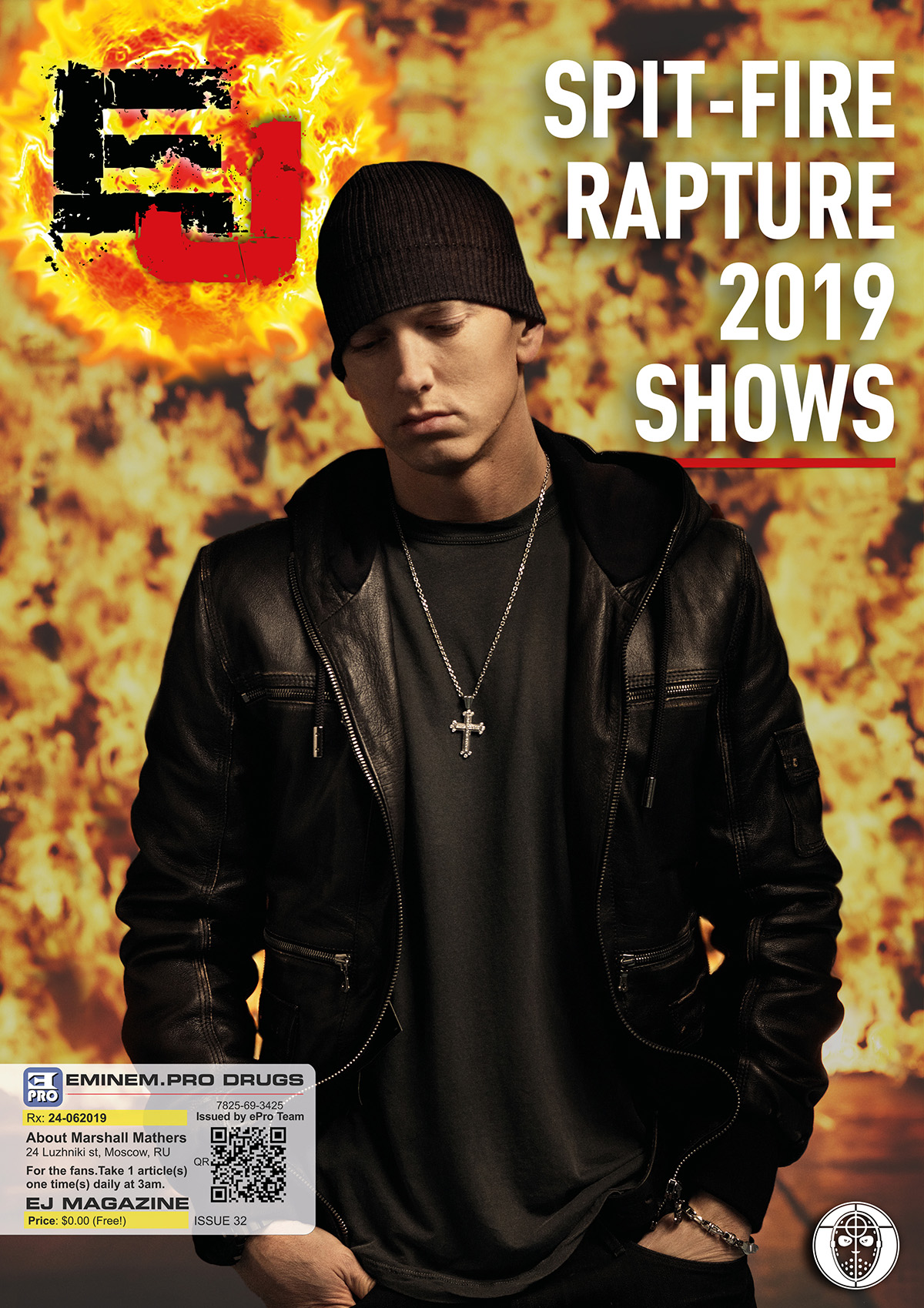 Even though Eminem goes on tours quite frequently, I decided not to miss an opportunity with this one. Rapture 2019 gave me a chance to kill two birds with one stone: to see Eminem's live performance and witness all the wonders of Australia and New Zealand. There was no guarantee that the show would be different from 2018's Revival Tour, which I've visited as part of our ePro trip. One thing was clear, though: if I was going to Australia, I would have to buy the tickets the very first day, as they would be sold out in an instant.
Initially, doubt was prevailing, as we lacked a clear plan and were uncertain about the trip to Australia. That's a distant country with not the easiest visa to obtain and a journey that will drain our budgets for sure. Because of that, I decided to get the tickets to all shows – economically, this was more reasonable than flying to see a single performance. As a result, I got hold of some VIP "Kamikaze Early Access" tickets, 450-500 Australian dollars apiece. Quite expensive, but well worth the price. The ticket vendor, Ticketek, was blocked in Russia, which was a real pain in the butt (I had to use VPN for purchases — not a flawless experience, really). Partly due to this, I missed out on Melbourne, where a sold out hit quite fast.
So, I got the tickets to Brisbane, Sidney, Perth and Wellington (NZ). Looking back, I really should've picked Melbourne instead of Perth, as that city is distanced from others, and getting there caused a lot of problems, especially the flight from Perth to Wellington.
Nothing was certain about the lineup — will the Kamikaze tracks be on the list? The unexpected answer to this came after the Hawaii show on February 15th, right before the 2019 Rapture Tours. Eminem performed five of his new songs, bringing anticipation to an unbearable level. The Hawaiian show gave a clear hint as to what to expect from Rapture, but I also hoped for something special. And it really did happen!
TEG Dainty managed and organized the Australian and New Zealand's concerts. Right away I want to give these guys credit for the top-notch service they provided to all fans. Their management stands out from any other shows, no matter what country or artist they're working with — they're great in all aspects.
VIP Kamikaze tickets are a bundle. They include early access to the stage, a set of gifts with official merchandise and priority service (i.e., in merch shop). But if you think that a VIP ticket will grant you guaranteed access to first rows – you are wrong. You really do have to put in some effort if you want to see Eminem close-up. VIP buyers get inside the stadium 15 minutes earlier than anyone else; I'm only talking about the Golden Circle access, I know nothing about all the other early access packages to "designated VIP stands" – they are a waste of money and complete bs, in my opinion.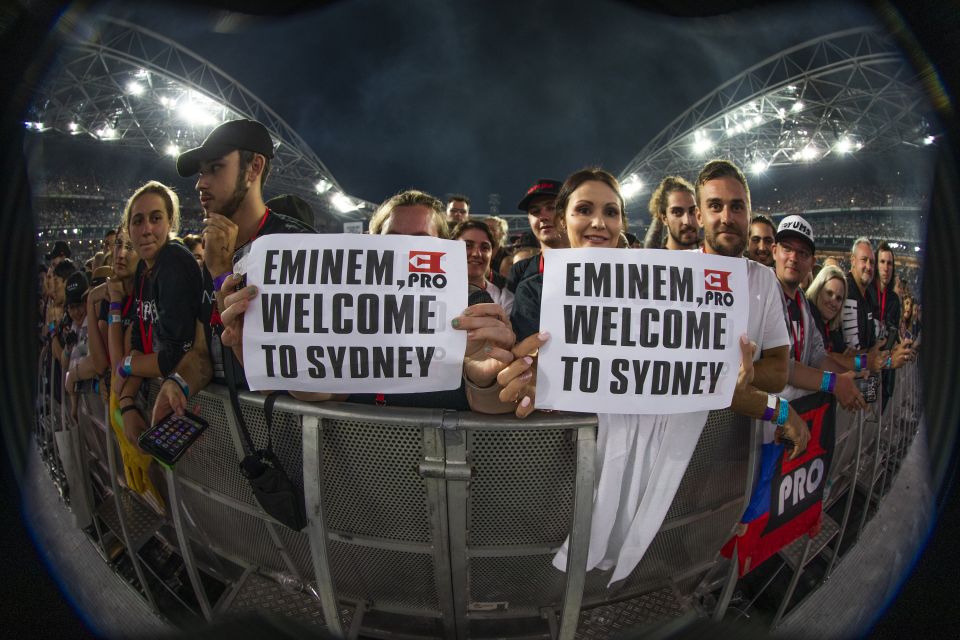 It was a hard choice for me to figure out which show deserves full coverage in this article — any of Eminem's performances is unique and special in some way; there is always something incredible and magical to them.
Consider Brisbane: hell, that was the first show of the tour, anticipation was sky-high. Out of all Australian cities, Brisbane became my favorite — great city filled with wonderful people.
The concert at Brisbane took place on Track & Field QSAC stadium. All tickets were sold, a total of 45 443 Stans showed up to witness Eminem's performance. QSAC is kinda weird, I've never been to such stadiums — it has a wide field and relatively low stands. When this place gets filled up with people, it starts to look incredible.
I came here the day before the concert to pick up my ticket and check out how things were going. The stadium was ready & set, surrounded by security. I could see high level of management everywhere I looked: everything was clean and tidy, crowd control barriers were placed everywhere suppress the hordes of fans.
I had a small hitch with the tickets. Three tickets (for Brisbane, Perth and Wellington) were purchased with the option of on-site pickup, but the Sydney ticket was only available through shipment by mail. And guess what? It didn't come in time. I had to start a long conversation with the Ticketek administration, and, reluctantly, they offered to make a copy of my ticket if I stopped by their office one hour before the show starts. "Are you kidding me?!" I paid 500 bucks to try to get in the first row and now, you tell me to drop this opportunity?? Not happening. I continued to negotiate further, and couple of days later Ticketek confirmed that they can print a copy of my ticket on the day before the concert.
Why did I tell you all this? All these employees answering phone calls and e-mails often lack real knowledge and form their answers based on some sort of preliminary template. When I came to QSAC box office, I asked a lady working there if she could, by any chance, print out the Sydney ticket alongside my ticket to tomorrow's concert. She showed maximum attention and addressed my problem with patience, placed a few calls, and, after a few lengthy conversations over the phone I received all of the tickets I have purchased – not only the Sydney and Brisbane ones!
I arrived early the day of the show, 8:00 AM sharp. Seven avid fans were already standing in line. Fun fact: everyone who showed up early (7-8 AM) had the "VIP Kamikaze Early Access" tickets. Once again, a VIP ticket doesn't secure you a front row spot. You have to come early, check in, and… wait, wait, wait.
At 9:00 AM. the staff began to prepare the area for the VIP's. The team worked very professionally, and right before 10:00 a.m. one of the managers talked to us and gave us a rundown on all the organizational stuff. The best thing with this show was that everyone received a tag after the check-in — no more standing in line for hours, which is really cool.
So, everyone received a tag and the crowd dissipated. A staff member remained on duty in the VIP sector, greeting new guests and handing out tags. Around that time the personned finished assembling the place for the VIP's, with merchandise and other stuff.
Yeah, out of all pre-concert things this one impressed me the most. I came here early, got my tag, and now I can carelessly wander around the city instead of standing in line for hours. Solid A+ for such service.
All the cool stuff regarding the VIP packages was starting from 14:00, and that's when the majority of fans started to arrive. By that time, I managed to get back to the city, grab a lunch, and stop by my hotel room to leave some unnecessary stuff.
I have mentioned the prohibited items several times in the previous concert reports. In the last few years, I started to use a string bag — small enough to be allowed but large enough to accommodate all things necessary — two power banks, ID's and documents in a ziploc, and a few miscellaneous items (a flag, flyers and other fan-made stuff). Lastly, a portable umbrella — since umbrellas aren't allowed, only portable ones have any chance of making it through the gates. If the staff finds your umbrella, be prepared to throw it away — they won't let you in. I don't recommend taking anything else to the concert — food and drinks can be purchased on-site without any problems. And yes, be prepared to throw away or shove into pockets anything you bring along.
As you might have noticed from our live concert streams, the VIP zone is organized very neatly; there are Eminem banners everywhere, the loudspeakers are blasting Eminem music, the staff is always friendly and willing to help. It's like anything you look at was part of that VIP package.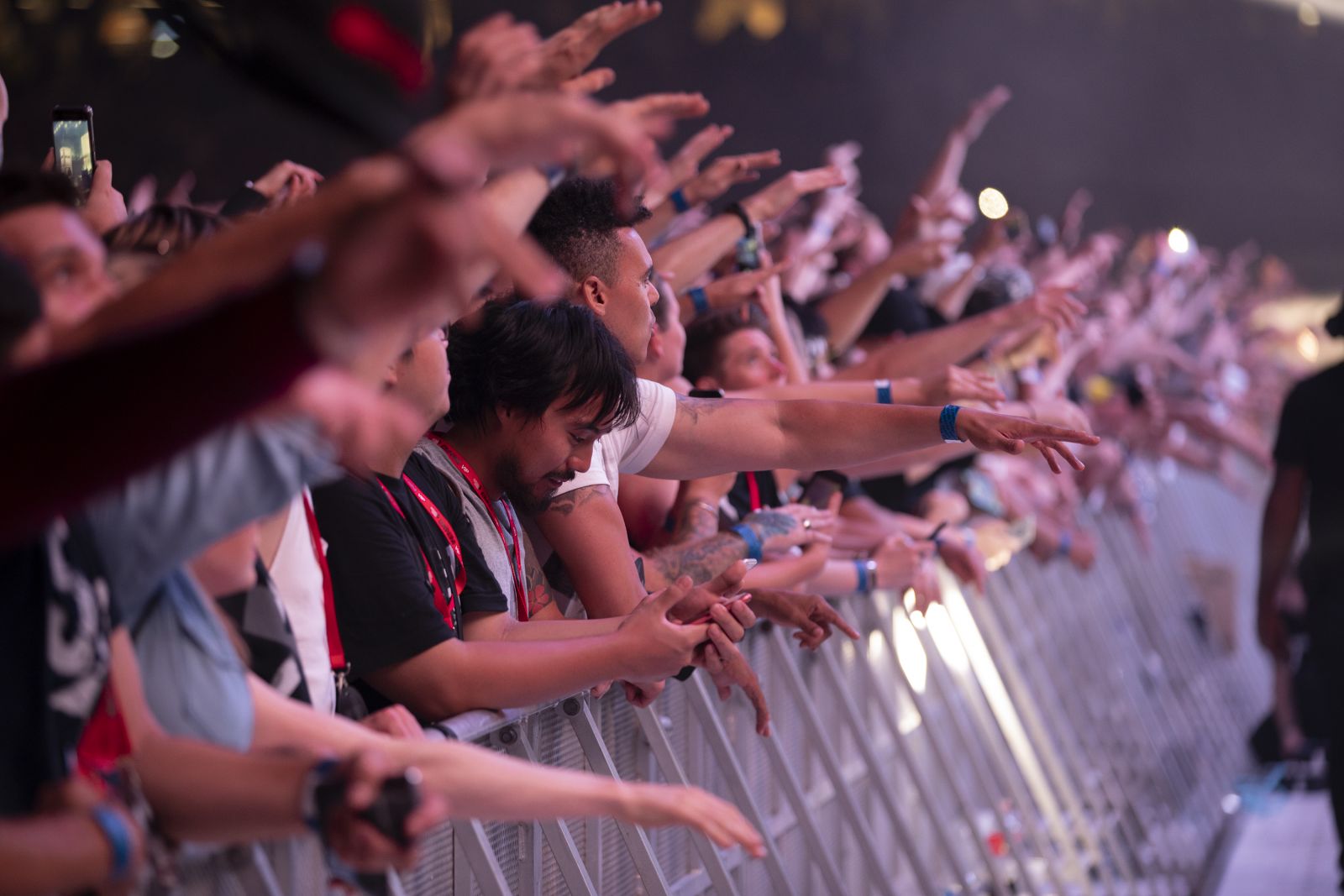 The tag provided for priority check-in — based on numerical order. After ID and ticket checks, I was issued a special badge that distinguished VIP ticket owners and, finally, a set of gifts included as part of the package.
Here's the list of Kamikaze VIP Package: poncho raincoat, Tile keychain, a set of Eminem/Rapture Tour badges, phone charger with Rapture Tour logo, and, most importantly, reusable earplugs that came in a metallic case — a must-have for first rows at any concert. A 50$ voucher was also part of the bundle, which could be used for merchandise or food purchases. By the way, the T-shirts cost exactly 50 bucks, so if you wanted a hoodie or something, you would have to pay extra. All of that was packed inside a string bag with Rapture Tour logo on it.
Fifty minutes before the start, place already crowded with fans of all ages and backgrounds. Some showed up with their families; it felt like Eminem's concert was a holiday to some Australians. Many fans sported official Eminem merchandise.
Drinks were served immediately, and, considering the front row was comprised entirely of VIP ticket owners, staff and security made sure everything was going okay for us. If someone from the back rows tried to squeeze in-between, he was halted immediately.
In general, all Rapture 2019 shows showed the same high level of service — be sure to check out the Rapture Diaries videos on our channel.
Only one small nuisance happened in Sydney, where tag numbers got mixed up, but it was resolved shortly, and everyone was issued purple wristband tickets instead, numbered by hand.
Eminem's Sydney concert was held at the huge ANZ stadium, which is part of a large Olympic complex, just a 30-minute drive from Sydney by train. Very beautiful building, which is included in the top must-see attractions of this part of Australia.
That night, the stadium became a home to 70,891 core fans of Eminem. Perth fans surprised by their very early arrival. I arrived at Optus stadium at 6 am, and the first fans already conjured long lines around the stadium.
Perth is a rather provincial city in western Australia, and Eminem's concert is a breaking event for these places. The reporters from local channels were already on site and filmed a report about everything that was going on. The stadium in Perth is called Optus and it's open air type. It's a large round construction with red stands. When the lights went on in the evening, it was an incredible view. The stands and the field were filled with 60.5 thousand guests (according to official info).
Each city of Rapture 2019 left different impressions about itself and stood out with something, but the best and most memorable concert of the tour was the final in New Zealand in the city of Wellington. I will tell you about it in detail.
THAT'S THE MEETING
Being at the final point of my journey, I was already so tired. A very tight schedule, going through exhausting lines to get to the best spots and fucking long flights are very emotionally and physically exhausting. My flight from Perth to Wellington was scheduled for the evening of February 28.
Perth was a real sell-out in terms of airplane tickets. There were lots of people, and everybody knew the reason.
I sat at my gate waiting for landing and it seems that I didn't want anything at that moment. Just put myself on a plane and fall asleep … And then I noticed a familiar face. In the line for priority registration there stood no other than Em's photographer — Jeremy. "Now thats a coincidence," To make you understand, Eminem's concert in Wellington was attended by 46,474 people. This is an absolute all-time record for Westpac stadium. Same goes for the city of Wellington: 25,000 visitors arrived in one day. There wasn't a single free hotel, hostel or room in the city. Everything was sold out.
A thought flashed through my mind: what if someone else from Eminem's team would also fly with us? And thats the moment I noticed Skylar Grey with her boyfriend in line for our flight. Damn, I've always wanted to meet her, but to meet her on a flight to Eminem's show where she will be performing alongside him was something incredible.
She wore a wide hoodie and had huge backpack. It seemed that it was bigger than she was. Probably she was carrying her beautiful outfits. We waited for the start of check-in. I approached her to say hello. Looking at her, it was clear that she was also very tired. Making small talk, I asked her if she would agree to get a selfie. Holly replied: "a little later on the plane". "OK, cool!"
It's interesting that Jeremy and Skylar flew separately from Eminem's team. I always thought that they all travel to the concert together on the same private plane. It is also interesting that Skylar was in business class, and her boyfriend in economy class. Jeremy, by the way, was sitting at a seat right in front of me.
Getting on the plane, I once again approached Holly, and we took pictures. Later, when we took off, she signed one of ePro concert flyers for me. This meeting definitely cheered me up and set the overall mood for the final Rapture show.
We landed in Wellington late at night. I had only one free day to explore the city. Wellington is a rather small town with a beautiful view of the harbor of the same name. In the beginning of March, it was rather cool here, the wind was blowing, and the day of the show it was a little rainy. Not the best weather, but the sun saved it all.
The day of the concert, I decided to come to Westpac stadium as early as possible. Barely finding the strength to wake up at 5 AM, at half past five I was already in the VIP line. There were three guys in front of me who were practically spending the night at the stadium with bags, arriving from somewhere in Australia. A few more people came in about 20 minutes. We were finally given our cherished passes and like previous shows we went to relax and walk around the city.
15 minutes before the gate opening we were led to the stadium. We walked the whole way there: first inside the stadium, then across the field An empty Westpac was waiting for the legend to step foot on it.
OPENING
Shady Records label latest new artist, Boogie, was invited to Rapture 2019 live shows, followed by one of the greatest hip-hop duos, PRhyme, with the legendary DJ Premier Royce 5'9 with his brother and hype man — Kid Vishis. The Australian hip-hop group Hilltop Hoods was opening the show.
As for for myself, I've not yet had a chance to discover Boogie as a great artist and properly analyze his debut album, but I'll definitely try it out now. Boogie is confident on stage and has an ability to light up the crowd. He has lots of lyrical and entertaining tracks. In general, the public still does not know him and is still treats him a bit cold, but his time will surely come soon. Same as Kendrick's time. I am sure Boogie will definitely find his listener. By the way, his DJ soaks sets fire on stage with his cool dance moves, creating an incredible atmosphere.
When Royce 5'9 appears on the scene, it gets blazing hot. In Australia, he is known and loved. He recently went on tour and visited Australia as well and gathered a large following. His classic hits sound great from the stage. When the track "Lighters" off Bad Meets Evil fires, the stadium always goes out in lights.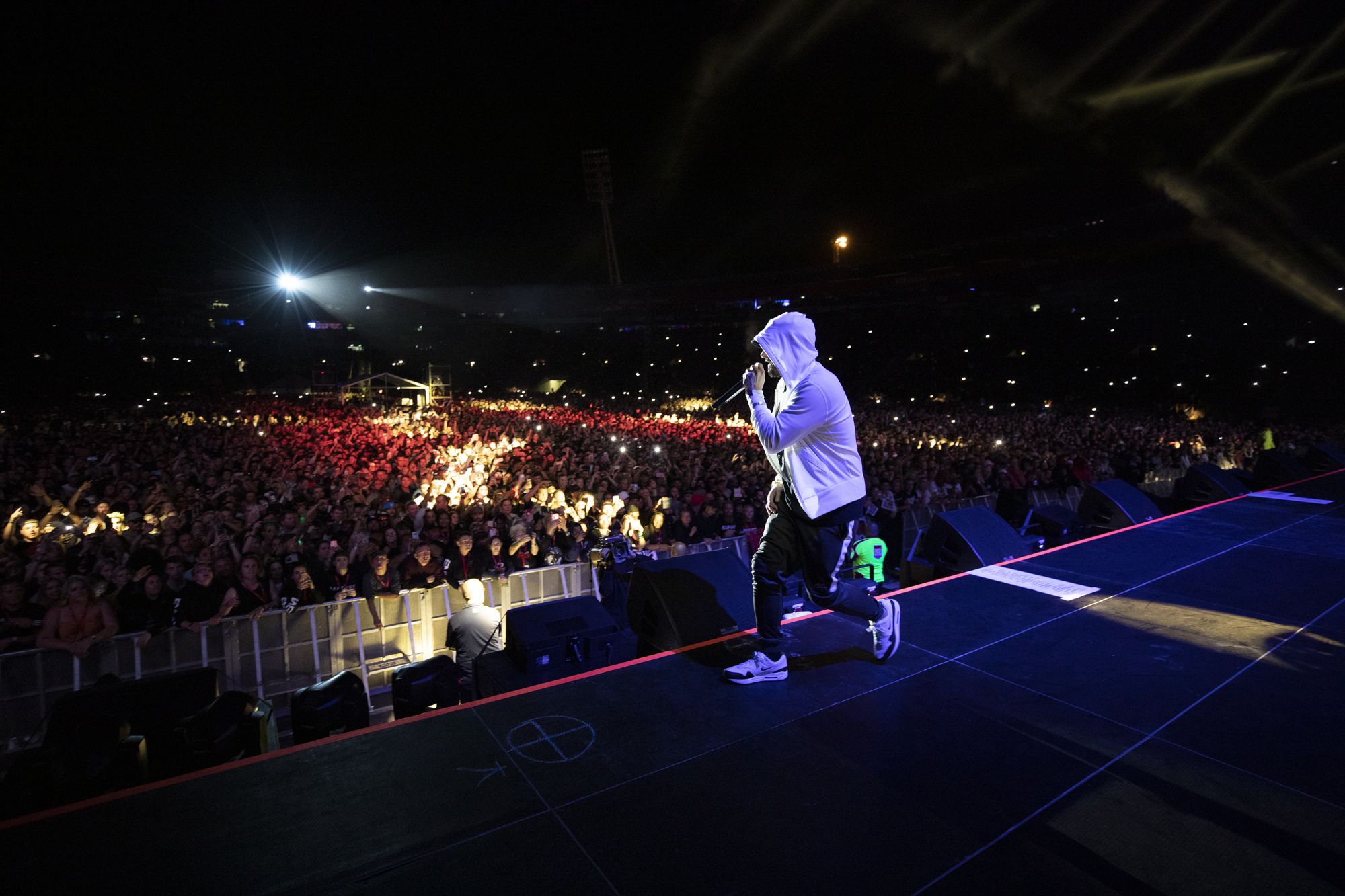 WHITE CURTAIN
Just before the start of the show, as a long-time tradition, Jeremy Deputiat — Shady Records full-time photographer and a true professional at his craft – comes to photopit. It is very interesting to watch him work. Before the show, he usually takes several photos of fans and interesting flyers they bring to shows. In 2019 Jeremy started using a wide-angle lens and the photos began to turn out even more impressive. Of course, every fan who came to the show, and especially in the first row, wants to get into his lens and be captured at such an epic moment and land in the concert's photo report published on Em's website. We were also not left out. Check out some of Eminem.Pro flyers on Em's official website in reports from Rapture 2019.
Just a few more minutes. The degree of expectation of fans rolls over. Someone from the crowd begins to call Eminem, and the whole crowd picks up with deafening roar. The spotlights go out, the white curtain falls (yes, it's the same, and it looks like it is moving from concert to concert and in some places it looks very dirty) and the stadium is full of deafening screams of fans. After all Australian fans have not seen Eminem since 2014. They really missed him and were hungry for his live show and it was felt very much by the behavior of the public.
You are looking all over stage, looking for Em, but he still stands in the dark. The first change of the concert program of Eminem in 2019 is, of course, an intro. We have all the same video with the destruction of the city by giant Eminem. And this video is still useless for those who are not at the screens on the sides of the stage or in distant rows / sitting in the stands — from the center in the first rows it is simply not visible. I don't understand why it is not on the large space of the stage itself, technically there is no difficulty in this.
After the video, the same intro is started, under which Em started reading last year "Medicine Man", but this time "Medicine Man" was replaced, apparently according to the current mood, with the track "Greatest". To tell you the truth, he sounds less impressive from the scene than "Medicine Man", which makes Em's first appearance less effective. Those who were at the concerts of the Revival Tour, would not let me lie — the appearance of Em with "Medicine Man" — this was the coolest moment of his live show.
We have what we have. At the moment when the giant breaks the glass in the plane, the attention of the crowd of thousands of people is riveted to one point on the stage. All those who brought with them the phones now got them out and aimed at the stage. It is looks very funny from the side. Thousands of phones … Eminem began to read the verse from "Greatest", while still behind the scenes and a few seconds later went out from the side. At one of the concerts, I noticed how Jeremy is shooting Em's reading on camera, so maybe someday we will see this moment. Do not think that this is criticism or discontent, because now it has become so fashionable to criticize Eminem. No, it's just thoughts aloud and analysis of changes in the concert program.
From the first lines, Eminem rushes around the scene in the white hoodie (from the very collaboration with Rag & Bone, in which was the hidden teaser of "Kamikaze" album) and destroys everyone with his furious reading. The beat "Greatest" is replaced by the Pink cover from "Won't Back Down" and Em is without stop, like almost ten years ago, continues to read. It seems that he is absolutely overwhelmed with energy, if he stops even for a minute and stops spilling it out onto his crowd of thousands people, he will immediately explode. "Not relevant," you say? Then, without a hitch, a gloomy "3 am" follows, during which Em emits his crown movements on stage.
Before "Square Dance", he shouts loudly "Wellington", showing his middle fingers. And from where does he have so much energy. The final track from the opening performance set becomes "Kill You", after which Marshall is went to take a drink.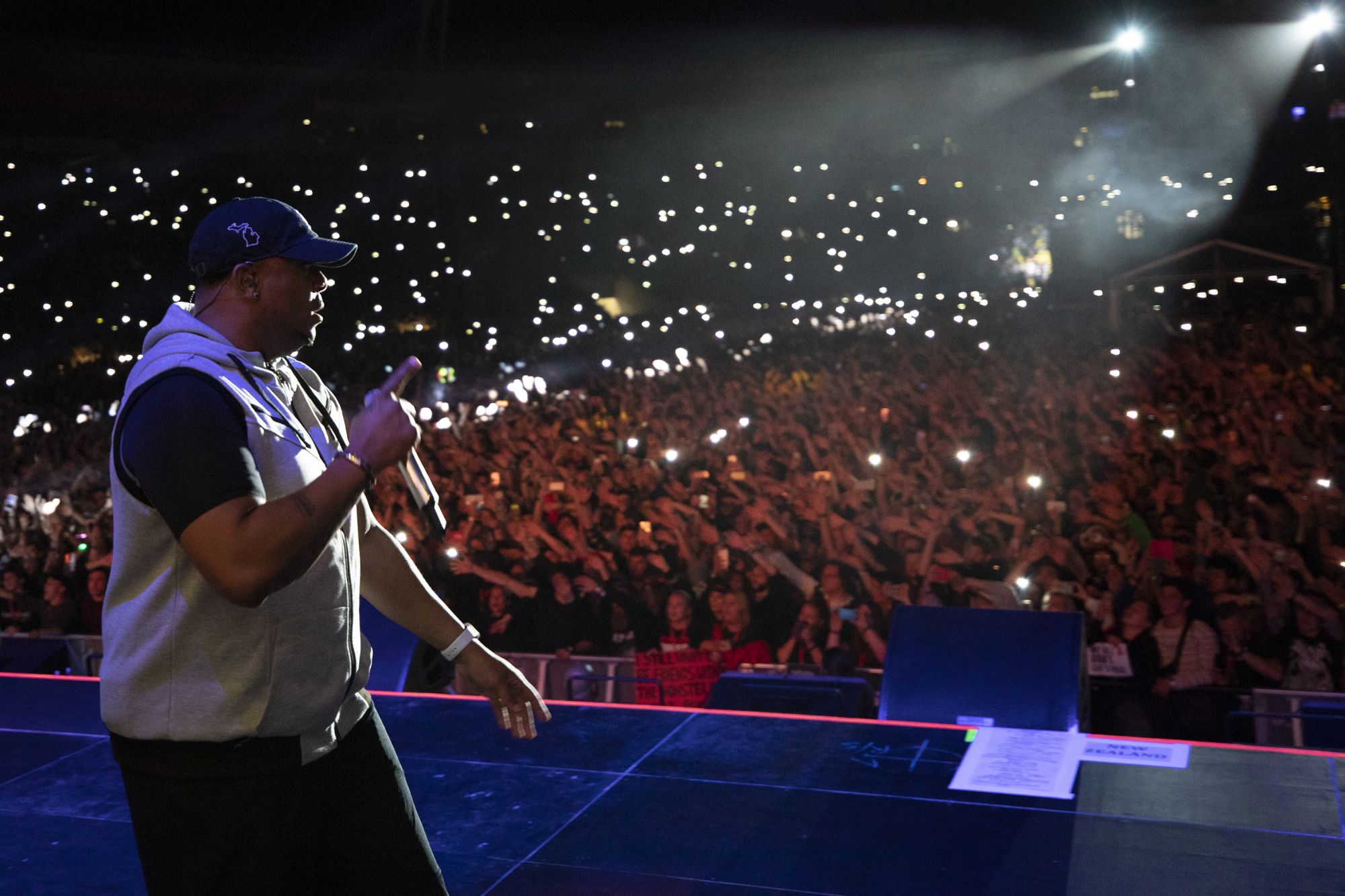 "Wellington, New Zealand, what the fuck is up? It's a lot of you, mothefuckers, here tonight! I can not believe it, I need to do motherfucking sound check, i'ma count to 3, make some noise!! 1-2-3!! Wellington, I still don't believe it! 1-2-3!", — shouts at this moment Porter. "Ok, so Wellington,it's been like 5 years since the last time we was here (Yeah). I gotta tell you a little story real quick. This is how much we fucking love you!", — says Em and begins to read "White America" track, from the beginning of which everyone has goose bumps.
"White America" beat is replaced by the familiar to all fans "Rap God", and Porter announces that the Rap God will now appear before us. The audience explodes with a deafening scream, and everyone is waiting for speed reading. This time, Marshall stopped to read his speedy verse right in front of me in the middle of the stage. This is impossible to convey, it just needs to be seen.
After such high-speed reading Em just need to take a breath, he retires offstage. And at this moment "Dream On" sample of Aerosmith starts, followed by the track "Sing for the Moment". At this unique moment, the whole stadium lights up with thousands of lights of lighters and mobile phones. In the next track, "Like Toy Soldiers," Eminem asks to shout loudly the name of his late friend Proof: "Wellington, this song is for anybody who lost somebody close to their heart. Ya'll say Big Proof, say we miss you!"
The next big change in the 2019 concert program is, of course, new tracks. Eminem added to the set list, in addition to the aforementioned "Greatest", two more tracks from the album "Kamikaze" — "Lucky You" and "Fall".
With the track "Lucky You", Eminem appears on the scene like lightning as soon as the "Like Toy Soldiers" beat dies down. You don't even understand anything at first, and only a few seconds later, when the applause after "Like Toy Soldiers" subsides a bit, it becomes audible that Em is reading a supernova. At this moment, everyone is listening intently, because now there must be another moment of high-speed reading. Em shows the best of what he is capable of, and the rhymes flying out of his mouth, like bullets from a machine gun, once again remind everyone who is on the top of the game. It's one thing when you can write something like this in a studio and it is completely different when you read it in front of the crowd of many thousands in live, spilling out dozens of words per second. It looks very impressive.
While Lil Wayne's "Forever"part cover is playing, Eminem has time to go backstage to take a breath and take a sip of water, and then he continues to rap.
After the performance of "Forever" Em, Mr.Porter and DJ Alchemist start their first conversation: "Ok, Wellington, are you still with us, New Zealand? I want you to meet someone! This is our DJ, his name is DJ Alchemist. I do this for you, for your confidence level. You know, Wellington, check this out. This is my other friend right here, his name is Marshall!", says Porter. 46 thousand people scream in one voice, welcoming him. "Hello, Wellington, what the fuck is up?!", says Em, sitting near the DJ table.
"Hey check this out, my name is Mr. Porter, and I got couple of questions for ya'll to see if ya'll here tonight are considered fans of friends. So the first question is: How many of ya'll got The Slim Shady LP?", — continues Mr. Porter, heating up the crowd even more. "That's easy!", — Em says. "How many of you got The Marshall Mathers LP?"
[Yees-Yyyeees-Yeeess] "Safe!" "Eminem show?" "Nice one! Relapse? See!?"
"I don't have that", Em jokes. "You don't have this one? — I don't — I got this one", Porter adds.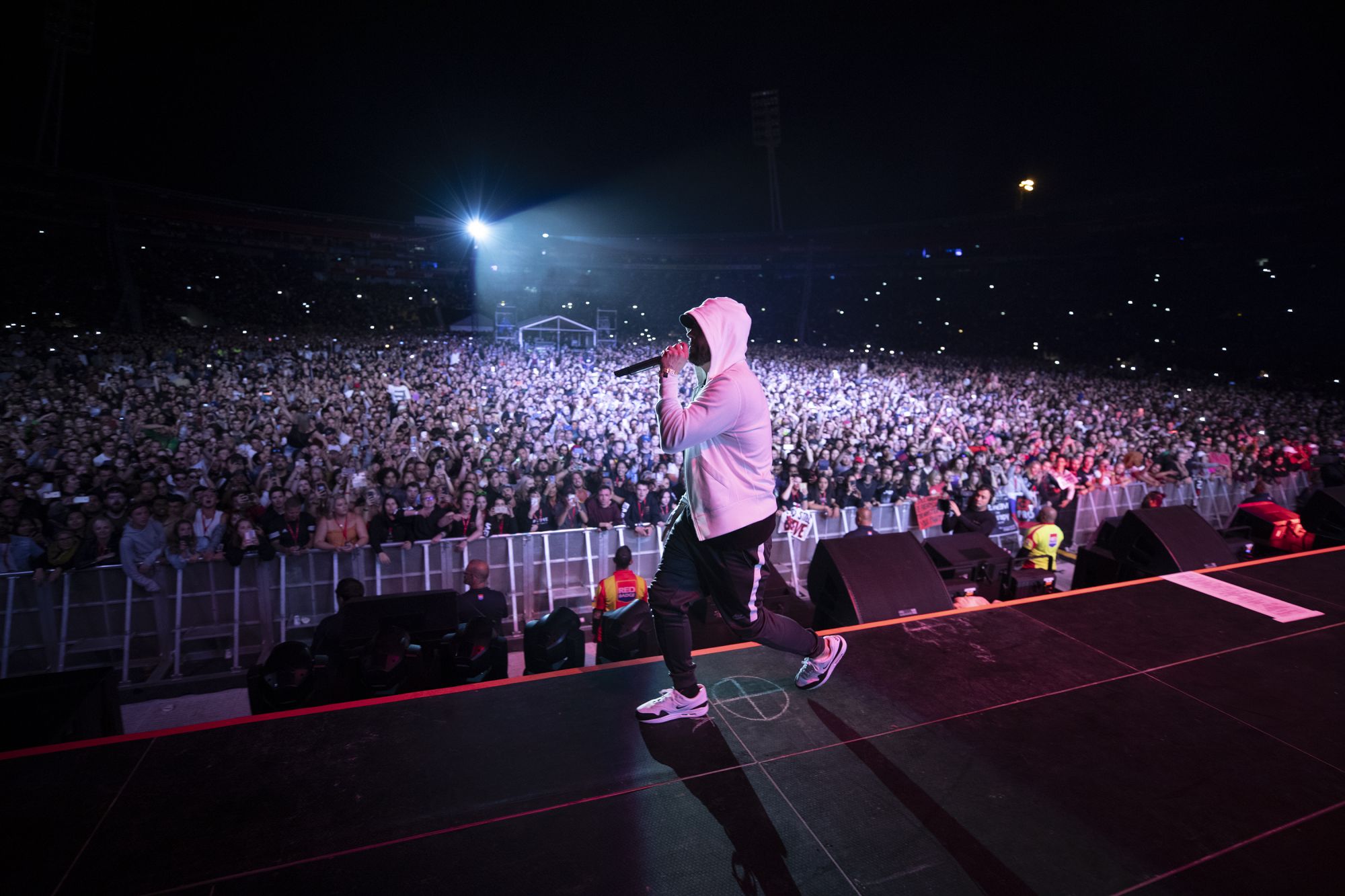 "Ok, check this out, how many of ya'll have The Marshall Mathers LP2? How many of ya'll got "Encore"? I see. So check this out, I think you sound a little bit more like friends than fans, because..hold on.. let me double check, let me triple check. How many of ya'll here got "Revival?" And then the crowd bursts in loud screaming. "Unsuccessful album" you say. Well.. "I don't have this one either-you don't?", says Eminem. "It's good!", — Porter interrupts him. — "Just in case you might not really got into this shit, he turned around and worked his ass off and gave you "Kamikaze". How many of ya'll got that?" — [Yeees-ssss-eees DAMN yeee-eeess] "That's crazy! Jesus!", — Em surprises at the deafening shout of fans. "So it sounds like, Wellington, New Zealand, we have some motherfucking friends out here, huh?", — Porter sums it up.
And then Em shouts instantly: "Fuck that, hold on! Not friends, family! Ya'll family in here tonight! So, I'm going to move next door or live with someone from you. Anyone got a spare room after the show?" He is shouting his specific "Family" so funny … "Well, then, I don't know if all of ya mf got all these records, I know that you know that mf shit right here", — says Porter about the next track, which is called "Just Don't Give a Fuck". This is so symbolic that 20 years later, on the anniversary of his record "The Slim Shady LP" Marshall still performs live this classic track. And, as before, he sounds so cool from the stage.
"Wellington, Ya'll know what time it is! Put your mf middle fingers in the air!", — Mr. Porter announces the next track. This is another track from his new album "Kamikaze". Guys, the "Fall" track sounds so amazing. And from the stage he turns into unforgettable one and a half minutes. It is a pity he performs just one verse …
"Mr. Porter, this just reminded me of something…", — says Em after "Fall" performance — "Remember how last time I told you that I was wearing your underwear on stage? I told you not to tell nobody and somehow it got out there, so now everyone knows I wear your underwear before I go on on stage. Now I don't really care, Mr. Porter… (why?) You know why? Because I'm a criminal! Hands up!" — this is how Em always begins his "Criminal" track performing, changing it from show to show.
While the musicians team plays the intro of "The Way I Am", the song played next, Eminem leaves the stage to take a drink. And then comes and says: "Wellington, are you still with us or what? We're gonna need you to help us to sing this mf chorus!" At that moment, the whole stadium raps the chorus of "The Way I Am" with him.
After "The Way I Am" track Skylar Grey hit the stage. She performs the songs "Walk on Water", "Stan" and "Love the Way You Lie" with Eminem. This part of the concert is one of my favorites. I love Holly's voice and her live performances. But even more I love the track "Walk On Water". As I have already said in my articles, this composition is my absolute favorite on "Revival". How divine it sounds on stage. "Walk On Water" was the only track that Em performs at the microphone stand. And the fact that they both stand in the middle of the stage,right in front of you, literally at arm's length, adds even more magic to this composition. At Rapture Tour Eminem stopped throwing the microphone stand at the end of "Walk On Water", now he takes the microphone and, standing at the edge of the stage in the spotlight, raps furiously "Bitch, I wrote "Stan"! After "Walk On Water" starts the "Stan" chorus. When Skylar sings it, you realize why it was her that Em once chose as his protege. They sound great together on stage. In the end, Marshall still lift his T-shirt up , showing the faded tattoo he raps about in the track.
"Wellington, make some noise for Skylar Grey!", — shouted Eminem at the end of "Stan". The stage is filled with orange fiery light, momentarily reproducing a fiery theme from the "Love the Way You Lie" music video. In the middle of the stage in a dazzling snow-white dress Gray begins performing Rihanna's chorus. "Wellington, sing this one with me". It's impossible to take eyes off her, she is like a siren, attracts the attention of the 46-thousand crowd. After a moment, Eminem hits the stage and together they destroy it with this sensual track. "Wellington, make some noise for ridiculously talented and beautiful Skylar Grey!", — Eminem shouts at the end and the stadium gratefully bursts into cheers.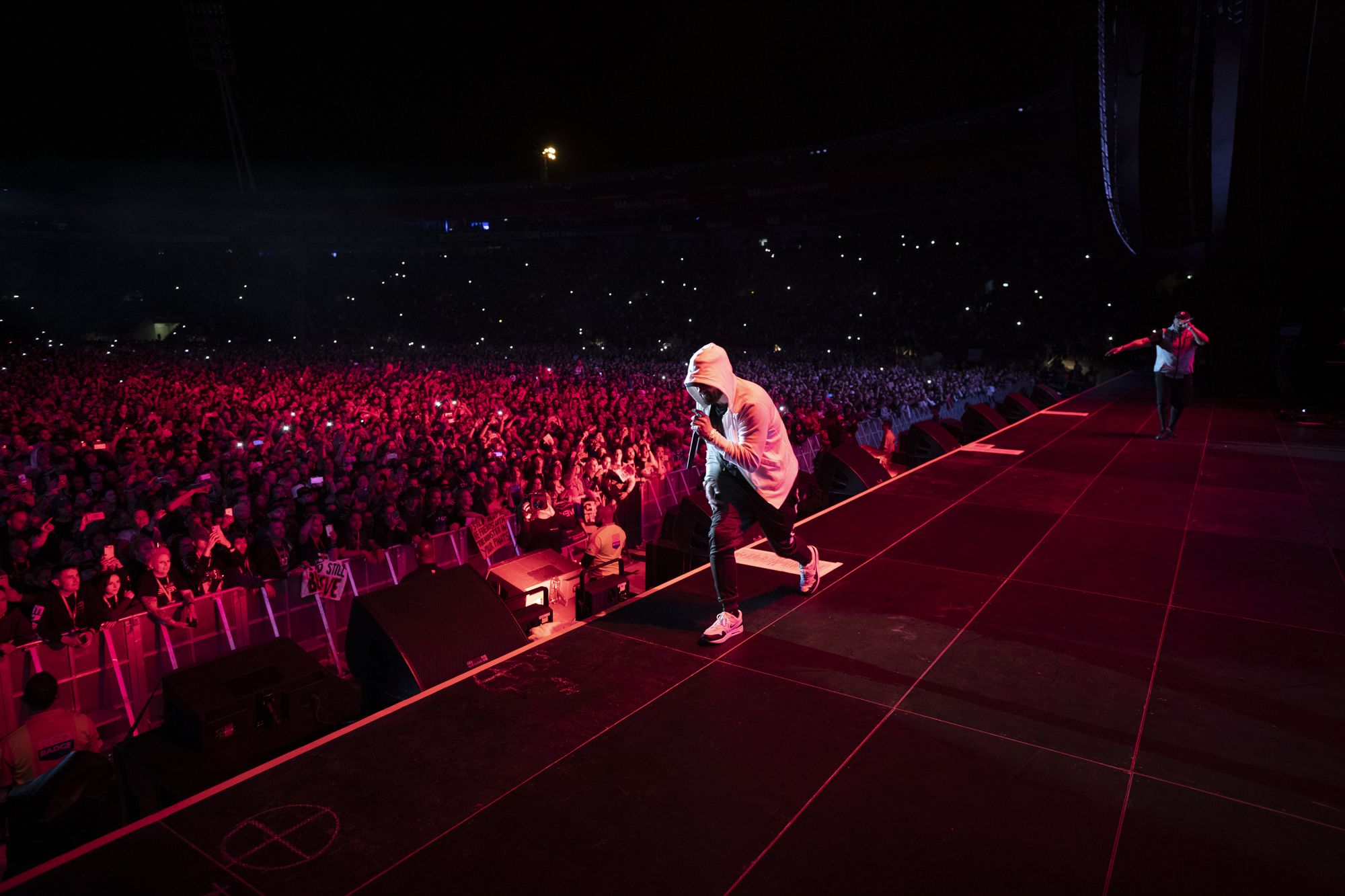 Let's fast forward to another city for a while. One of the dopest and touching moments of Rapture 2019 was the Birthday Greetings in Sydney, which Eminem gave on stage for Skylar Gray. Yes, on the day of Sydneywhen show, Holly celebrated the 33rd Birthday. "Sydney, this we need before Skylar Grey leaves the stage. Happy birthday to you, Happy birthday to you, Happy birthday, she's gonna kill me, Happy birthday to Skylar!", — Marshall sings in front of a huge crowd. "Thank you! Thank you, guys, so much", said embarrassed and joyful Holly. Skylar was a little embarrassed and literally melted, showing jokingly her middle fingers for drawing such attention to her. Em and Porter hugged her and she left the stage. Super moment!
We are back again at the Rapture 2019 final. After setting up with Skylar Grey, Eminem and Mr. Porter presented another new track of the 2019 concert set-list — a fresh collaboration with Nicki Minaj "Majesty".
"Hold on, wait!", — says Em to Porter. "What's up, bro? Wassup?" — "I wanna dedicate this next song right here to the ladies", — Em says. "Not this song! That's not that song! You know what we did! I brought someone with me, you can't do that song! That's not the one!", — Porter opposed. — "Oh, shit. Yeah, yeah…"
"You don't wanna do that, that's not what you wanna do! You want them to sing is with us, tho. You don't want to dedicate this one to the ladies. We're gonna do this song, and they gonna sing with us. Ya'll ready? Ok, let's go!!!", — Porter said and the "Majesty" chorus began. Who would have thought that it was at Rapture 2019 that Eminem would perform his verse from "Majesty".
Oh shit. Officially, this is the fastest live rap performance on the planet! All this rap magic and Marshall mastery were demonstrated live in front of many thousands crowd. "Rap God" not as nearly good as this, when you hear him rapping the high-speed part of "Majesty" live, you just stand with your mouth open.
So well-loved tracks by fans "Berzerk", "'Till I Collapse" and "Cinderella Man" are still on setlist. Marshall still erupts them from the stage, rushing on it like a twenty-year-old … he has been performing for more than an hour, and he still has a lot of energy beating over the edge to throw out, rapping these groovy compositions. Between "'Till I Collapse" and "Cinderella Man", he decided to grip an audience even more, performing the chorus of the legendary "We Will Rock You" track by the legendary Queen band. It is very epic. The whole crowd of thousands of people, as if we were all momentarily at the 85th LIVE AID concert, was clapping in tune of this rhythm. At that moment, Em was running around the stage, gripping and cheering the crowd with his movements. At that moment, his face showed that he was also having fun, as we were.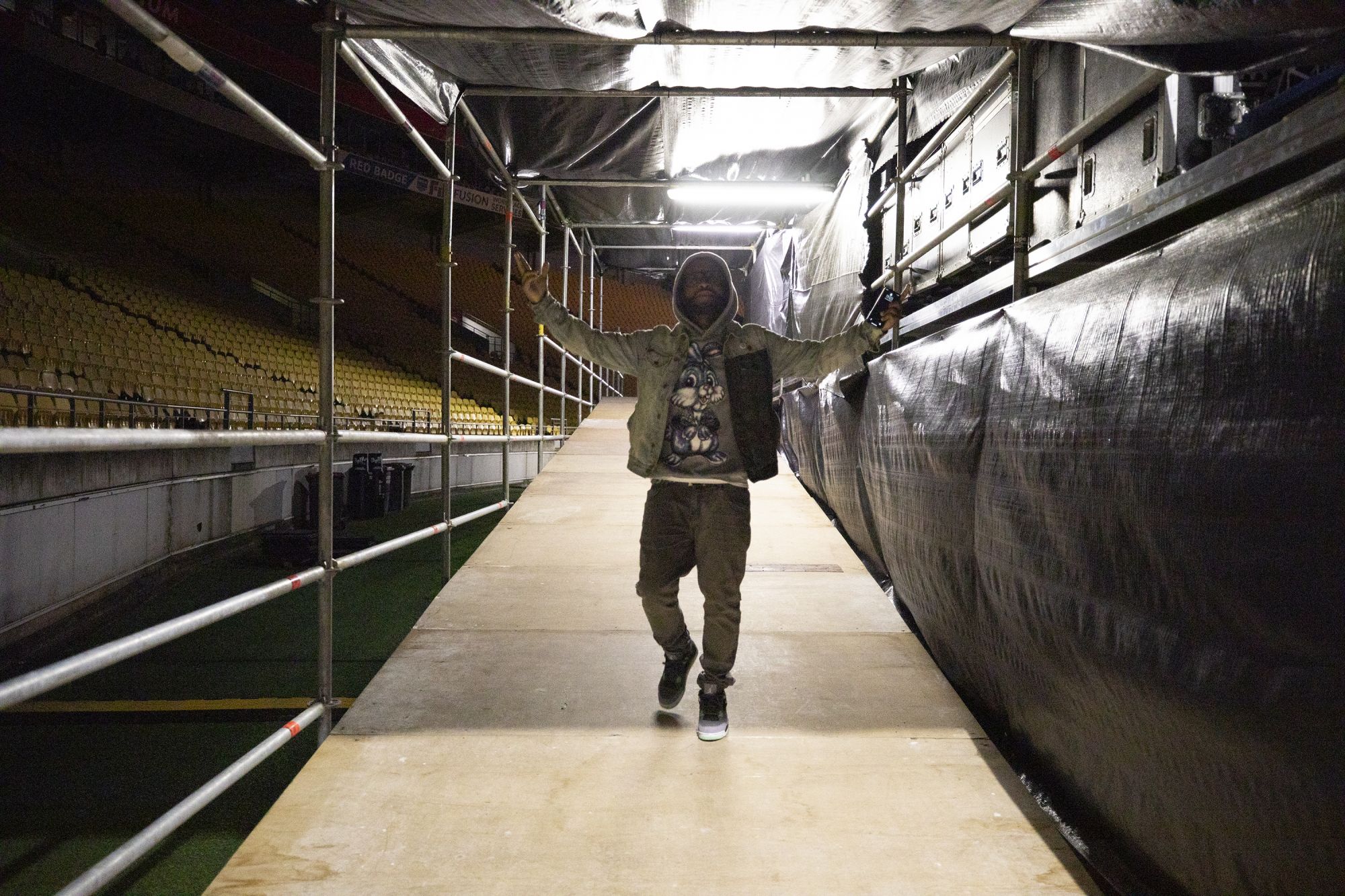 AND NEXT MOMENT BAD MEETS EVIL ON THE STAGE
Another interesting change worth noting is the addition of the track "Caterpillar" to the Bad Meets Evil part , although only Royce performs it before "Fast Lane". Probably, the reason is to give Em an opportunity to have some rest. "Wellington, if ya'll still with us, on count to 3 make some noise.. 1-2-3. Wellington, you know what? Ya'll family now! So I know ya'll know your other mf family, here's the one and only Royce da 5 9!!", Porter said, inviting Bad Meets Evil half to the stage. It is a pity that Caterpillar was performed at all Rapture concerts without Em's part.
Royce asks after his performance: "Wellington, I got two questions for ya all! First question. Are you having a good time with us? Second question: how many of ya all have Bad Meets Evil album?" When Bad Meets Evil is on stage, your mind will be destroyed. In addition to Royce's brilliant rap skills, Em rushes into the stage with his verse "Fast Lane" and when it seems that he cannot rap better, he just does it. In the end, Eminem asks to make some noise for Royce, hugging him: "Wellington, make some noise for one of Top 5 rappers of all time — Royce da mf 5 9!!!".
MAKE SOME NOISE FOR THE YOUNGEST ONE
Rapture 2019 shows were held in the name of the family. Eminem and Mr. Porter at every concert kept saying that everyone who came to the concert was not just fans or friends, we all were family. And one of the main new tracks of the concert set list was the "Rainy Days" performance along with Boogie. I love it when something special happens during a concert, for example, the live performance of a track for the first time. In Brisbane, Em and Boogie performed their Rainy Days collaboration for the first time from the stage.
"Guess what? We brought another mf member of our family, and a member of your mf family too! How many of ya'll know this shit?", asks Mr. Porter. The "Rainy Days" music theme sounded. "Wait, wait, I'll go get him", Em says, running offstage. "Go get him. I want ya all to make some mf noise for the newest member of Slim Shady family, his name is Boogie! Hands up!", Porter shouts.
Boogie hit the stage and began to rap his "Rainy Days" verse. When the chorus sounded a second time, before Eminem's verse, everyone calmed down in order not to miss a single new Eminem's bar . "I left my legacy hurt? Fuckin 'absurd," Eminem begins to rap. And Boogie perfectly performed the role of a hypeman at this moment, rapping it out in the right places. It was a real idyll, while he was rapping a slow introduction, and then enragedly began to perform his entire verse. The shouts filled the stadium.
"Wellington, make some noise for greatest rapper of all time, god damnit, Marshall Mathers, Eminem!" — gratefully pronounces Boogie at the end. But Em interrupts him: "What the fuck? Hold on! Wellington, make some noise for the newest member of Shady family. If you don't get that album Everything for sale, cut that shit right now, I'm telling you! This is the one to watch." Hell, once again, I like so much the way Em says these words … "Shady Family". "I love ya all!", says it Boogie modestly and leaves the stage.
This new track video release just coincided with the Australian concerts, and the composition was on everyone's lips. It turned out a great gift, both fans and new member of the label.
"That thing I was gonna do…", — continues Eminem. "Cause I was going to dedicate that one to the ladies too. Oh, wait, hold on, first let me check. Are there any ladies in Wellington? [girls scream very loudly] Oh, shit, let me hear that one more time! Where the ladies at?! [Ааааа-аааа-аааа-аааа] Ok, so ladies, I want to dedicate you this song!" It was the "River" track, single from the previous album. After the performance of "River", Mr. Porter shouts "Skylar where you at?" Rihanna's part of "The Monster" track at Rapture 2019 sings gorgeous Skylar Gray. This was another change in the concert program. Holly takes the stage in a new black mash dress and begins to perform the chorus of "The Monster". Eminem starts rapping along and at this moment the stage turns into a fiery testing ground literally and metaphorically. The fire special effects used during this perfomance literally penetrate the first rows with fire. This is so unbelieveable, sadly the other guests of the concert can not feel it. Each fire burst brings a strong heat flow to the first rows for a few seconds and so the whole track. At the end of the track, Porter shouted: "Ladies and gentlemen, give it up one more time for Skylar mf Grey!"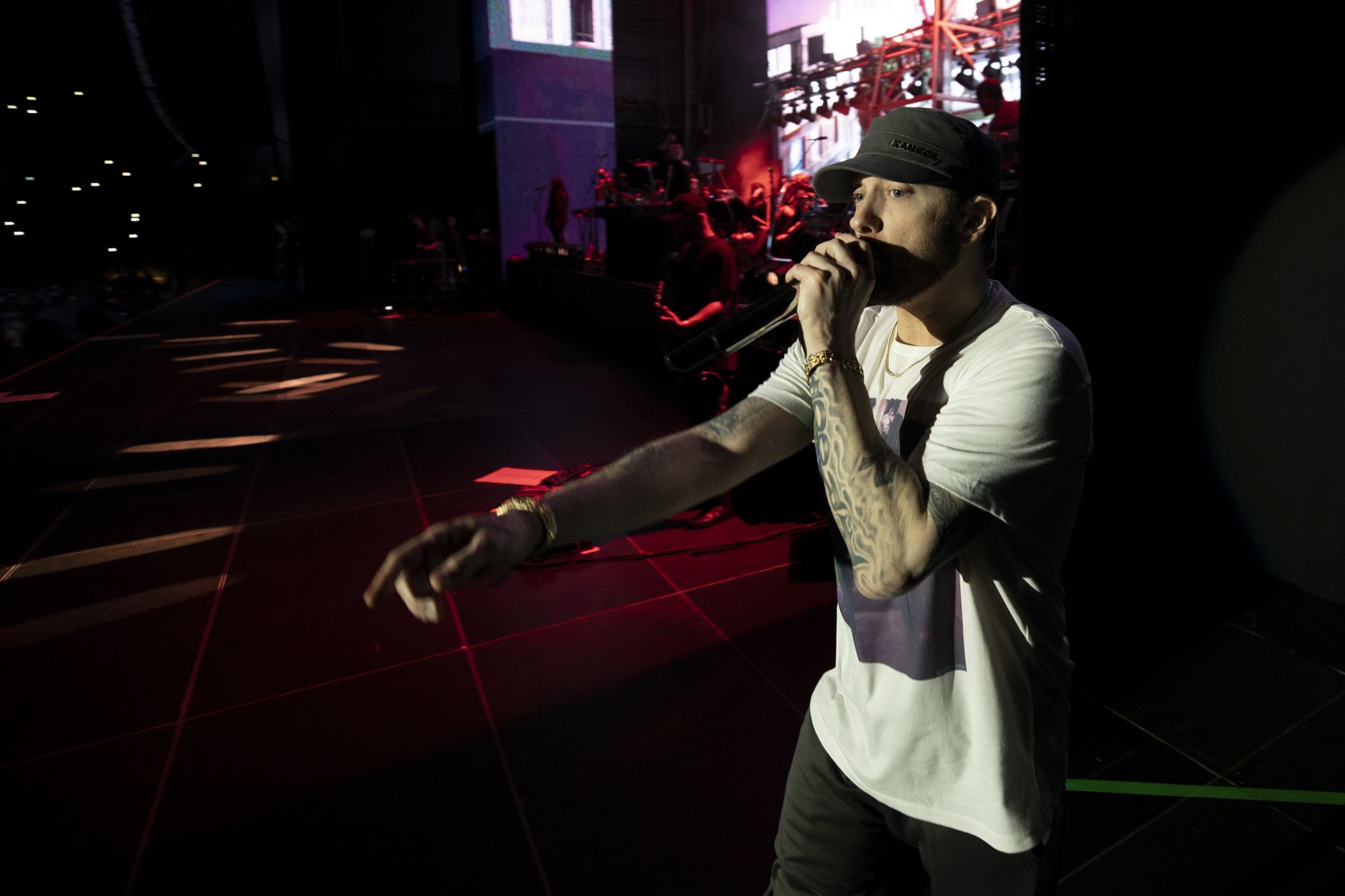 The concert was coming to an end, and before the final classic tracks part of the early years of Eminem's career, Marshall and Porter, as always, starts a "sobriety" conversation with the crowd.
At one point in the dialogue, Eminem noticed a poster in the crowd saying "Fack" — "Mr. Porter, come here! What does this say?" — "Fack!", Porter shouts loudly. "Fack!" repeats Em. Porter involuntarily parodies Eminem's same-named song, shouting its chorus … Eminem also catches it up and also performs the chorus "Fack" … well, you know … how he does it, rapping nasally, just like at Lollapaloosa 2016 in South America."Oh my God! That might be the greatest song I've ever made! Fuck it! Not might, It is the greatest song I've ever made!", concludes Em nostalgically.
The jokes didn't end there. They continued to find out whose side of the stadium is louder … and then Eminem starts the Shady Family subject again. "Wait, hold on, Mr. Porter. We don't like division, we like unity. So this is my side from here all the mf way over there", — shouts Em running around the whole stage. "So, New Zealand, you're a family, right? We're family, right? So take all the crowd, keep em to yourself. I'll just sit over here", — says Porter and sits near DJ. "Do you want me to say I'm sorry? Give you your underwear?", continues Em.
"So Wellington. It was once upon a time when we used to do cocaine and meth, and heroin.. not that, maybe not that. It was a point in time when we got fucked up too. And we would like to take you back to that time. Can we take you back to the time when we used to be fucked up? Let's go!", — leads Em to a set of three tracks — "My Name Is", "The Real Slim Shady" and "Without Me". For 10 minutes on stage the real Slim Shady was running around and his spirit was present in everyone up there. The whole croud was living it up like twenty years ago. It was relevant backthen, it remains relevant nowadays. Whatever critics, haters, media say … Eminem is still relevant.
Shuttering in Shady, Eminem goes off the stage to drink water, and Mr. Porter starts saying good words that define all of Eminem's concerts: "Wellington, make noise one more mf time!! So we know that shit is real, because it's unbelievable how much love is in here". And that is the truth. At all the shows, Eminem and his entire team give 99% (as Em said, one percent remains to always improve and do even better).
Em takes the stage and starts speaking: "So, Wellington, this was called the Rapture tour, but originally it was gonna be called The Red Shirt tour. And I'll tell you why. There's a reason I do that every single night on stage, man. When I wear somebody's…when I wear…" "Not Afraid" accomp interrupts him.
He asks to turn it off and wait for him to finish.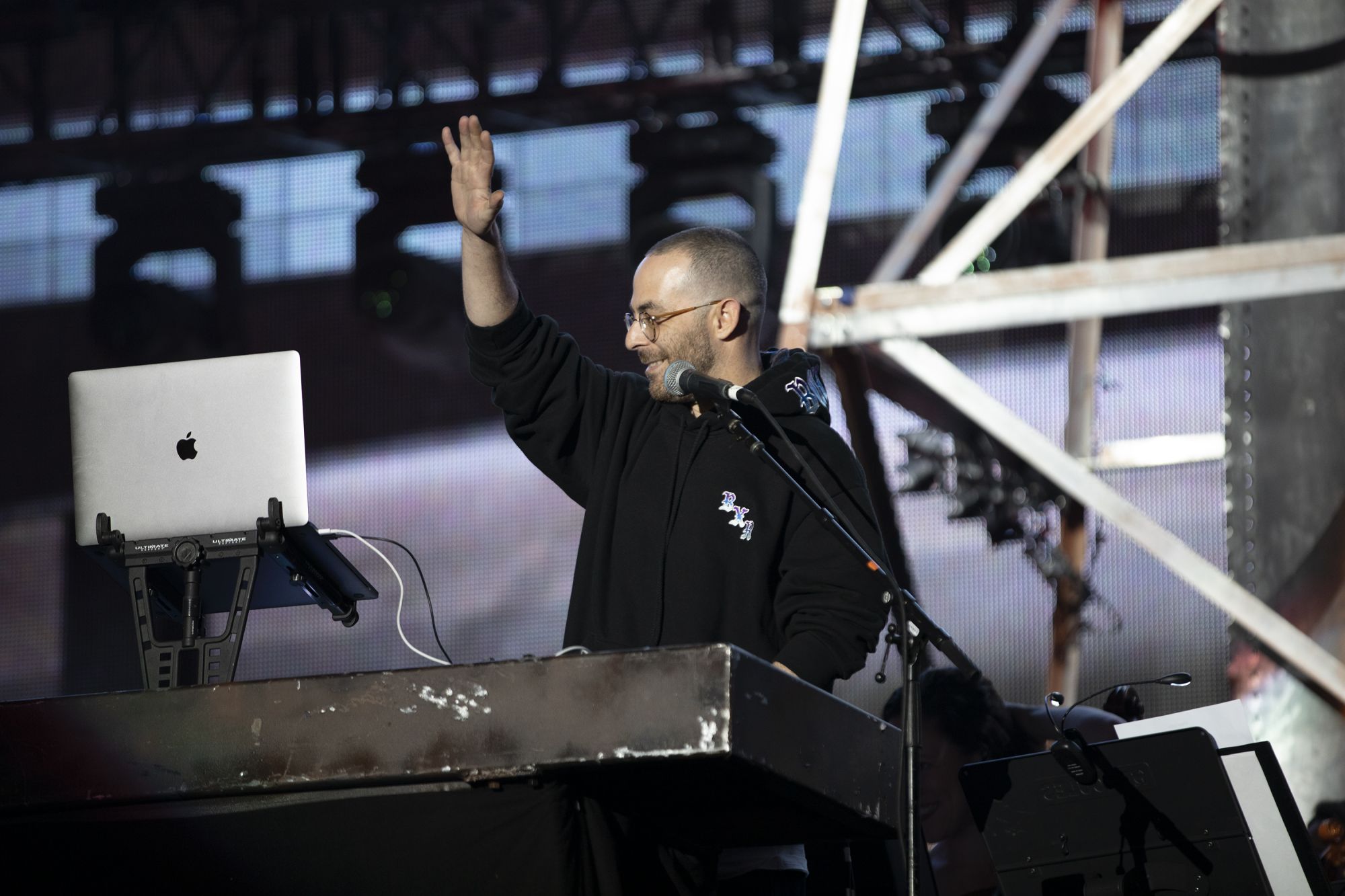 "There's a reason I do this", — continues Eminem. "It's because hopefully some of ya'll might go buy their albums, gonna look them up. Like a lot of ya don't know who Master Ace was or Cool G Rap, but I feel like you need to know, because what they did for hip-hop is so fucking incredible, because the made it go to the next level, and these are the rappers who inspired me. So that's why I rock these shirts. Not only because I'm a fucking fan, but also for what they did for the hip-hop. So when ya all see me rocking these shirts, if you haven't, go back and listen to this shit, see how hip-hop has evolved. Like those of you who might not be old enough to know. I can't fucking talk, I'm trying to have a heart-to-heart with my family. Check this out, Wellington. Before we get out of here, man. I ma make this real quick, I want to dedicate this next song to ya all. Everybody who came here tonight, shown support, all these years everybody who's had our fucking backs, man, Wellington, I love ya all! This song is for you."
Damn, Eminem hasn't started the performance of his anthem song "Not Afraid" so amazing as yet. This is a message that Em has been trying to bring to his platform, to his fan base, not only at the concert, but in general, criticizing new generation … it is so powerfull, and that is why I decided to choose the concert in Wellington for this story, because such moments make concerts special. The already emotionally and thematically strong composition was reinforced by this introduction. Along with Eminem sings the whole 46,000 crowd.
Finishing "Not Afraid" chorus Eminem says: "Wellington, did you mf enjoy yourselves tonight? I can't hear you! I said did you have as much fun as we did? Wellington! Family! Thank you so much for having us!
We are out of here! Make it home safe!" and leaves the stage. His team of musicians continued to play and flood the stadium with music for a few more minutes.
The music faded away, the lights went off. The stage turned into a huge starry sky, and the playing "cosmic" music theme added something majestic and mysterious to this atmosphere. For the first time before the encore, the whole crowd was keeping silence. The guitar riffs "Lose Yourself" began to sound and everyone heard the familiar words:
"Look, if you had one shot, or one opportunity / To seize everything you ever wanted, in one moment / Would you capture it, or just let it slip?".
Marshall takes stage with his main hit. There is nothing doper than "Lose Yourself" sounding from the stage. It was a moment of pure glee. The concert came to an end. Marshall was still ranning and performing his crown tricks.
"Wellington, my pants are falling down! Goddam!", he says, pulling them up.
"Wellington, family! Make some noise for your fuckin selves ya'll, thank you! You've been incredible tonight! Up on top will see you, in the back, will see you, we love you, in front, we love you. Everybody, make it home safe", — Eminem says at last, shows his middle fingers and leaves the stage.
That night we really were one family! The fans were so impressed with the concert that after the it was finished they stood a few more minutes and did not go anywhere.
What else…
MARSHALL PAID NO ATTENTION TO THIS BASTARD MGK
Not a single Rapture Tour 2019 concert of Eminem did not go without the crowd ascing to perform a MGK diss track Killshot: whole stadium of fans shouts all together and it is impossible to ignore it. Therefore, Marshall is trying in every way to calm the audience and explain why he will not perform "Killshot".
At Brisbane show after "Lose Yourself," while Eminem was doing his crown tricks, the crowd began chanting "Killshot, Killshot, Killshot," literally begging him to perform this diss track. It was so epic that photographer Jeremy Deputat rushed out onto the stage to capture the moment. Marshall walked to the edge of the stage and said: "I would, but I can't give that cocksucker anymore fucking light. Brisbane, did you enjoy your fucking self tonight? Brisbane, thank you, family, for making us feel like a family, you are the family, we love you! Brisbane, make it your home safe. And make some noise for your fucking self! And make nothing for MGK!".
At Melbourne concert, which I missed, Marshall answered fans requests to perform "Killshot", putting an end to this: "I don't think it's cool to disrespect the dead".
Fun is fun, but Rapture 2019 ended with an incredible concert. I don't know when and at what point of our planet Eminem will still please us with a new performance, but I know for sure that this tour and this particular concert in Wellington will remain in memory of all those present for a long time.
Be sure to visit Marshall concert if it's possible, this is an incredible charge of fire for many months to come!