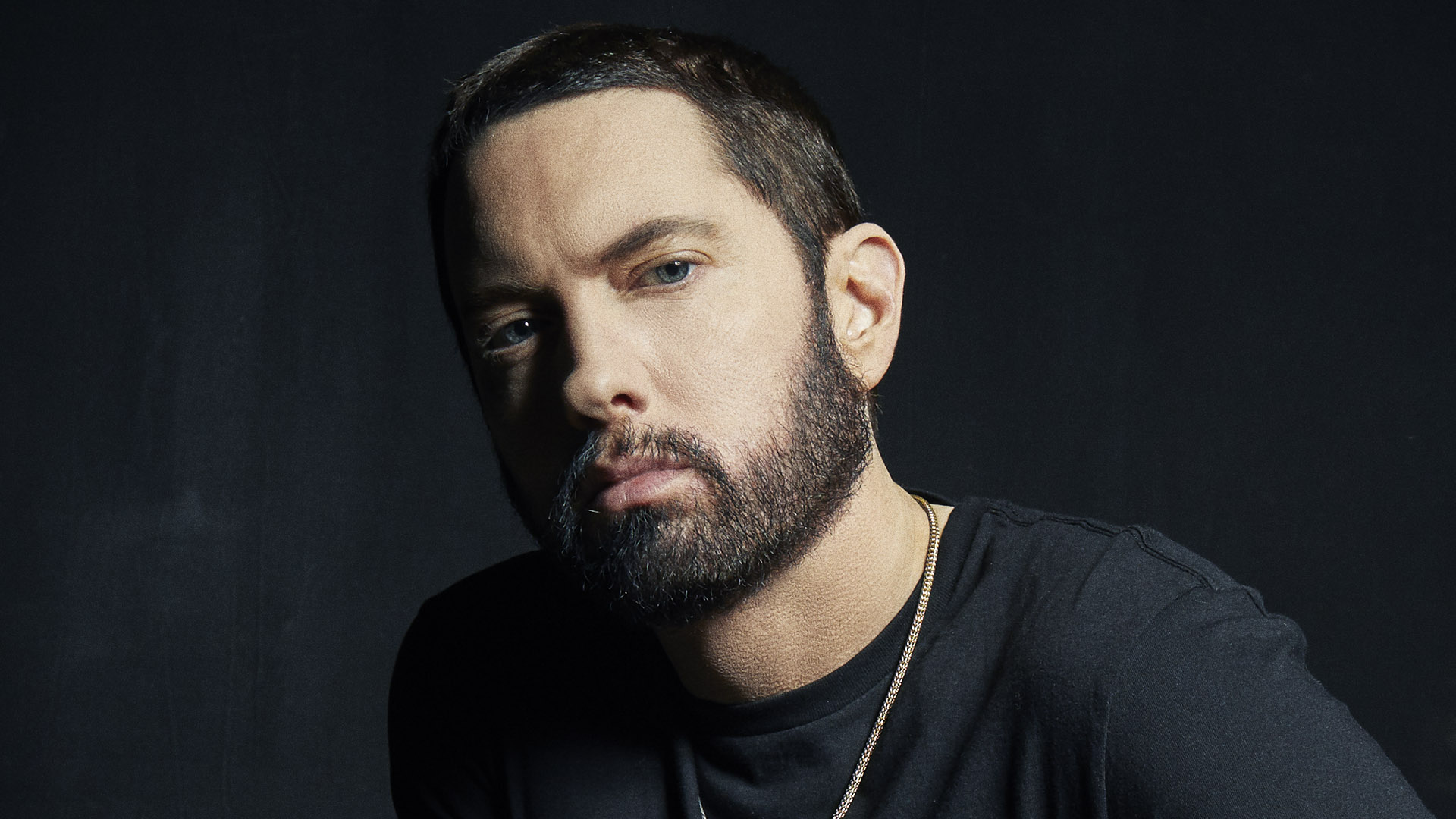 Our exclusive M2BMB album review first published in EJ magazine is available on the website now. Check it out if you have not read it yet.
Author: Igor Basenko.
On December 18, Eminem released the Deluxe edition of his 11th studio album "Music to Be Murdered By", 16 new tracks on the Side B disc.
As it has become a habit in recent years, Eminem's new album surprised everyone. "Uncle Alfred heard you screaming for more… enjoy Side B", Eminem wrote precisely at midnight, informing about his latest release.
In his recent interview, Eminem explained why he only drops surprise albums now and why he does not want to promote his releases to the public. The reason is simple – it's the audience and its unfounded expectations that Eminem does not wish to provoke.
"I don't know this to be true, but I feel like when I'm talking about the album that's coming out, if I give people the notice and they started seeing the tracklist or they know it's coming, I feel like my best shot in avoiding some of that is to just drop it", said Em on-air on his Shade45 radio on December 31. "Instead of people thinking like, "If you don't have a song about this then I ain't fucking with it. If he's got a song with this person I ain't fucking with it". And it kind of gives everybody too much time to think about it and their expectations of what they think it should be – and I'll never meet that. That's kind of a theory I based it off since, I think, "Revival".
In the lead-up to M2BMB release, though, the air was thick with anticipation of new material. For several days the Internet was virtually filled with hints and Easter-eggs dropped by actors from Shady circles and producers with whom Em had recently worked. All of them published the photos of Alfred Hitchcock who had inspired the first part of Eminem's album. All this teasing was likely planned by Eminem's team as an album promo campaign of sorts.
In the February interview with KXNG Crooked, Em said that Hitchcock motives had been woven into the album's fabric even tighter and more tracks had been planned for release. "There was actually some stuff that didn't make it on there that I was trying to get on there, but we couldn't really work it out with the sample claim. But I had it even more intertwined than it was, and we had to, you know, pick and choose the best pieces to put on there".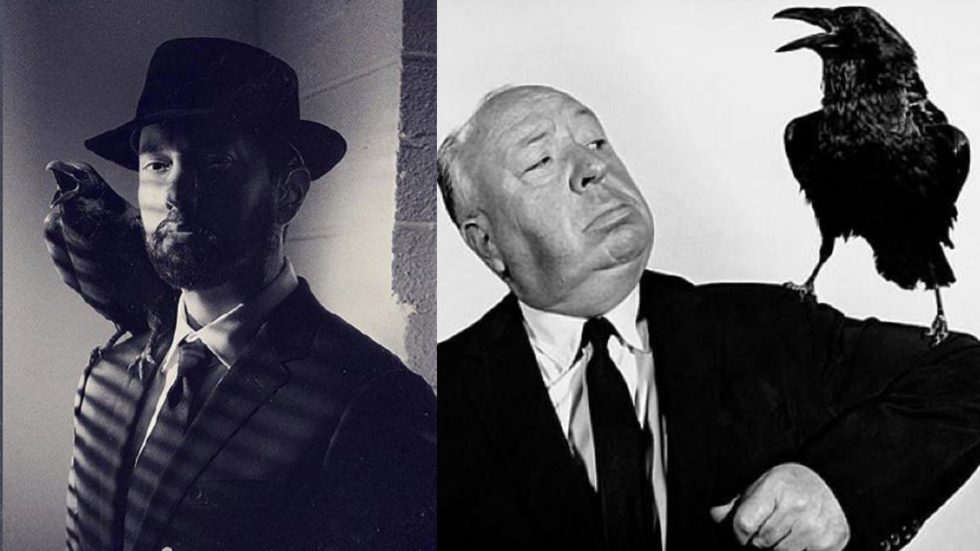 A pleasure doing business with you again, nephew
Having heard "Music to Be Murdered By – Side B", many listeners noticed that Eminem paid homage to Alfred Hitchcock better than most filmmakers could ever do when using the Alfred's Theme. "The beats are top-notch with Em's ultimate penmanship and his take on the mic. It's more enjoyable than the previous side of his album," – a Twitter user stated. "You appear to be a rather talented young man, Marshall", – the official Twitter account of the Estate of Alfred Hitchcock reacted to this tweet.
Thus far, this album has provided musical accompaniment to make your passing pleasant
Our next number is designed to drown out the sound of shovels
Music to be buried by
The same way as on the first MTBMB disc, Eminem uses Hitchcock's voice sample from "Alfred Hitchcock Television Theme" for the opening skit. The Hitchcock theme is evident throughout the entire album. On "Black Magic", the first song on the album and the ninth collaboration between Eminem and Skylar Grey, Em samples woman shrieking and shovel sounds. It adds to the Hitchcok's atmosphere and at the same time ties the track to the first disc, where the first song "Premonition (Intro)" starts with the same shovel sounds while shrieking links to a woman's voice on "Godzilla".
In this article, I will often refer to Eminem's New Year's Eve interview on Shade45 where he shared many interesting details about "Music to be Murdered By: Side B". One of them is an explanation of why he values his creative collaboration with Skylar Grey so high:
"Let me say this. And I know I tell this to her all the time. I've had the privilege of working around a lot of fucking talents. It's still crazy to me sometimes when I'm working with Dre, and I'm looking at Dre like, "You're fucking Dr. Dre". The Skylar is one of.., she's definitely…, she has to be…, I don't know how to say that! "Top 5 of the most talented people I've ever worked with"? But I've worked with so many talented people. But the rate of speed that she works at… A) being able to write it, and b) being able to sing it and to sing it that powerful… She's an amazing talent. She wears a lot of different hats. She's able to approach songs from the angles that I didn't see coming.
And also hit notes that I'm like, "What the fuck?! I didn't expect it to go there!" And then it's like, it was weird to me, and then the second time I hear it – I love it. She's amazing, and her talent level is off the charts".
It explains why Marshall keeps working with Skylar but does not explain why he opens "Music to be Murdered By: Side B" with "Black Magic". The real explanation is that he wanted to make a narrative connection between both album sides:
"I was trying to give a reason why you heard the female dying at the beginning of the last record. It was to tie that in conceptually but it's left to interpretation whether it's an actual female or it's the rhyme and the rhyme is trying to kill me, or I'm trying to kill the rhyme and when I wake up, like it's all a dream, so it's the lines are blurred. It's open to interpretation, but it ties in with the original skit in the beginning".
"Black Magic" is virtually bursting with darkness and heartache. It begins with a melodic and gentle hook by Skylar. This track is her second contribution for the MTBMB album. Skylar says that she makes many tracks for Eminem and Em told her that he could not put her on every song on the album. Well, it's a pity! After all, these two work in perfect harmony in all their collaborations. I hope one day Eminem will come up with an idea to make an entire album together with Skylar. (A man can dream.)
"Black Magic" has it all: love, and violence, and murder, and black magic itself. With all these components, the song perfectly emphasises the tone of the entire album. Marshall raps about relationships; this is one of those topics he always touches on his records. There is always a track where he talks about some strange relationship, maybe even his own, with a girl. And this time, their relationship might be the most bizarre, because the girl has supernatural powers. She puts a spell on the protagonist, and their affair torments them both, but no one can release them, free them from the spell. On the track, Em compares this relationship to walking over hot coals, emphasising that the protagonist is ready to fight for his love and go to great lengths for her.
The track starts with the statement that they are "an unlikely pair" and talks about how the protagonist wants to make her love him. Towards the end of the track, he goes into a fight with the girl over her cheating on him and stabs her to death. Describing this murder in detail and accompanying this story with shrieking, the sound of stabbing and smashing plates, Eminem reinforces the Hitchcock theme while also making a reference to his dark 2017 track "Framed" and blaming drugs for what the protagonist did.
Think I just wanted to see what her insides look like
As I pop another five Vic's
That's what this high's like
Look down, there's mud on my Nikes
Shovel at my side, blood on my mic
Now wake up to Music To Be Murdered By like
The track's ending sets the theme for the entire album: "Side A" was the music to be murdered by, the "Side B" songs will cover the sound of shovels that bury your bodies.
Before I check the mic (Check, check, one, two)
I give it a extra swipe with a Lysol disinfectant wipe (Good evening)
Coronavirus in effect tonight
Antiseptics on deck, I got every type (Yeah)
I throw on my tux, then I (Yeah) give zero fucks, then I (Yeah)
Act like a jockstrap (Uh), cup my nuts, then I (Yeah)
Check my ball hair (What?), make sure it's all there (Yeah)
Then call the pallbearer (Yeah)
It's Music to Bе Murdered By again, why stop?
It seems like Marshall found the upsides in the quarantine caused by the COVID-19 pandemic as he stayed put in the studio, creating new tracks for M2BMB. Eminem starts "Alfred's Theme" (written after the first part of the album was released) by checking the microphone and wiping it down with disinfectant wipes — hello, we have Covid raging here! Apparently, for Eminem, whom the public perceives as a hermit not leaving his secret lair, self-isolation might have been easy. He seems meticulous and attentive to detail not only in rap, and it helps him with the quarantine life.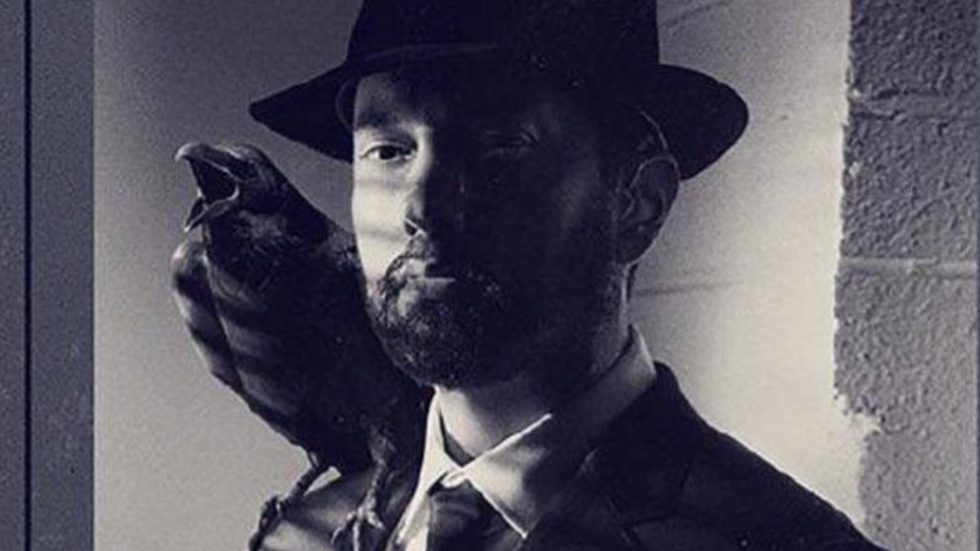 I'm talkin' smack like heroin, the mic's a syringe
On "Alfred's Theme" Eminem also boasts of his outstanding rap skills and lyrical ability, declaring himself the best rapper of 2020, and also raps about the consequences of coming to fame.
With the line "But I'm back with so many knots, I need a chiropractor (Damn)" he also reminds everyone that MBTMB has become one of the bestsellers this year. "They call me dog because I'm barking (Bar king, bark, bark, barking)". The highlight of this sequence is the line "You hyperextend on me, this game's life, it depends / Like adult diapers for men", where Em says that without him the rap genre would simply die out and become irrelevant. It is a kind of a jab at haters who keep screeching that Em is "no longer relevant". There is also a reference to being a father figure for the new generation of rappers ("Son 'em, get the Coppertone, I'm at the Stop and Go coppin' the Mop and Glo").
Eminem also uses the metaphor of good wine that only gets better and more expensive when mature "It's sour grapes, I still whine, I'm the best seller (Cellar)".
Bitch, it's 2020, you still ain't seein' me (Haha)
So call me Santa Claus (Santa Claus)
'Cause at the present (Yeah), I out-rap 'em all (Wrap 'em all), I'm at the mall
Social media critics caught it when Em dropped the line "This chicken hit my phone, she said, "Chirp, chirp", saying that any armchair critic glued to their screen can chirp whatever they want without facing the consequences. Em turns on his social media haters again later on the album, as for instance on "These Demons": "Haters are funny, man (Haha) / It's like, you're gonna hate it no matter what it is…"
"Alfred's Theme" is also essential for creating the over-encompassing Hitchcock atmosphere of the album — its beat is sampled from the theme song of the TV show "Alfred Hitchcock Presents", which used Gounod's "Funeral March of a Marionette". In the track's ending, Eminem declares that he is "buddies with Alfred" and compares himself to the serial killer Jeffrey Dahmer. To make the blows hit the listener harder, he employs the image of Jabba the Hutt — the iconic "Star Wars" character — comparing it to a human scrotum (incorporating "nuts" as both a term for a mentally unstable person and slang for the testicles):
Yeah, and I'm buddies with Alfred, we about to
Disembowel them, gut 'em and scalp 'em, yeah
This is 'bout to be the bloodiest outcome
'Cause we gon' make you bleed with every cut from this album
So I'm choppin' 'em up like Dahmer
The nut job with the nuts that are bigger than Jabba the Hutt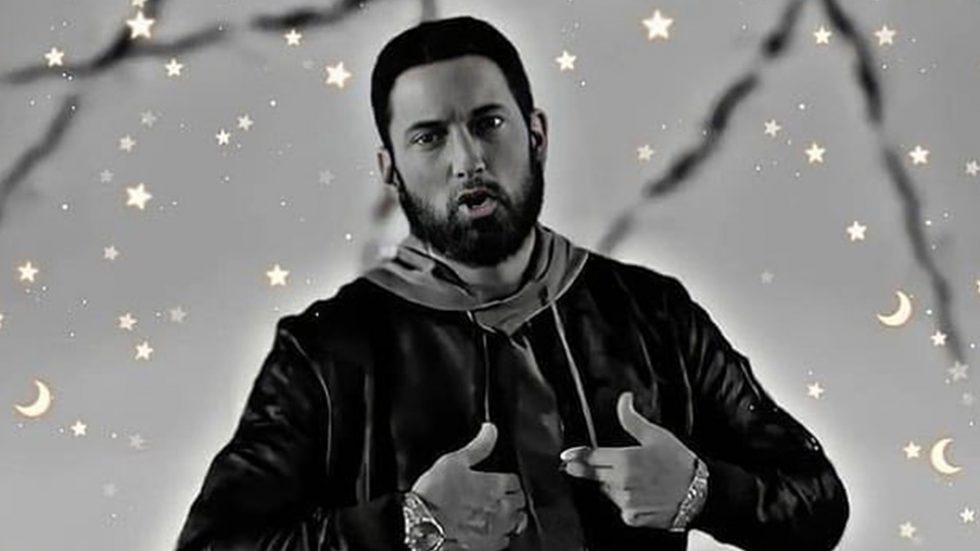 I keep droppin'
On "Tone Deaf", Em keeps showing off his skills and criticising the rap industry. The very track title is already a swing at modern mumble rappers who cannot ride the beat. Interestingly, the track was created together with Eminem's longtime collaborator — Luis Resto, who had a hand in making the main hit of Em's career — "Lose Yourself".
Marshall starts "Tone Deaf" with a small performance over a funny beat, and refers to his alter ego Slim Shady as the narrator, pretending that he cannot hear the person over the phone and grilling the people who call him irrelevant and obsolete… The real Slim Shady is here, please stand up! The track is filled with all sorts of innuendos of Slim's powerful imagination.
The "Tone Deaf" chorus with Shady's perky vocals mocks the critics — he simply does not hear them, and he is not going to stop even when his hair turns grey despite the criticism of his recent albums… This is what happens in reality. Em just comes back at the end of the year with the new 16-tracks long "Side B" CD.
I see the rap game, then attack the verses (Uh)
Turn into a graveyard packed with hearses (Yeah)
Just like your funeral, I'm at your service (What?)
On the third "Tone Deaf" verse, Eminem decided to demonstrate the best of his skills and seemingly rhyme orange with banana. Yes, he can rhyme anything! But it boils down to a joke and Em doesn't really expect them to rhyme but merges them in the word "Bornana" with an exaggerated annunciation. Em then compares himself to the Scandinavian god Thor, who in Norse mythology destroyed an army of giants, implying that he can easily defeat this new generation of mumble rappers.
In the track's ending, Eminem informs his enemies that Shady is ready to defeat anyone willing to fight him. However, they should remember what has happened to former contenders who dared to challenge him.
My enemies, I'm a chimney, give me the smoke, opps
And R.I.P. to King Von, and it don't stop, and I know not
What the fuck you say? I told y'all, it ain't me, it's my alter ego's fault
But if y'all wanna cancel me, no prob
I'll tell you the same thing I told Paul (Woo)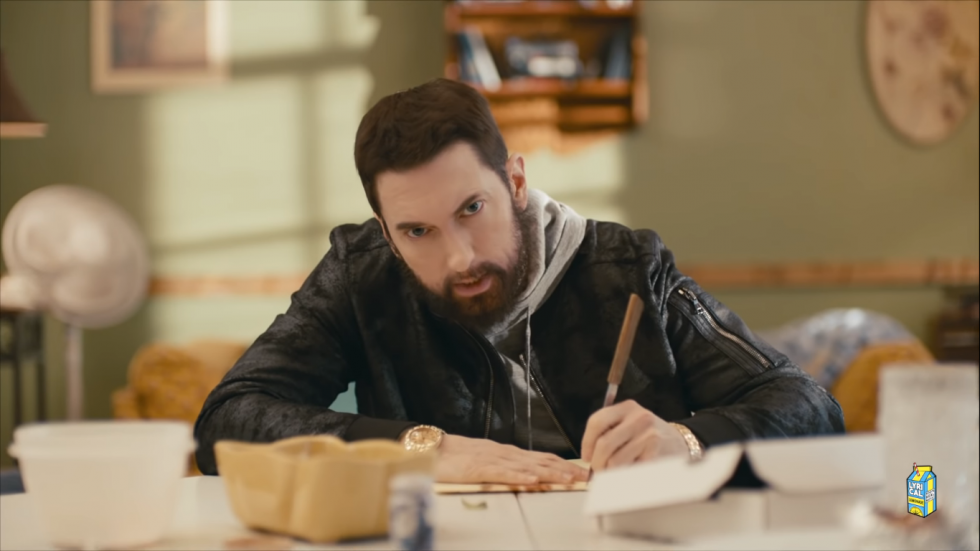 I'm emptyin' my book of rhymes
If on "Alfred's Theme" and "Tone Deaf" Em was showing off his rap skills, joking around and basically had fun, then on "Book of Rhymes" recorded with DJ Premier, he takes us through his cognitive process of turning the initial spark of an idea into rhymes and punchlines, references and Easter eggs, intricate combinations and clever wordplay.
By the way, Eminem has dreamt of working with DJ Premier since the moment they met. He said so during his New Year's Eve special on Shade45. For Marshall, that was not only the appreciation of Premier's skills, but also the recognition of his contribution to the hip hop culture. To finally have him on "Book of Rhymes" was a dream come true for Eminem:
"I've been wanting to do some shit with Premiere. I just had the idea of what he could scratch. And just having him scratch on the record — that's so dope! He gets a feature credit on there. Premiere is Premiere. There's a lot of DJ's that might not get a feature in credit. You got Premiere on your shit scratching — he's gonna get a fucking featuring credit. That's one of the best parts about it. I want to make sure you know who I'm talking about at the end of the song. His impact on hip-hop and everything from Gang Starr to… You know, when we do a lot of cyphers Premiere's usually there providing the beat. And I've always been cool with him. Ever since I met him, I've always in the back of my mind like, "Man, I wish I had something with him to attach". Because he's the fucking OG".
Let's get back to M2BMB. On the "Book of Rhymes" chorus, Eminem samples the lines from his collaboration with Lil Wayne "Drop the World" where he compares his rhymes with the ammo that he has stacked throughout the years of his career. It seems like their time has come.
Haven't used all the tricks I have, so like my balls, I'm in my bag (My bag)
Get a littlе teste when I'm mad (I'm mad), sick of wrеstling this iPad (iPad)
When Eminem comes up with a new rhyme, he is absolutely focused on the task to come up with something new that he has never used before. He is always rhyming, and he does not need much to kickstart the process:
I get obsessed with reading everything
And let it get the best of me 'til I snap ('Til I snap)
But I need to get off the Internet (Get off the Internet)
I need to get on the mic (Get on the mic)
You need to get off the Internet (Internet)
You need to get you a life
Why you waste time just to comment on shit? (Comment on shit)
Especially shit you don't like (Shit you don't like)
Eminem once again hits his armchair critics back, this time with a bigger gun, and states that he reads a lot of stuff on social media and cannot understand why they waste their time commenting on shit they don't even like, and by shit, he means his music. So it's time to Em to get off the Internet and get on the mic, as he has much to share in the rap game yet.
I get to remind all the haters (Remind all the haters)
who shitted on me when I'm on my way up (I'm on my way)
My floor is y'all fool's ceilings
If I was you, I would step or find yourself twisted
That's how you'll wind up like spiral stairs
Eminem proceeds to playfully compare the floor of his skills with the ceiling of his opponents' abilities and reminds his haters that projectile vomiting shit out of their guts won't help them because they will be blown out by his superiority the second they decide to open their mouths. And if punchy rhymes are too difficult for you to comprehend, then Eminem can summon to the surface of the thin slush inside your head the vague memory of Ja Rule's career that he destroyed.
It's Music to Be Murdered By, so Bon Iver can swallow a fuckin' Ja Rule bobblehead
And die slow like Alzheimer's (Ha-ha)
Lone sniper, I hold a microphone like a loaded rifle
My dome's brighter, all I spit from my skull's fire
All that's missing's a motorcycle with the chrome wires, spoke tires
And y'all are flow biters, so I don't gotta
Explain why they call me your ghostwriter
In the end of the first "Book of Rhymes" verse, Eminem executes a flawless strike at his haters and the rappers who hire ghostwriters to write their tracks. He basically calls himself the ghostwriter doing his job perfectly, and uses the Marvel character Ghost Rider as a metaphor. Rhymes pour from Eminem's skull that has been "spitting fire" for the third decade of his career , for fans and critics to dig in and tear into catchphrases, analyse and study. His verses become info bombs and breaking news.
Further down the line, Em admits that he cannot use all his rap tricks because there are too many of them. His rap superiority is unattainable to his rivals who challenge Eminem's status as the "Rap God". To prove the point, he explains how his brain, phenomenal memory and body chemistry work to achieve this result. In other words, Em says that you shouldn't even try to start a rap war with him. The outcome is obvious.
Mr. Mathers is killin' this shit, villainous wit with scant less
Syllables rip the planet, biblical shit's finna hit the fan
Anybody wanna go tit for tat's gonna get hit with that
Then the amygdala hippocampus is gonna trigger the ignoramus
To think of the most ridiculous shit to spit then
Pit it against these pitiful rappers
Insidious, these idiots wittiest shit against me shitty as MC Hammer's
Get your whole squad, send a task force in
If you want it, you're 'bout to get what you asked for then
Put your helmet on, strap your chin
You're 'bout to get you a crash course in
Who not to start a motherfuckin' rap war with
And as the final blow for those with the thickest skulls, Eminem flips one of the most often repeated accusations that his haters use – that he is just a guest in the rap game. On "Book of Rhymes", Em declares that he had destroyed the game way before his opponents even arrived there. So now they can only relax and enjoy his hospitality:
Destroyed the game before you came, enjoy your stay
Before it's gone away, but the more you claim that you're gonna point and aim
Modern rap wannabes are just imitators (see the army of lame Lil Wayne's clones). They cannot offer anything exciting or original and are not intelligent enough to generate ideas and write cool rhymes. "Your shit is pointless, same as a scoreless game", Em tells them.
In the final bars on "Book of Rhymes", Em compares himself to a dangerous, destructive weapon to illustrate his power in the rap industry. Of course, dear critic, things you hear on this track can make you drop fire from your arse. However, it's alright. That was the initial intention of the genius. Legendary DJ Premier sends this track off with his perfect scratches.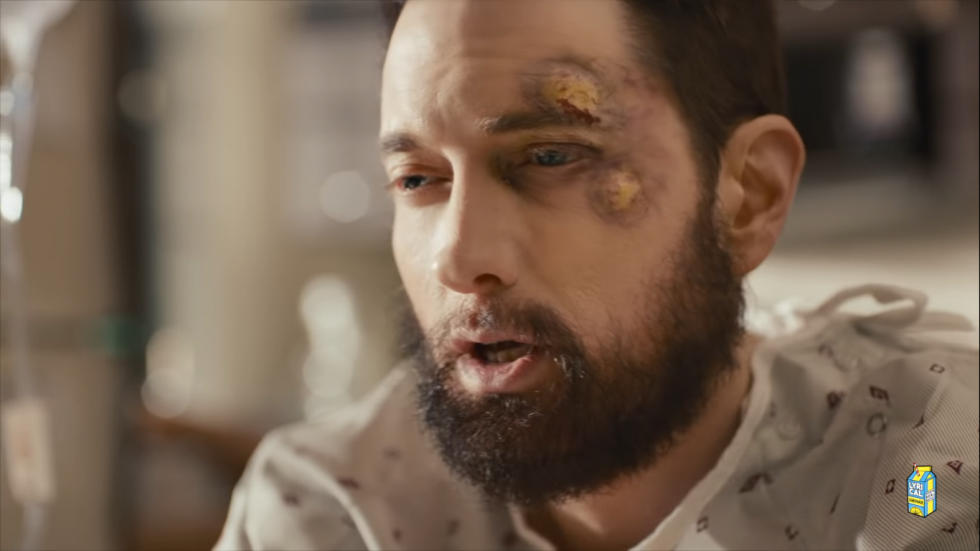 Bars are like COVID
Don't even tell me you never wanted Em to do a Covid-themed track? Of course, he mentioned coronavirus earlier on the collaboration with Kid Cudi in July 2020 and right on this album on "Alfred's Theme", but it was "Gnat" that focused on the main issue of 2020 — the coronavirus pandemic.
"Gnat" is an ode to 2020 and the disappointment it brought to the world. The track became the third promo single for the entire MTBMB project ("Darkness" and "Godzilla" are the two others) and had a music video directed by Cole Bennett who also shot visuals for "Godzilla" in Spring 2020.
On "Gnat", Em has a go at the COVID topic. He even made a visual pun on the infection's origins, biting the head off a bat in his video – a hyperbolised metaphor of patient zero.
Em compares himself to the coronavirus, stating that his flow is viral just as much. That's an excellent reference to his high popularity online and how fast all his bars and lines spread through the Internet where everybody discusses or criticises them. There is also a clever wordplay on social distancing as a pandemic prevention method and an unbreachable gap in skills and talent between him and his opponents.
They say these bars are like COVID
You get 'em right off the bat
Infected with SARS and Corona
Like you took a bite off of that
And it goes from martian to human
That's how the virus attacks
They come at me with machine guns
Like trying to fight off a gnat
On "Gnat", Em offers an interesting metaphor of the response the humanity has given to the COVID-19 pandemic. Marshall compares the virus to a pestilent insect, and COVID protective measures – face masks, quarantines, lockdowns etc. – to machine guns useless against an uncontainable force.
The signs of the new pandemic reality – face masks, 14-day quarantine, social distancing, disinfectants, COVID symptoms – of course, all of it and more has found its place on the track, cleverly packed in punchlines and jabs at his haters.
If by some lucky chance you missed 2020 with all its shit, you can rely on Marshall Mathers to deliver you a detailed account of events, at least as far as the pandemic is concerned.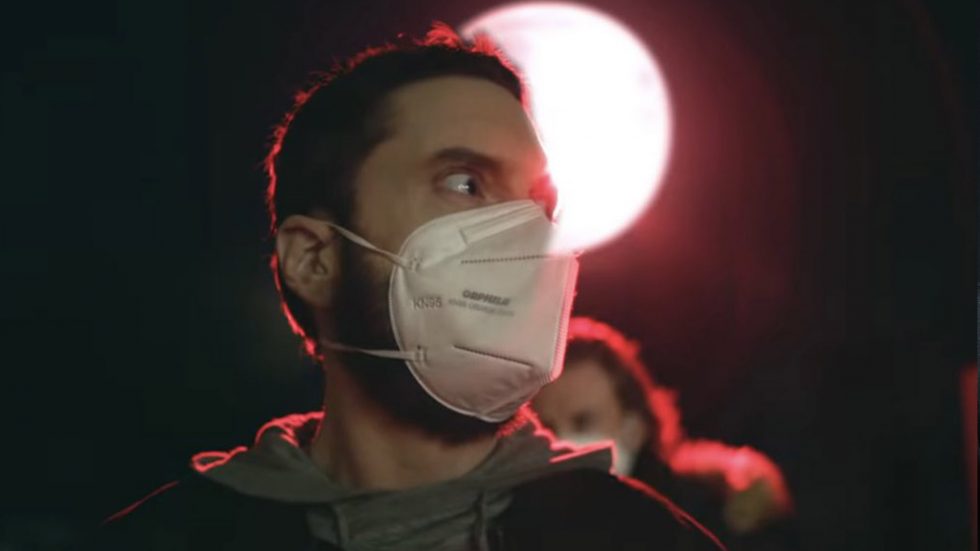 Long Social Distance Relationship
Romantic relationship as an M2BMB topic deserves special attention. "Black Magic" is not the only song on the album that delves into this subject. Another track that takes a closer look at romance is "Guns Blazing" where Marshall reunites with his mentor Dr. Dre.
They trade bars and snap at their respective partners. Dre directs the verse towards his wife Nicole Young with whom he is going through a dirty separation marred with financial scandals and court battles over his billion-worth estate. On his verse, Eminem raps about his multiple failed relationships with women, specifically talking about one of them, named Michelle. Also, there are some lines on Em's second verse that can be addressed either to Kim or Dre's wife, out of solidarity with the friend.
"She Loves Me" is one more track where Eminem raps about a relationship. Here Em is complaining about a girl who "loves" him for what he has, not for what he is. She mainly cares about his fame and wealth.
The chorus plays on an old fortune-telling game, in which one picks petals off a flower. However, Em modernised the lines adding there the option of loving what he has got. There is no winning in this game for Eminem because the girl loves him for all the wrong reasons.
Em declares this result with laughter on the final chorus, when having gone through all petals and options during the song he concludes: "She loves me not"
She loves me (She loves me), she loves me not
For who I am (She loves me), but what I got
But she loves me, she loves me not
She loves me (Yeah, one more time)
I said, 'cause she loves me (She loves me), she loves me not
For who I am (She loves me), but what I got
But she loves me, she loves me not (Haha)
She loves me
The "She Loves Me" outro uses Em's classic "I'm just playin'" trick. He used it before on such tracks as "White America", "Kill You", "So Much Better", "Kick Off (Freestyle)" and "Killshot" (you must remember that Diddy pun). This is his reliable device that allows Eminem to say whatever he wants to say, framing it as a joke. Now Em flips the scheme and after seemingly negating with his "I'm just playin'" everything he just said, he adds "I ain't got no foosball table", leaving us to believe that only that part was a joke, and everything else was true.
As a rule, Em's songs about romance seem to be made in jest, yet they carry the gravity of experience. We do not know the whole story, and, likely, we never will. This is none of our business and has nothing to do with music. I remember how Eminem snubbed a Vulture journalist when he tried to pry on Marshall's private matters back in 2017. To the question "Do you date?" Eminem responded with "It's tough. Since my divorce I've had a few dates and nothing's panned out in a way that I wanted to make it public. Dating's just not where I'm at lately" and deadpanned about meeting people on Tinder and Grindr. When the interviewer asked him "Is fame lonely for you?", Em wrapped it with a rapid "Am I lonely? No, I'm good. Thanks for asking though". In 2020 many relationships were damaged. Being isolated with somebody or being isolated away from someone might erode personal bonds. Being apprehensive of people after the long isolation and being overly cautious about the virus can do similar damage.
Perhaps, what Em raps on these tracks about the relationship is partly informed by his own dating history, and he adds all these jokes to throw us off his trail. For instance, the puns that he is only interested in sex instead of a more meaningful emotional connection. Nobody knows how 2020 and its isolation trend have affected Eminem. Enjoy the entertainment and mind your own business.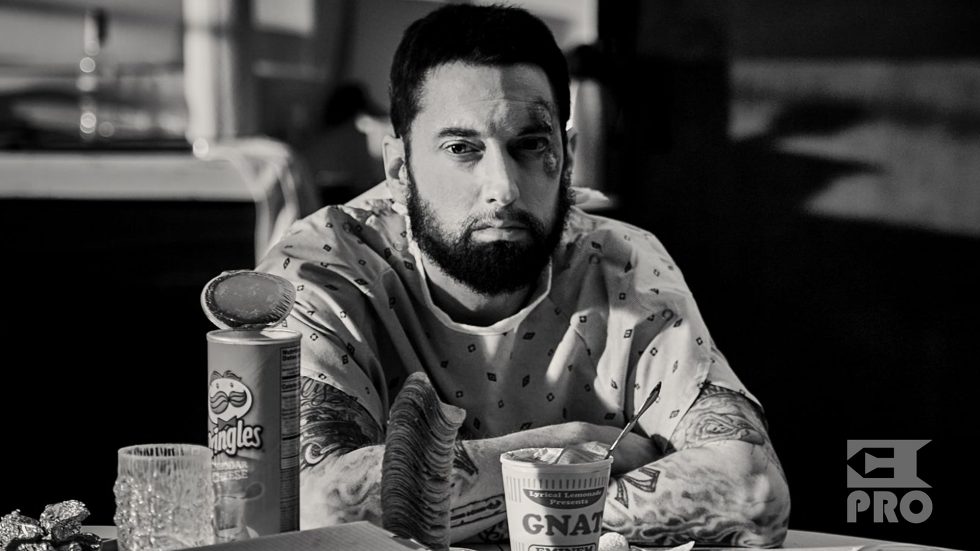 No taboos
On the Side B, Eminem once again proves that he raps whatever he wants regardless of critics and Internet noise. Em was heavily criticised for including on "Kick Off" and "Unaccommodating" references to the suicide bombing attack at Manchester Arena in 2017 during Ariana Grande's show that resulted in 23 fatalities and over 800 injuries. On "Favorite Bitch", he does it again topping it up with references to the Boston Marathon bombing in 2013 and drawing a comparison between these deadly and awful events and himself, in terms of the devastation he inflicts upon the opponents.
On "Favorite Bitch", Eminem collaborates with Ty Dolla $ign. The "bitch" here stands for hip hop and together with Ty Dolla $ign Eminem reflects on their past, their failures, their success and how the music industry does not treat them right.
One of the hidden gems on the track is the line "Always hated my smile" at the beginning of the second verse that fits into the lore that Eminem never smiles. The following lines elaborate on that, adding that his mother told him that he provoked his school bullies to beat him up because of his smile, because he was "ugly".
Ain't nothin' you say could ever trump (Nah), mic, pencil get killed (Yeah)
If you're hypersensitive, I wasn't referencin' the vice president, chill (Chill)
At times Eminem's imagination played him and brought the Secret Service to investigate him. Once those were the lines on "We As Americans" ("Fuck money! I don't rap for dead presidents / I'd rather see the president dead / It's never been said, but I set precedents") were the word "dead" was censored on his album "Encore". The other time that was "Framed" from his incredible 2017 album "Revival" (fuck you to everyone who thinks it's bad), where Slim Shady locked Ivanka Trump in the trunk ("But dog, how the fuck is Ivanka Trump in the trunk of my car?"). This line led to the visit of Secret Service agents who had some questions to ask. They did not start formal investigations but inspired the lines on "Ringer" from 2018 album "Kamikaze", where Em explained to all obtuse agents that he did not mean any physical harm to the president and if he was linked to terrorist then "only when it comes to ink and lyricists". This time on "Gnat" Em uses a wordplay that sounds like "Mike Pence'll get killed" and immediately claims that it is a coincidence and he does not reference the former vice president on his verse.
Another M2BMB track that breaks all taboos is "These Demons" recorded with a Dallas artist MAJ.
Yeah, you know what? (Loud Pack)
Haters are funny, man (Haha)
It's like, you're gonna hate it no matter what it is
Yet you still click on it (Zombie on the track), huh, yeah
"These Demons" kicks off with another jab at haters who are never satisfied no matter what Em says, so there is no point in trying to restrain yourself. The track is packed with references to celebrities, pop culture, and current events. Marshall mixes the COVID-19 pandemic, the civil unrest in the US and protests that started after George Floyd's death to express his frustration at the disappointment at what 2020 became to the world.
From calling out his haters for their hypocrisy and some of his fans for their inconsistency, Em dives headfirst into the kaleidoscope of bizarre topics provided by his imagination.
Em raps about O. J. Simpson who allegedly stubbed his wife and her friend to death. He pays homage to his icon LL Cool J, he ironically compares the fight against racism with the pandemic struggles of missing a haircut.
Black people dyin', they want equal rights
White people wanna get haircuts (Haha)
He throws in a riddle of law enforcement that is not law-abiding. He disses Mariah Carey again. Calls out dirty media and radio stations that exploit his name to get more visitors and views.
There are no taboos, he raps what he wants and…
You don't like me? You can bite my little white wee-wee
And I repeat, you can bite my little white wee-wee long as I L-I-V-E
…
So you can eat shit, but I might be the shit
So when I say "Eat shit," I mean me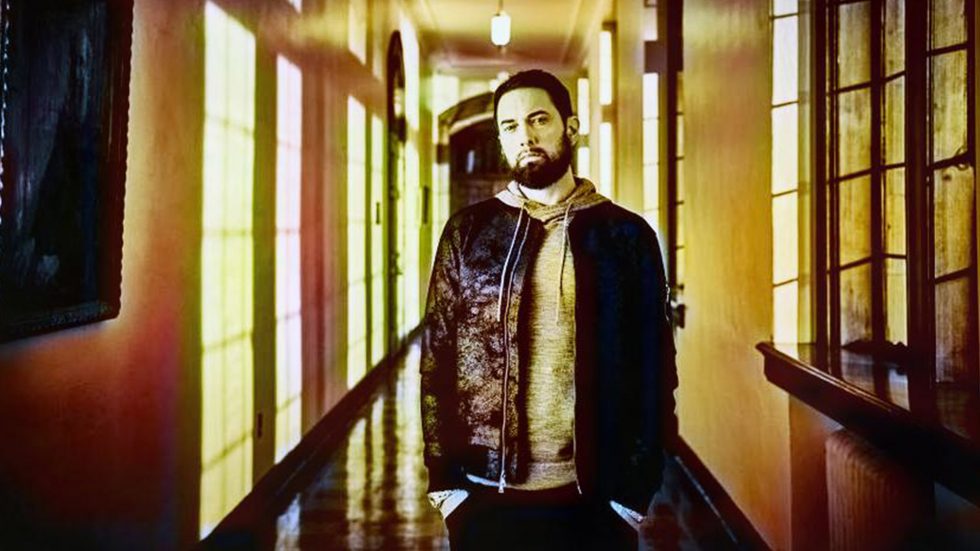 They woke a giant up
Almost at the very end of the record, Marshall takes the listener to a real Klondike, which hides some of the most ruthless lines, namedrops and a selection of important topics. Habitually, he uses his new tracks to reflect on the events and conflicts in the world around.
"Zeus", one of the deepest and most fiery tracks on "Side B", has become a real audience favourite. Here Eminem shares his grief for Black Americans who have been victims of police brutality, admits a past mistake in the situation with Rihanna and Chris Brown, and even responds to a diss.
Beginning "Zeus" with a jab at Machine Gun Kelly, Em says that he "loves conflict" on a subconscious level, as if hinting at his inner monster — his alter ego, Slim Shady. As if reminding that he decided to keep him locked down and only occasionally open his cell door hatch. There is a reason why Eminem mentions conflicts, "Zeus" is filled with them to the brim, and these are not only personal Em's conflicts but also the conflicts of our society.
Marshall has always been particularly sensitive to social injustice in the United States. As police violence and institutional racism have become an even more pressing issue over the past decade, Eminem continues to raise these issues in his songs. On Zeus, Marshall named several victims of police violence:
And all that we want is racial equality
R.I.P. Laquan McDonald, Trayvon, and Breonna
Atatiana, Rayshard, and Dominique
Eric Garner and Rodney King
No, we can't get along 'til these white motherfuckin' cops
Who keep murderin' Blacks are off the streets (Off the streets)
This litany follows the lane Marshall opened on his recent collaboration with Kid Cudi "The Adventures of Moon Man and Slim Shady" where he shared anger about the deaths of George Floyd and Ahmaud Arbery.
One of the most unexpected references on "Zeus" was Eminem's apology to Rihanna. The unreleased song "Things Get Worse", which was leaked earlier this year, is the reason for his remorse. In this song, written from Em's alter ego, Slim Shady, who does not adhere to any social norms, he commented on the case of Chris Brown being physically abusive towards Rihanna and sided with the perpetrator.
This song was not intended for public consumption, and yet it became available, causing distress to many who did not want to see Marshall encourage violence against women.
Rihanna did not make any comments; however, we know that Marshall felt uncomfortable about the incident and did what he considered important — publicly apologised for this song. The amount of self-consciousness revealed in these lines is admirable, and hopefully, Rihanna will appreciate it.
But, me, long as I breathe, promise to be honest
And wholeheartedly, apologies, Rihanna
For that song that leaked, I'm sorry, Ri
It wasn't meant to cause you grief
Regardless, it was wrong of me
Another memorable moment and at the same time a reflection on the past was Em's response to Snoop Dogg. On "Zeus" Eminem penned perhaps the most respectful and diplomatic diss in history. This diss was prompted by Snoop's recent remarks, who did not recognise Marshall's skills and attributed his success to Dr. Dre. Em was silent for a long time about this, but "Zeus" revealed that he felt betrayed, mainly because he considered Snoop Dogg one of his friends, one of his camp.
And, as far as squashin' beef, I'm used to people knockin' me
But, just not in my camp
And diplomatic as I'm tryna be
Last thing I need is Snoop doggin' me
Man, Dogg, you was like a (Yeah) damn god to me
Nah, not really (Haha)
I had "dog" backwards
On Shade45's New Year's Eve special, Marshall explained what in Snoop Dogg's words felt off:
"A couple of months ago he was doing an interview with the Breakfast Club. Somehow my name got brought up and he was saying things about, you know, I'm not in his top 10… And everything he said, by the way, was fine up to the point… I'm not in his top 10 because there are some rappers from the 90s that I can't fuck with. And him saying Dre made the best version of me – absolutely. Why would I have a problem with that? Would I be here without Dre? Fuck no, I wouldn't. The rappers he mentioned from the 90s – Krs-One, Big Daddy Kane, G Rap – I've never said I could fuck with them.
Everything was good until… You know, I think it was more about the tone he was using. That caught me off guard because I was like, "Yo, where is this coming from? I just saw you! What the fuck?!" It threw me for a loop. Again, I could probably get past the whole tone and everything but it was the last statement that he said: "Far as his music – I can live without it". I can live without that shit. Now you're being disrespectful. It just caught me off guard. I was not ready for that.
People started hitting me up about it. Asking, "What you gonna do?" And I didn't know what to do about it first. It confused me because I'm like, "Bro, we are on the same team. What the fuck!" And I've never in my career, my entire career, ever said a disrespectful word about Snoop Dogg. I mean, what the fuck. His impact on hip-hop, I can't front on that. Everyone is entitled to their opinion. My top 10, top 5 can't be the same as his. How can I be mad at that? I was not mad about the opinion, it was after that. The very last statement was like "Oh, what the fuck. Damn, dawg, really?!" I said what I said, I addressed that. I said what needed to be said".
Regardless of how strong Eminem felt, he responded to Snoop diplomatically and respectfully.
Interestingly, the track's title and the hook liken Eminem to the Greek god Zeus, who lives on sky-high Mount Olympus. When his authority is questioned, Em returns to Earth to slap his haters and opponents down. This set-up references one of Eminem's most successful tracks – "Rap God".
I be on my own (Yeah), head up in the clouds like Zeus
When they say, "You ain't the GOAT", I come down like, "Who?"
But I got my head in the clouds like Zeus
Swear I can see the game from a bird's-eye view, ayy
Bitch, you talkin' to a rap god, ayy
Girl, you talkin' to a monsta, ayy
You could give your whole damn life to the music thing
They gon' turn around like they don't love you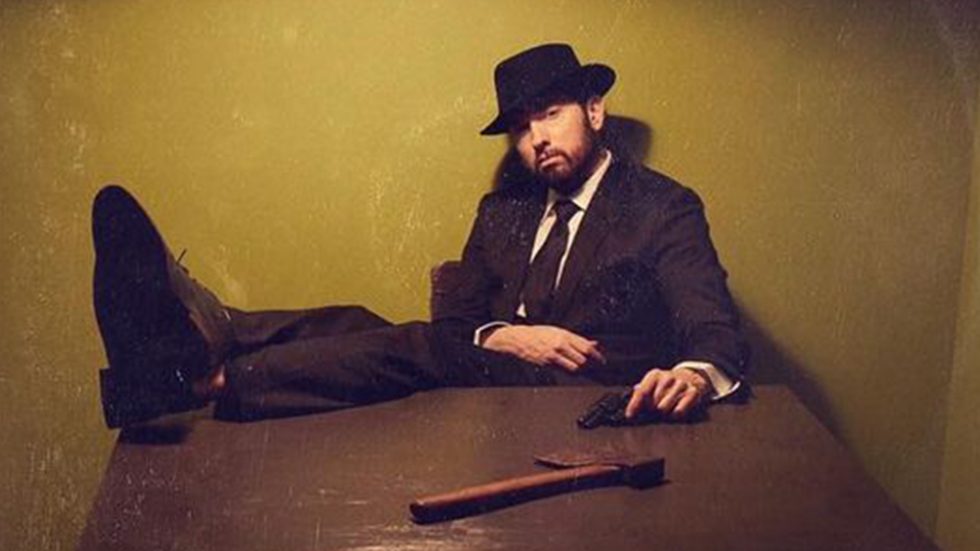 Eminem cancels cancel culture
Another interesting topic that Em touches on in the second part of MTBMB is "cancel culture".
This theme is introduced at the very beginning of the album — on "Tone Deaf", when Eminem mocks his critics, who call him washed and irrelevant. There, Marshall mentions internet culture and people who feel they have power over artists and can dictate them what to do.
I won't stop even when my hair turns grey (I'm tone-deaf)
'Cause they won't stop until they cancel me (Yeah, yeah)
Comin to the end of the album, Em again touches on this topic on "Zeus" in the line "Who dyin 'to cancel my ass like Aunt Jemima syrup". This is a reference to the rebranding of Aunt Jemima pancake and syrup products caused by the BLM movement. The once-popular and beloved by millions of consumers product is undergoing the change because of the portrait of a Black woman on the label. Eminem compares himself to the beloved yet the controversial character of Aunt Jemima. Just as she has been associated with pancakes and syrup for 130 years, Em symbolises hip hop now; he is one of the most recognised rap artists, the one who cares for the rap culture immensely.
On each of his albums, on many of his tracks, Eminem frequently references hip hop veterans, their albums and tracks, introducing modern listeners to their legacy and the hip hop history. A prime example of this concern for the genre is the t-shirts that he wears on stage in front of the army of thousands of fans, t-shirts with the album cover prints of his rap idols.
And despite his widely recognised achievements, his guardianship of the rap game, armchair critics attack him and try to "cancel" his legacy.
In his recent Shade45 interview, Marshal elaborated on the topic:
For me, it's literally like every other day I'm cancelled for whatever the fuck it was. It's funny because I see the same people or sites that bitched about things back then that I said and then going back now and saying "Why can't he be that again?" What the fuck?! When I was that, you had a problem with that too. I understand some of this shit, but for the most part, for people who just sit online and feel like they need to bitch about whatever it is to feel like they're a part of something… With cancel culture, it's like no one ever really gets cancelled though. When people start saying "Cancel!" – okay, well, this rapper's still here, this rapper's still here or this person in general, you don't have to be a rapper. I don't know man. I feel like people need to fucking grow a pair.
On the "Zeus" third verse, Eminem metaphorically looks at the rap game from the top of Olympus that he stormed back in 1999. He has over 100 million of his records sold and somehow understands how it works. Marshall reflects on the music industry's dynamic world, on countless breakthrough debuts he has seen quickly fading into oblivion. He knows that sooner or later, the same people who are now trying to erase his legacy from the hip hop history will turn on anyone as soon as sales go a little down (Marshall mentions Drake here to make a point). And the higher you fly, the harder you fall.
I've seen them come and go
I've seen the hugest (Hugest) debuts ('Buts)
I've had a great view to see the (See the) game through (Through)
And, Drake, they're gonna turn on you (You) one day too (Too)
And the more you win, the sooner (Sooner) they do
They'll be calling you a trash bin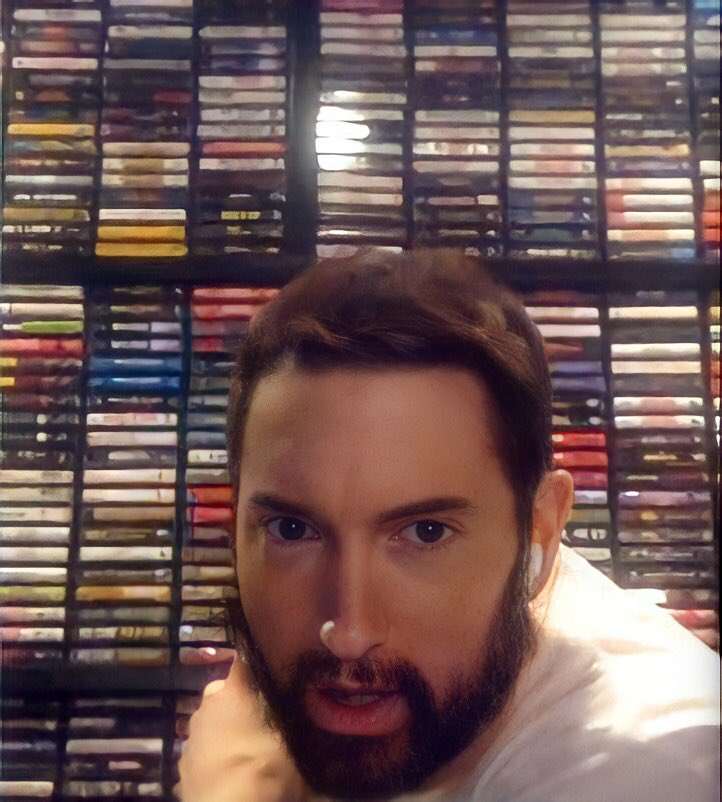 Like tryin to fight off a GNAT
Meanwhile, all shots at Eminem, all harsh criticism, all jabs feel hypocritical — there is a reason people try to create animosity with Em. All his opponents simply dream that he would answer them on wax or release a whole diss track because it will draw attention to them, usually more than they can ever attract on their own. You don't have to look far, remember Lil Pump's latest clout chasing attempt by insulting Eminem. But Mr. Little Pimp only succeeded in becoming a laughing stock for Eminem's fans, friends and colleagues.
There are the lines on "Higher":
You see my finger (What?), you see my thumb (What?)
You see my fist, fuck a peace pipe, I'm (What?)
Here for the smoke but it's not the weed I want (What?)
With this beat I brung for the beef I've come (Woo)
But you better bring it if you wanna reply from
'Cause for you to be lyrically inclined, it'd be a steep climb up
That'll be an uphill battle
But I'm up like your feet in a recliner
And I think I'm about to go out on a limb like a tree climber
Time to push my ceiling higher…
Em doesn't mind sparring lyrically with someone who can write a worthy diss on him, but he's not going to waste time on the smoke blowers who want their 15 minutes of fame. Therefore, if Em does not answer you, then you are simply not worthy of his answer. But if he, nevertheless, answers, he will do it with ease.
There is nothing left to prove
You know, I've been around for a while now
Not sure if I have much left to prove
Yeah I do, haha
"Higher" is a bottom line to all the displays of power and rap skill flexing Eminem perform in front of his opponents and haters. Now Em looks at his career from the outside. At the very beginning, he says that he has been in the rap game for a very long time, and laughs at the fact that he still needs to prove something.
He has been on top for over two decades; he makes waves every time he drops a record or makes a public appearance. Still, Em is expected to prove something. And yet if it's his new album — then the sales are remarkable; if this is a "scandal" — then it is always the loudest; if this is a show — then it is sold out and packed with thousands of adoring fans from all over the world. What can I say, even the word "Stan" is officially included in the dictionary to describe a devoted fan.
I look at me now, I'm thinkin, "Damn"
How proud of me I am
What I did is nothin 'to sneeze at
Even if your allergies are bad
I'm up in a balcony in France
I look around, I see the fans
How they surround me in the stands
Probably could drown in a sea of hands
They're hollerin ', "Shady" ("Shady")
Yelling it out to me and that's what I mean when I say
That one day someway, somehow, if I get the chance to get a crowd
I'd flip it around and have a crowd give me the chants
(I've done it all, man)
But in actuality, I haven't, yet
On "Higher", Em declares "Damn 'How proud of me I am'." And then again, he talks about inflated expectations, when everyone, including fans, demands something from Eminem, something they want. But he has already done it.
"Higher" is like an ode to Eminem's fame, or rather, a story about how life is after fame comes. However, soon on "Zeus" Em raps how the pride he takes in success turns into the uncertainty about the future. On "Higher", Marshall uses the metaphor of "an overcrowded hospital waiting room" to describe the inflated expectations of his new releases from fans and critics, and at the same time compares his dedication and loyalty to the rap game to this "waiting room".
Reminds me of how an overcrowded hospital waiting room'll get
What I mean is maybe I have more patience (patients) than I'm able to admit
Of many songs where he touched the topic of high expectations, the most striking example is my favourite "Walk On Water" from the album "Revival". But on "Higher" Em emphasises that he is grateful for his fame, for being able to get out of poverty. Yet despite the wealth and fame, he is still the same person who rose from nothing.
Marshall is immensely grateful to music and rap, and on "Higher" he raps that it was music that saved his life and that he doesn't know how to do anything but wielding a pen, a notebook and a mic. His love of music taught him how to defeat any enemy with ink and rhyme.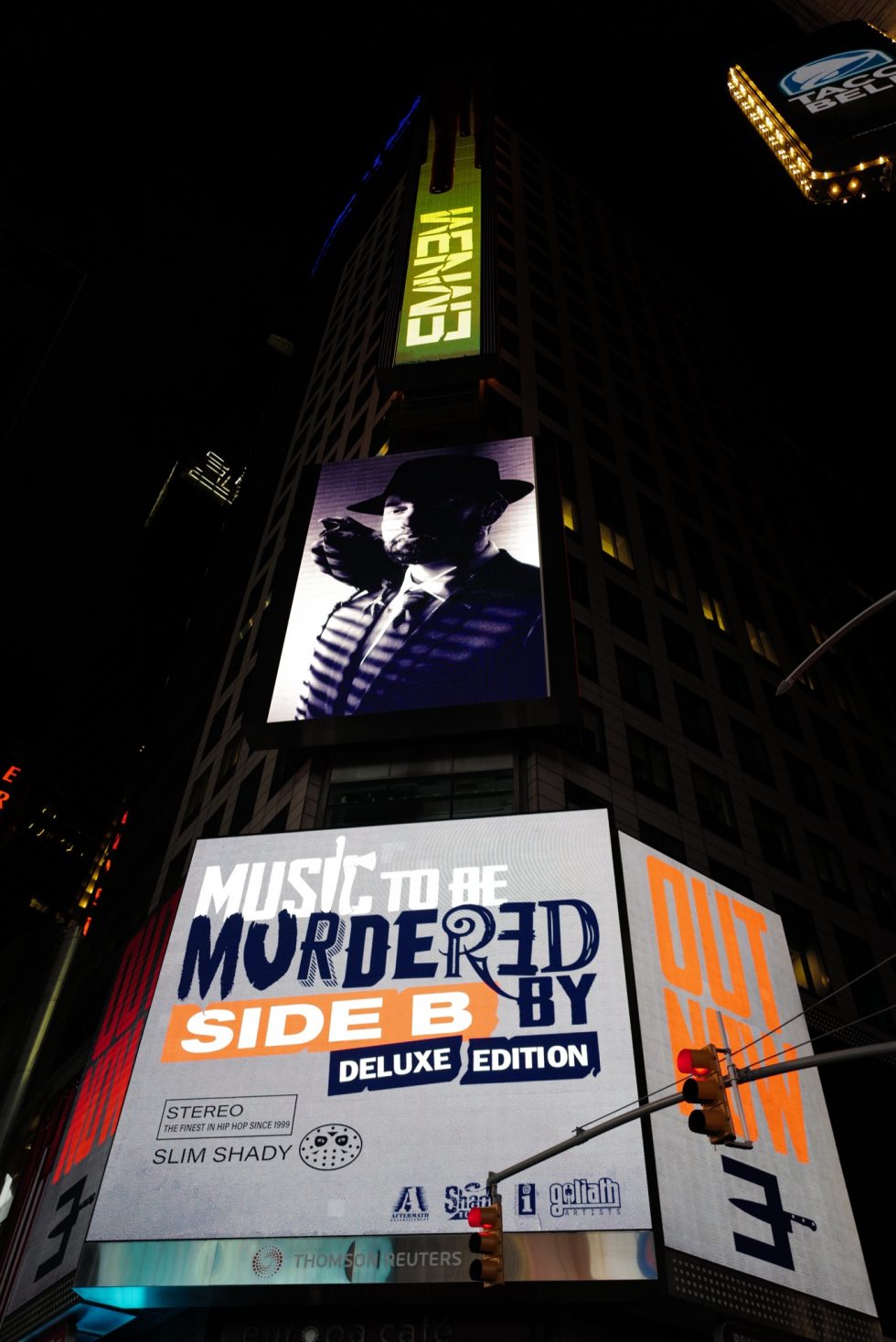 The Dark Horse
Eminem is the real black horse of rap (he says just that on the second verse of "Gnat"), perhaps one of the most recognised and successful rap artists of our time. Coming back with the new CD "Side B", recorded in a playful and roguish style, with black humour undertones and in sometimes old school sound, Marshall once again emphasised the intention he had made clear on the first part of MTBMB -—he is not going to back down.
On Side B, he clearly shows that there are no topics, personalities or events that are off-limit for him. He can rhyme about everything.
Wait a minute, bitch, let me lie here (Uh)
20/20 hindsight in my side mirror
Every year, you drop the ball like Times Square
When Em raps about the disaster that 2020 was, he looks back at the rappers trying to take his throne and see that they are on a par with that year's misery and failures. The least success enjoyed by Eminem's album is still unattainable for the majority of artists. And all the spiteful noise about Eminem's "irrelevance" or that "no one listens to him anymore" simply turns into nothing when it comes to Marshall's new releases.
After the arrival of MTBMB Deluxe edition, the record soared 196 positions on the Billboard 200, breaking the record set by Bob Dylan in 1970. Bob Dylan's "Self Portrait" debuted at No. 200 in July 1970 and leapt up to No.7 on its second week. For 50 years that was the biggest distance that an album was able to travel up in one week. Now it is exceeded by Eminem's new album.
While ill-wishers are trying to erase Eminem's achievements and legacy, disregard his classics and rewrite the hip hop history, he once again returns and reminds everyone…
Conscious madness goes on…
Bitch, I'm number five (What?) Minus four (Haha)
Yeah, I'm a (What?), I'm a (What?), I'm a (Killer)
Yeah