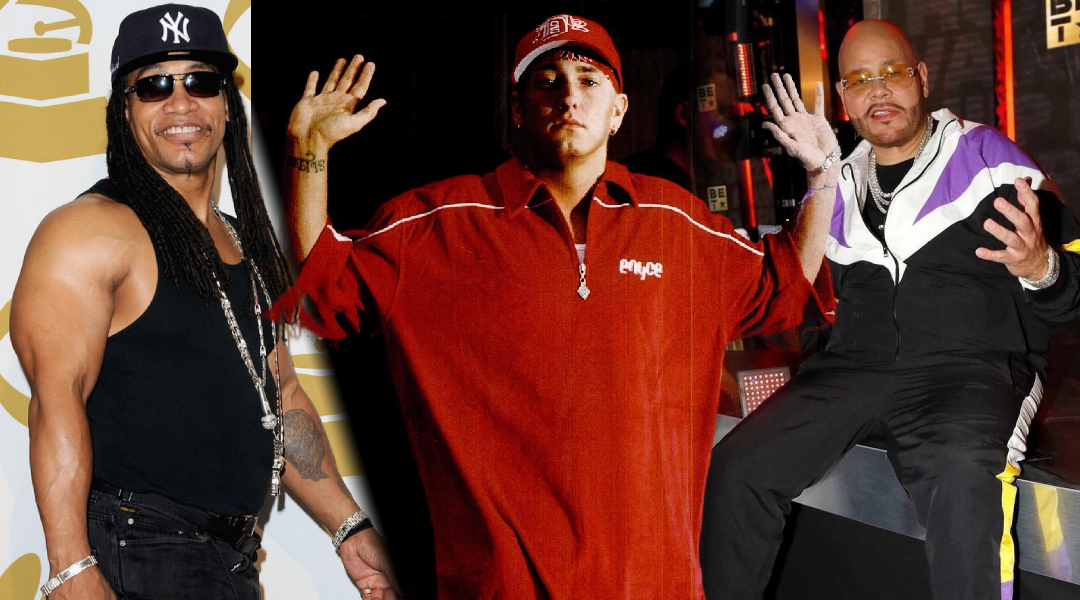 Recent Melle Mel's remarks disregarding Eminem's contribution to the hip hop culture made Fat Joe disagree with his hero for the first time in his life.
Famously, the Grandmaster's Five went into another attack on Eminem's reputation, vehemently protesting against including Em in Billboard's Top 5 rappers of all time. Mel, who is generally unhappy with Marshall's success before, said:
Eminem has his style, he got a nice little tricky gimmicky style, the way he puts his words together. I'm not gonna say it's unique because other people can do it. But to say he would even sell as many records if he was just another brother, it's not true. It's just not.
Fat Joe was struggling to process Melle Mel's words and when rapper, comedian and radio host B-Daht hopped on Joe's Instagram show, Joe asked the younger artist his opinion. B-Daht, who was going to make a post about this situation, was only happy to use Joe's platform and share his thoughts. Which were not complimentary for Melle Mel:
B-Daht: I feel like a lot of these legacy rappers keep embarrassing themselves. I say it because maybe you can't, Joe. We love Melle Mel, we love Grandmaster Flash and The Furious Five, we love "The Message", we love "White Lines". However, I feel like a lot of veterans, specifically Melle Mel, are coming off bitter. Like old guys waving their fists at the sky, yelling at the cloud. How dare you? Eminem is amazing. Because he's Eminem. There were a lot of white rappers that existed prior to Eminem. They have never achieved the success that he has. He made it cool for a white boy to rap.
Fat Joe wanted to remind B-Daht about Everlast, but the radio host himself was well-versed in the hip hop history and answered with such names as MC Serch of 3rd Bass and Milkbone. Still, there is no denying that nobody has come anywhere near Em's level of success. Fat Joe finds it difficult to disagree with the artists he has been idolising since his early years, but he feels like he has to take a stand now.
Fat Joe: I worship Melle Mel my whole life and I tried my best to not even talk about it this way because I've never in my life disagreed with Melle Mel, but this time I'mma have to disagree with him.

B-Daht: You have to. Listen, if you don't like Eminem's recent music – fine. You are more than entitled to say how you feel. But you can't front Eminem, he's nice. He's changed the game.

Fat Joe: Right now, I'm guilty of it. Melle Mel says something that I disagree with. But I'm still hesitant because of the respect for the culture I have that I salute him so much that to disagree with him publically it's… We have this shit in the black, brown community, hip hop — even if we disagree we just shut up. With that being said, if Eminem wasn't beyond phenomenal, hip hop would have never gave it up the way we gave it up to him. I understand that when I was growing up Melle Mel was the greatest rapper on Earth. I understand that coming from the Bronx. He has changed the game in rap. But when Eminem first came out — I always tell the story of how me and [Big] Pun were waiting in line on Sunset Boulevard in LA to buy his CD. Eminem was THAT phenomenal.

B-Daht: It's okay to disagree! You cannot mitigate what Eminem has done. He's literally changed the vernacular. We call overzealous fans "stans" because of Eminem. He signed 50 Cent, one of the biggest rookies of the game. Come on, you can't front on Eminem. If you front on Eminem then You're just a hater. You can not to have it in your Top 5, you can say "Eminem is not for me". But to front on him? Bro, just stop it.
There is a lot of truth in his words. And for many and many of his generation, Eminem is not just a legacy rapper proclaiming his opinions in interviews. Marshall is both a legend and an active artist, who makes music now, breaks records now, and is on the charts now, still commanding attention from the industry and the audience alike.