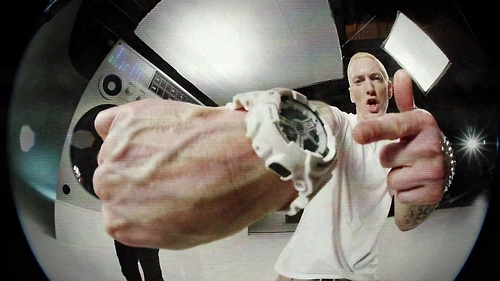 DETROIT, MI – Eminem generated old school hip hop buzz this week with the debut of his '90s-style video for "Berzerk," and apparently is eager to deliver plenty more when his new album entitled "The Marshall Mathers LP 2" drops on Nov. 5.
MLive Detroit caught up with James Larese, the director of "Berzerk," to get some insight about Slim Shady, the video shot in New York City and Detroit, and how all the cameos – including Rick Rubin, Kid Rock, Royce da 5'9″ and Kendrick Lamar – were coordinated.
Larese's take on the direction Eminem plans to take on his new album: "He is hungry and wants to bring back that feeling of why we fell in love with this (the hip hop) genre to begin with."
Larese, reached via e-mail, works for a Los Angeles-based company called Syndrome that has helped create several Eminem videos including "3 a.m.," "Crack a Bottle" and "Bad Meets Evil." The California-based company also did the "Let's Roll" video with Yelawolf and Kid Rock and two videos for Slaughterhouse: "My Life" and "Throw it Away."
The Berzerk video, followed by my Q and A with Larese:
Who came up with the idea for the video and how was the plan for it executed?
Em always has a seed of an idea when he is ready to do a video. We will get on the phone and he will usually say, "So I want to perform in front of a giant boom box…" OR "This really needs to feel early 90's…" He is very visual with his lyrics so once we have a common direction I then put my spin on it and flush it out to a full treatment and then we tweak from there.
What was Eminem like to work with?
Amazing. He is razor sharp and a perfectionist. Brings the best out of you and demands your "A" game which I love. If he doesn't have a photographic memory, it's definitely the closest thing to it. He is extremely involved with his performance takes and watches every one after he performs. He then gives specific notes and if you pay attention, you basically have a rough cut by the time you wrap.
What do you think the video says about the direction Eminem wants to take with his new album?
It is right there in the lyrics, "Let's take it back to straight Hip-Hop and start it from scratch…" He is hungry and wants to bring back that feeling of why we fell in love with this genre to begin with.
Where was the video shot? Anywhere in Detroit?
"He is hungry and wants to bring back that feeling of why we fell in love with (the hip hop) genre to begin with."
We shot over the course of two days- Day 01 in NYC and Day 02 in Detroit.
How were you able to get all the video cameos together (Kid Rock, Rick Rubin, Kendrick Lamar, etc.)?
Rick was already on board to appear before we even started talking. The rest really just fell into place organically. Who wouldn't want to show up if Em reached out?
What was it like to work with Kid Rock and Eminem together for their specific scenes?
I had worked with both artists previously so it was very comfortable and fun. There was a lot of jokes and laughter. I did have to pinch myself a couple of times for the fact that we were shooting these two Detroit legends together in the D. It was one of those moments you really appreciate what you do.
Any feedback from Billy Squier about sampling footage from "The Stroke" for the video?
I'm sure he is happy as this sample is very prevalent in Berzerk and he does get his own little feature as well.
What was it like working with a music producing legend like Rick Rubin?
Unbelievable. He has a total zen master, Yoda type presence. He's such a kind, funny and creative individual who was down for anything. Pretty much the coolest human in the universe.
How long did it take to get the video's concept together, the video shot and the video edited for its release?
From start to finish it was about a month.
What did you learn about Eminem that you didn't know before working with him for the video?
I didn't know he was such a huge football fan.
source By Eric Lacy