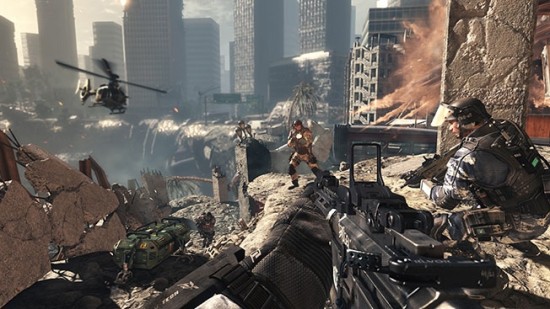 November is an important month for Activision— on the fifth, Call of Duty: Ghosts lands with video gamers. But it's also the day Eminem's MMLP2 (short for The Marshall Mathers LP 2) comes out, and now that release is tied to the Call of Duty franchise. Both releases are big swings for their respective publishers—Activision and Interscope—and since both appeal to a young male demographic, the companies decided to sync up parts of their campaigns to make Eminem's presence in Activision's marketing more than a traditional celebrity endorsement.
Call of Duty has a long history of using big names to help boost the franchise in the run-up to the latest iteration's street date; last year saw no less a movie star than Robert Downey, Jr.promoting Black Ops 2 SaveFrom.net. But this year's campaign is a bit different, in that it makes strategic sense for two totally different media properties launching on the same day. As Activision CMO Tim Ellis puts it, «You don't want to feel the money changing hands.»
«There's no doubt that Eminem and his team are benefiting Call of Duty, and there's no doubt that Call of Duty is benefiting Eminem,» Ellis said. Gamers, he observed, are not a terribly forgiving bunch when it comes to marketing campaigns. «They would have shredded this partnership if it didn't feel organic and true,» he said, but Eminem worked with the company in 2009 for Modern Warfare 2, and again the next year for Black Ops, so it's unsurprising that the rapper's song Survival was featured in an ad for the game last month. It's clearly a partnership that has worked in the past for the franchise, and now it's one that will make the hip-hop star a primary voice for the new game. There's plenty of crossover between Eminem fans and COD fans, and enough folks familiar with the one but not the other to make the partnership worthwhile.
The integration is beginning in earnest today. Activision is announcing that, if you pre-order Call of Duty: Ghosts through gaming retail juggernaut Gamestop, you'll get a download code for a discounted copy of MMLP2 with a bonus track on it. During the game itself, Ellis said, you'll hear music from the new album. (Activision wouldn't tell Adweek how the music would be used, just that it would be in there.) And there's more on the music side, too. «We are shooting a special video for the song we're working on with Call of Duty—Survival—and it's going to be unique content put together with Activision and their team,» Interscope's Steve Berman said. Berman wouldn't say whether the COD-branded video would get airtime on the major music video channels—Activision has long-standing relationships at Viacom—but Ellis said that it would definitely be the only official music video for the track.
«We were always targeting for the album to be in the November timeframe, and when we were fortunate enough to get into a relationship with Activision around Call of Duty, the timing really synced up,» Berman said. «Call of Duty is such a loud franchise in the marketplace.» It's an important year for COD, too—the new game will be the first in the series on the new generation of gaming hardware (the PS4 and the XBox One).
Eminem's campaign for the new record has already grabbed attention, and not just with for its presence in Call of Duty. Interscope put 30 seconds' worth of the first single, Berzerk, in a spot during the VMAs. Beats Electronics, a company run by Dr. Dre and Interscope-Geffen-A&M Records chairman Jimmy Iovine, has incorporated plenty of its (and other Universal Music) artists into its ads, notably Nicki Minaj and Robin Thicke, and animated versions of its latest product are voiced by hip-hop artists including Eminem himself. There's an upcoming integration with ESPN, too.
For Activision, Eminem's (and Universal/Interscope's) presence in the music world is an invaluable tool for reaching both consumers and media that don't necessarily cover video games. «He's definitely helped us cross over into verticals in the music industry we'd never have reached without him,» said Ellis. «Without Marshall [Mathers, aka Eminem], we would never have gotten into Spin, Pitchfork, The Source.»
(Of course, forced synergies sometimes backfire. Eminem's peculiar appearance during ESPN's coverage of the Notre Dame-Michigan game Saturday may have left football fans wondering who was that slack-jawed yokel SaveFrom.net being interviewed by Brent Musburger and Kirk Herbstreit.)
Eminem, Ellis said, offered «shared interest, not borrowed interest» with a large fanbase. «We often have partners in most of our launches, and we're very careful in how we choose most of those partners,» he said. «First day and first week is incredibly important to us in terms of our product launch.» And Activision has usually been very successful by any measure with those first few days—last year, COD made $1 billion in 15 days.