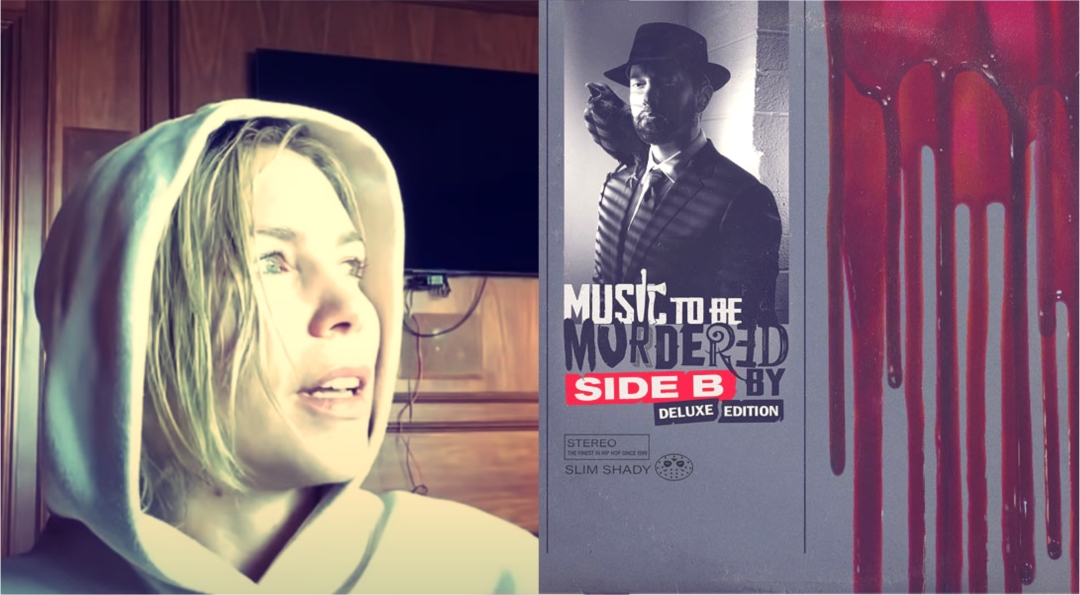 On Christmas Eve, 16 different fandoms came together to help get Eminem's "Music to Be Murdered By: Side B" to the Billboard's 200 No.1. Skylar Grey came to our channel to support the action and the fans.
She agreed to answer some questions about "Black Magic", her ninth collaboration with Eminem and the second most popular song on his new release.
Many Eminem fans love Skylar's music on its own merits, not just as a beautiful contrast to Marshall's rapping. The first question that Skylar noticed was about her new album, anticipated by many in the fandom.
I'm working on a new album. I have no idea how long it's gonna take to get done, but I'm working on it, and I'm really excited about it.
Fans posed a difficult and, frankly, unfair question to make Skylar choose between two of her recent joints with Marshall – "Leaving Heaven" and "Black Magic". Skylar, however, was able to answer that the way she always does – honestly and thoughtfully:
I personally prefer "Black Magic" just because the style of the song is more up my alley, but I love both of them.
Of course, there was a question about how "Black Magic" came to life:
Actually, that was Elliott. We were hanging out in our old house ("It was her!" – shouts Elliott off-screen.) No, it was you! He picked up the guitar, high off his ass, as usual, started strumming and playing and singing this melody, and I was like, "Oh my god, that's so good!". So I jumped in and "Black Magic" was just the lyric that came out of nowhere and then we built on that. This was in September of 2019. That was when the idea of the song came about. And then I sent it to Em, and now it's out.
Earlier, Elliott shared their first take on that song, recorded when they just started writing it. Go and check it out.
Fans wanted to know how to approach Eminem with a new song, and Skylar shared her way of doing it:
Usually, I write a hook, then I make a track for it or, in this case, I had a guy named Jayson DeZuzio help me finish it, and then I sent that to Marshall. And then he takes the stems of that and does his own thing with it.
Skylar quickly recapped the story of how she met Eminem in person – on the set of "I Need a Doctor" with Dr. Dre, after "Love The Way You Lie" she wrote had become a sensational success and moved on to the question about the possibility of releasing a music video for "Black Magic":
I honestly don't know. I would absolutely love to do a video for it, though. Maybe, if you guys bother him enough about it?
The last question was about how it feels to produce for Eminem. Skylar, who has had her writing credits on Eminem's album for 10 years now, appeared as a producer on "Music To Be Murdered By" earlier this year with "Leaving Heaven" and now, with "Black Magic" co-produced with Eminem and Jayson DeZuzio, she continues her winning streak. But it was not always like that, admits Skylar:
It's crazy because I never saw myself as a producer. I learned how to produce out of necessity. I knew in my head what I wanted a lot of times, but I wasn't able to explain it to a producer and get what I wanted out of it a lot of times. It's just hard to translate. So I started learning how to produce my own stuff. So that I could instead of having to explain my ideas could just accomplish my ideas. But at the same time, I wasn't super confident in my production. And to have Eminem cut "Leaving Heaven", the song I produced – it was a real confidence booster, and it made me feel a lot better about producing my own stuff and for other people.
Watch Skylar Grey joining ePro pre-streaming live:
Listen to "Music to Be Murdered By: Side B" below: