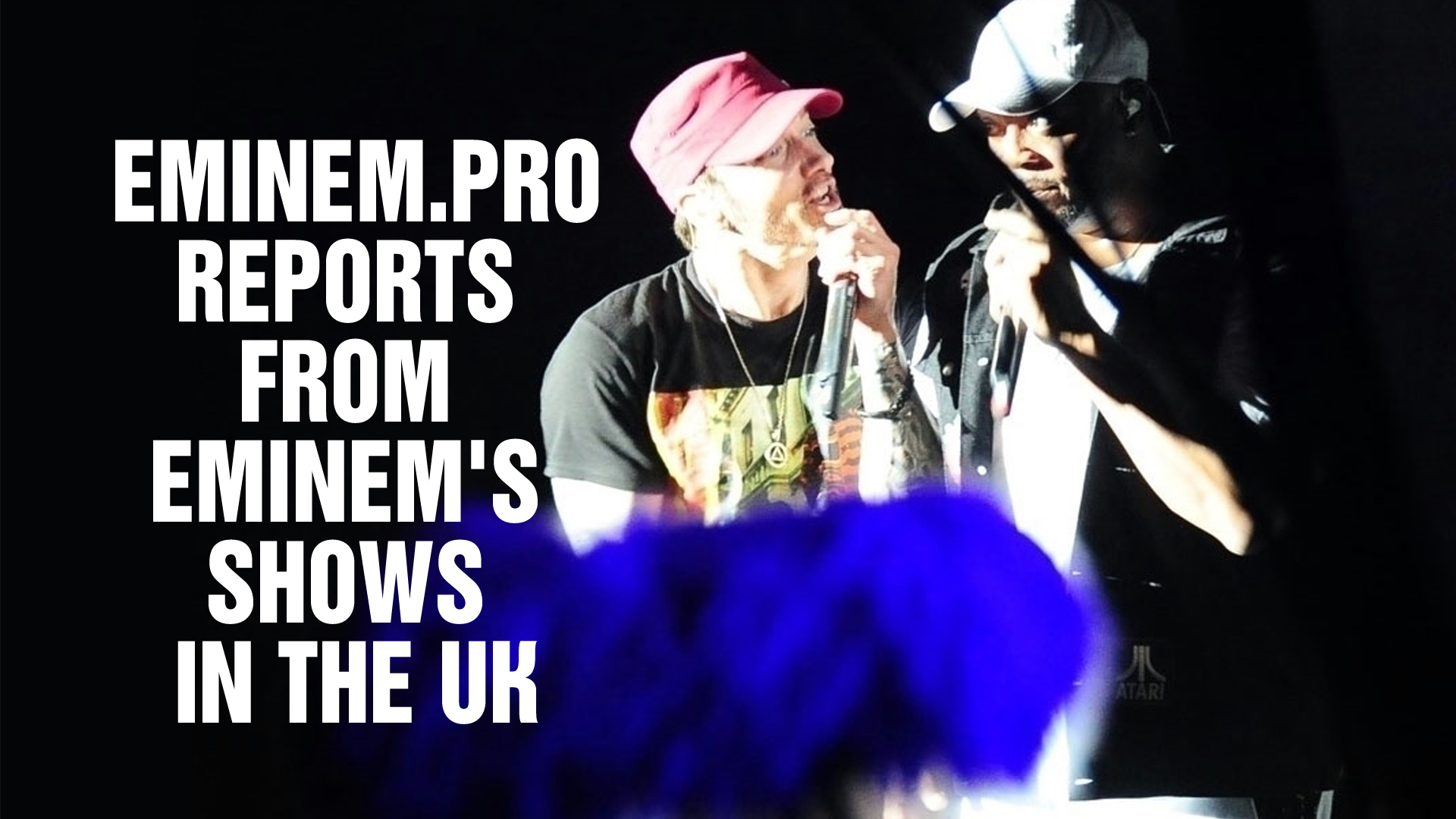 Hello, friends! In anticipation of Eminem's performances at upcoming festivals and the beginning of his Revival tour, we here in ePro have decided to recall our own experience of visiting musical festivals with Em as a headliner. We will tell you all about it: the process, the code of conduct and possible risks of visiting.
So, in the summer of 2017 Eminem performed at three venues in the UK. Our editor-in-chief visited them all and wrote a comprehensive review, so you, our dear readers, can see everything through his eyes as if you were actually there. (ePRO: full versions of the articles are available in Russian, we will translate them for you if you would like that. So contact us if you want to read the full stories).
— Autor: Igor Basenko, Editor-in-chief of "Eminem.Pro".
Read / Download (FREE!): Android / iPhone / PDF / Issuu
Support us: Facebook / Instagram / Twitter / Tumblr / YouTube
Let's start
On August 24th Eminem made an appearance at Glasgow Summer Sessions 2017. This was a special event. It was the first time fans got a show of his newly grown beard, which they have learned about at the premiere of The Defiant Ones. This was the first solo concert since Wembley and the first live performance in 2017.
Glasgow Summer Sessions 2017 festival took place in Bellahouston park. Though, it was considered to be a festival, it was more like Eminem's solo concert with some guest stars as a warm up. Just like at any other big event, if you want to be in the first row and see the headliner, you have to come early in the morning and go through a long wait in line.
I was surprised to see that there were no advertisements for Eminem's performance. It is a big event, after all. There were no road signs to the festival gates, which, by the way, were announced by the organizers. Furthermore, it was stressed that the public can reach the festival easily by following those signs.
The biggest surprise was the fact that there were several gates, each of which you can enter only if your ticket is marked with the matching letter. These letters on tickets were hard to see, easy to miss. Closer to 2 p.m. the staff began to place fences and advertisements. It was odd that these things were done only a couple hours before the show and in such a rush.
By 3 p.m. buses had brought in a large fan crowd and all started to look like it should. At around 4 p.m. the box-office opened and "lucky" fans were finally able to try to collect their tickets (notice: always get your tickets beforehand and choose the right type of shipping).
As entering time was approaching the crowd was heating up more and more. Everybody was ready for a run to the stage. This was the moment of truth: those who run fast enough could get to the front row. And it didn't matter anymore where you were standing (though those who were closer to gates had the advantage). We didn't know where to run, what the ground was like, how security checks would work, we only knew we had to get there first.
30 minutes before they opened the gates the security showed up and started to give us instructions (for example: where they will check bags, and they didn't care about people standing in line since 6 a.m.). Overall organization was not so good, which was surprising to us. It wasn't up to standards for such a big festival (especially with Em as headliner).
Most people showed up with no bags, in order not to lose time at check-up. Those who did have bags had to waste some time at the security post, and were asked to leave some restricted items at the gate.
At the entrance we were met by people so young, they could be mistaken for kids. These teenagers had no experience, didn't know what to do, were scared of the large crowd of fans, which was ready to run them over just to see their idol. Must admit, it was pretty scary.
Gates opened and we saw fans from gates B and C run to the stage right in front of us, while our gate was still closed. We were screaming at our gate's staff, but it was no use. They just didn't know how to scan tickets. Our gate was opened a few minutes later than the others, so we had lost that small advantage we had at the start. The balance was restored.
Green lights, and we ran to the stage. We all managed to make it to the front row. Our group was split into two, one was standing a bit to the right from the stage center, and the other near the left screen.
The stage was not so big, I've seen bigger, but it was really close to the audience.
Between the stage and the barriers there were only 3-4 meters, which is surprisingly close. The barrier itself was built as an arch, so the center was much further from the stage than the sides. Our position by the left camera was one of the closest to the stage, plus Eminem spent most of the time in that corner.
So we stand there, happy and excited, waiting for Em to perform. The waiting time was "just" 6-7 hours. We were about to listen to the opening acts by Danny Brown and Run The Jewels. Some minutes after 8 p.m. preparations had begun for Eminem's performance. His boom box appeared and the black curtain was up. Em enters the stage. This was the first noticeable difference from his previous acts. Before, he was using the white curtain and was already on stage when the curtain was up.
The stage was made ready very quickly, everything was on schedule. This was the moment we have waited for so long: the curtain had fallen down, lights had turned blue, the music started and Em entered the stage by the sound of his new band-intro.
We were very curious about his new image. Will he show up with a beard? And there he was, screaming " Scoootlaaand!!", and we saw the great Slim Shady unshaven. At that moment every second person had a phone in his hand.
Without prelude Eminem had started to destroy the stage with his hits Square Dance, Won't back down and 3 a.m. . He was running and jumping on stage, he looked exactly like I remembered him from the past live performances i've seen. The same hoodie and Kangol hat.
The first part of his performance hadn't changed much in years. There were no surprises here either. He went through his standard program, which has been rehearsed for many years now. The track 3 a.m., which kick-started the promo campaign to Relapse, has been performed live numerous times, but it still sounds great from the stage and mesmerizes. Then he moved on to the explosive banger Business. The huge boom box on stage constantly morphed and the show was incredible. It was followed by Kill You, and the 35,000 crowd was singing along with Eminem.
Em had taken a short break to sip some water, while Mr.Porter was distracting and entertaining the public.
Then we heard the intro to White America, the first notes and airplane sounds made us shiver.
"America, we love you"- goes Em, and the whole park continues to rap with him. Live performance of White America is a feast for the ears. This powerful track was accompanied by the traditional video of the American flag on the big screen. We were screaming "White America!, White America!".
It was the beginning of the second part of the show.
White America slowly transformed into Mosh. Eminem didn't do full songs. As usual tracks were remastered for a stage act, in order to have an opportunity to perform lots of tracks from different periods of Em's career.
Mosh was smoothly followed by one of my personal favorites Evil Deeds, which was performed almost in full, and had given the public the drive and energy to prepare for the next big moment of the show.
This speed rap was anticipated by every person in the 35, 000 crowd of fans. Rap God made Eminem the artist with the biggest amount of words in a song. The track has 1,560 words in 6 minutes and 4 seconds. At a certain moment he spits 4,28 words in a second. When you see it live, you understand why Eminem is considered one of the best rap artists to this day. He raps like a machine gun. You see him so close, and it's incredible. Must say, Rap God was made for live performances, and you can see the great role of a hypeman, who lets Em breathe between bars of his speed rapping.
By performing this track Em shows that he still hasn't lost it. He confirms his status one more time. He ends this act by recreating the Rap God cover pose.
Naturally, after this he needed a rest, so he went backstage, and his friends from D12 had taken the stage.
Moments later we started hearing a familiar beat and Eminem started to rap Soldier. I was surprised that people were rapping with him, because this track wasn't performed live since 2003. It was a fantastic gift for the fans, which made this concert even more special. The track is amazing to witness live. Thanks for that, Em.
Then goes Just Don't Give a Fuck and Criminal. He made us all sing with him again.
After Criminal Eminem and Mr.Porter went backstage to catch a breath.
Shady's musicians started to play the next intro and Em rushed to the stage with to perform The Way I Am. "Scotland, are you still with us? Prove it, help us sing this fucking chorus". How can you say no to him?
The visual effects during The Way I Am were one of the coolest. The track ended up with a long guitar part, and Em's band entered the stage like rock stars while the artist was resting.
After that Mr. Porter returned to the stage and announced a special guest. Eminem's partner from Bad Meets Evil Royce 5'9 came to support his boss and friend. I can't say it was a disappointment. I thought that we might get the chance to hear Detroit Vs Everybody performed by the whole cast, but that was not the case. Royce performed his verse from Detroit Vs Everybody, and that was it. Just one verse. I love Royce, but I was expecting something different. Though I understand that he gave Em an opportunity to rest and change his outfit.
"Detroit, Detroit, Detroit "- we heard the looped sound of Trick Trick's voice, followed by the track Fast Lane. Royce started killing his verse. Then came Em's turn and we have witnessed Evil on stage. During this act he was hanging out on our part of stage, and it was awesome.
After The Hills Eminem continued his collaborations parade and moved on to Drop The World (without Lil Wayne).
After this came Airplanes, Part II. Again, no guest performances, but Em's vocalist just nailed Haylie Williams' part.
I still had some hope for Dido's appearance when I heard the "rainy" music theme of Stan. Alas. Though this song sounds amazing anyway. If you are Eminem's fan you've got to hear it live.
During the performance Em stumbled and messed up his lyrics. He screamed "Oh", and showed the cameraman that he needs to redo that part. If you think he is old and that's why he can't remember his own lyrics- you're dead wrong. With the number of tracks he performs live, it's totally acceptable to forget something. Even for Em.
At the "I even got the tattoo with your name across the chest" line Eminem lifted his t-shirt as usual, which gave fan communities a topic of his bad shape to discuss. Add to this topic his double chin, which is obvious on Jeremy Deputat's photos, and the knee caps Eminem was wearing during concert. I won't dive into much details with this, because this is a performance review, but I think that he is in good shape for his age.
Stan followed by Sing For The Moment, and Mr. Porter asked everyone to turn their phone screens on and put them up. Right after Sing for The Moment Em started to sing Like Toy Soldiers. "This song is for everyone who had lost loved ones".
In general this part of the concert is standard: same phrases, same songs.
"Ladies sing", – went Mr.Porter and we have heard Love The Way You Lie chorus. I think, not only the girls were singing.
At this concert Em performed only a few of his newest songs, just Rap God, The Hills, Berzerk ( with a short verbal intro) and The Monster.
After demolishing us with his Berzerk verses, Em went on to the next part of the concert, which consisted of tracks Till I Collapse, Cinderella Man and The Monster. It should have exhausted us, but can anything exhaust a real fan? We always want more.
The Monster was performed in full, because it's a promo-track, like Love The Way You Lie. And it was, sadly, the last of his newest songs during this concert.
After a long non-stop performance of our favorite songs, Em took a time out, after which he and Mr.Porter had a long chat with the crowd.
Those who go to Eminem's concerts frequently, know these phrases, and they understand that they will be followed by a mind-blowing Slim Shady act. My Name Is, The Real Slim Shady, Without Me, he really fired us up. Everyone was singing. You didn't have to think. Words were coming out on their own. Graphic images on the screen hypnotized us even more. Em was jumping and running up the stage as if he had just came from the time when these tracks were written. At this moment we had finally realized that our Slim Shady is still there, only with an unusual beard now. And he is not leaving us.
After this set we heard the sound of a gun shot, and it meant the beginning of the culmination of the show.
Eminem gave a little speech and right after that we heard the beat of his main anthem – Not Afraid.
It sounded majestically mesmerizing. He was rapping while the crowd was his backing track. At the end he said: "Glasgow, did you enjoy the show? Did you enjoy it as much as we did? Glasgow, we love you. Thank you, Scotland! Peace", and he and Mr. Porter had left the stage. For some time the music from Not Afraid was still playing, the band was doing its best. Lights went out, and for a second I had a thought :" What if he won't sing it?". We were standing in the dark. People started to shout " Lose yourself!, Lose yourself!, Lose yourself!". We knew that he must sing this song, the stage was dark and we started to doubt it.. but we were still waiting, and…
The blue lights filled the stage again, the band started to play. Tension grew more and more. For those, who have seen it for the first time it must have been even more exciting, because they didn't know what would happen next.
The "Lose Yourself" beat came smashing through the speakers, everything was on fire, and we heard: "Look…if you had…one shot…one opportunity..". Ecstatic, we have burst into applause. Eminem was on stage again.
We were listening almost religiously to the live version of the legendary "Lose Yourself". Eminem's biggest hit, to know which you don't even have to be Em's fan.
It all was happening for real, though we had some trouble believing it. Suddenly, Eminem started killing the chorus, and we all were not able to resist the urge to sing along. It all lasted for more than 10 minutes, and became an unbelievable ending to an unbelievable evening.
In the end Eminem and Mr. Porter thanked us all, and said his final goodbye to the crowd. Em left the stage saying : "Glasgow, applause to you! We love you! ….", showing his signature middle finger (receiving ours in return). And then he was gone into darkness.
Music was playing for some time. Traditionally, a performance ends with fireworks, which we didn't see because of the stage, but the back rows had a better view.
In a few moments we were moving towards the exits with the others.
What should I say in conclusion? Despite some organizational problems, the concert was magnificent (with Eminem it can't be otherwise). We got what we suffered, waited and fought with other fans for. One more time we have enjoyed a live performance of one of the most popular, most introverted and mysterious artists of our time. It was a high-class show, created and beautifully delivered to the public by Em's team (not to be confused with the festival's team). When he is on stage, you forget about tiredness, bad weather, the pressures of everyday life fully submerge into Shady's crazy world. The atmosphere is amazing, and all you can do is just enjoy it. Millions of fans around the world dream about it, and I can tell them that it's possible. Just go for it!
READING FEST.
Time to continue my story about our trip to Eminem's mini tour in the UK. I have visited three concerts and once again I understood how everything depends on the crowd. Eminem was a headliner at the main stage of Reading festival on the 26th of August. To me it was the most complicated concert of all I have visited. I want to start this story with a little announcement for all the fans who plan to visit their idol's shows. Please, before you do, before you try to get to the front row, before you torture yourself and others – make sure you are ( both physically and mentally) ready for it. I say this because never have I seen terrifying things before as I have seen at the Reading festival 2017.
(ePRO: Reading and Leeds festival is held since 1955, and Reading festival is the oldest pop-music festival in the world. Its stage has been graced by such noticeable acts as The Rolling Stones, Pink Floyd, Black Sabbath, The Jam, Muse, Radiohead, AC/DC, Metallica, Eminem, Nirvana, Green Day Red Hot Chili Peppers and many others. This was Eminem's third performance at the festival. The first and second took
place in 2001 and 2013.
I have visited festivals like this before, but Reading and Leeds festival is on a whole different level both in scale and organization. That's why this time I will concentrate on the festival itself, not on Eminem's show (the performance was almost the same as in Glasgow).
Though I went to all three, when I have been planning my trip I thought I will only visit one of Eminem's concerts, and after a long consideration I chose Reading to be that one event to see. Knowing the usual situation with tickets to Eminem's concerts, I was pretty sure that they would be sold out fast, so I have bought my Weekend ticket immediately. And I was right. Organizers were soon proud to announce that all tickets were sold out. They have even put a sign at the entry to the festival territory.
But Sold Out doesn't necessary mean that there are no tickets. On my way there I have seen some people who were trying to sell them. But you must always remember how dangerous it is to buy tickets from strangers. I have noticed that some of those tickets didn't even look like the originals, so they were probably fake. You could have spent a large amount of money for nothing if you decided to buy one.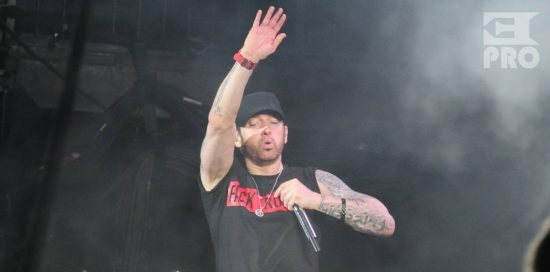 It was easy to reach the festival. It takes place in a city that goes by the same name, Reading. From London you can get there by train in two hours. You can get to the festival location from Reading railway station by walking or taking a taxi, it will cost you about 5-8 pounds.
I love musical festivals because you can easily get to the front rows to see your favorite artists. All you have to do is to get there early enough, find the right stage, pick a place near the security fence and wait. It takes long, it's boring, but it's easy. That was exactly what I did. I had the Weekend ticket and one day until the second Eminem concert, so I decided to visit the first day of the Reading festival to scout the situation. After a deserved and desired rest we went from Glasgow back to London on the 25th of August, and from there I took a train from Paddington railway station to Reading (ticket price 42£). Once I was there I went straight to box-office to collect my previously purchased ticket. Rules are strict, I had to show ID, because my ticket had my name on it. I was not allowed to collect the tickets of my colleagues who couldn't come. At 18.00 I was at the gate. First I had a security check, where all forbidden items were taken from you and utilized. But I was an experienced festival goer, so I only had a raincoat, power bank, some money and my passport. Everything else I left at the hotel. Compared to Glasgow I found my gate and got inside very quickly. Information signs and posters were all over. Plus all of the employees knew their job well, and didn't make people wait long. There were no lines at the entry. The organization was very good. At the last check zone I have changed my ticket to a bracelet. It was securely put on my wrist and it couldn't t be removed. For my type of admission I could have entered the festival zone as many times as I wanted, I just needed this bracelet.
First I walked to the camping areas. They were enormous. Thousands of music fans come here to spend three days having fun and enjoying music. There were several tent camps, each dived into zones. To walk through one zone I needed 30-40 minutes.
I am not a fan of this kind of recreation, so I've never really tried it, but it looked great: the sun was shining, camp fires with something cooking, people sitting around. I was impressed. There was a special gate from the camping area to the festival area, where there were different shops and the main entrance to the stage zone. The closer I was getting to the stage the more crowded it was becoming. The stage zone entrance looked like an anthill, but once again the line was moving very fast.
The area around the stage looked like another universe. The number of people even scared me a little bit. All kinds of food trucks, entertainment spots, souvenir shops even attractions were at out service. This area had several stages where dozens of artists and groups from the line up were performing.
Predictably, the biggest crowd was near the main stage. Visitors were having picnics on the way there, and closer to the front row people were standing tightly, waiting for the headliner of the first day, Kasabian. Everything was calm, but it was about to change to a screaming biomass as soon as the show started.
The official merchandise shop was located near the main stage. There was a better choice of merch than in Glasgow. Which didn't surprise me at all. The festival headliners had a wider range of merchandise than small acts. Eminem had a separate department for his merchandise. T-shirts with his concert dates that year (which had the same design as t-shirts with dates for the European tour in 2013), and all official products with festival logos (t-shirts, hoodies, etc.) were absolute bestsellers.
After wondering around the festival and buying some merch I went to my hotel to have some rest before Eminem' s the next day. Early next morning I entered the festival area through the camping zone. The weather was great, the festival area was still empty and smelled like freshly cut grass.
The biggest fans were standing at the stage entrance before 8 a.m., who, just like me, wanted to be in the front row. At 9 a.m. the security staff started to prepare the gates, which was done pretty fast, and by 10 a.m. it was all ready to start.
The head of security told us the details of entering the stage zone. After a short run I was standing right in front of the stage, holding places for my colleagues and friends. It was 10.30 a.m. The center of the first row was packed already ( I could never figure this out, no matter how early I come – some people are already there). People were gathering very fast, and soon we all have been standing very tight.
Fences were placed far from the stage and had V shape, so there were no central places in the front row. Front rows were also separated from all other zones by fences. As I have mentioned many times before, these festivals are great because they give you an opportunity to enjoy your favorite artist's performance (not necessarily of the headliner) being close to the stage. You just need to show up early. Someone comes to see the artists from the warm up acts. They come early like any other fans, and they leave right after their favorite artist finishes his performance, giving other fans a chance to move closer to the stage.
Performances have started at noon. The first to take the stage were Honeyblood, then Moose Blood, The Pretty Reckless, PVRIS. I wasn't familiar with these groups, so I wasn't that interested in their shows. However, it was obvious that the local public loved these bands.
Situation had changed dramatically by 15.00. When the hip-hop trio from Atlanta, Migos, were about to start their act , the tension began to grow in what was already a tight crowd. Migos fans were losing it in first row, pushing everyone who was standing around. When Migos entered the stage, the situation went way out of control, people were stumbling. Somewhere at the middle of their performance we have noticed that security started taking people out of the crowd and dragging them away. Dozens of people couldn't stand the pressure and had to leave. They were passing by us with tears on their eyes, someone couldn't walk and were helped by the security. It looked awful.
But things kept getting worse. During Korn the performance became even more dangerous, and security kept escorting people out. We thought that maybe one of the fences broke down. But it turned out that the side entrances to the front rows were opened and people have been coming, resulting in a large crush of fans. I think it was a huge mistake of the organizers. The first row must have been closed , security must have been controlling the amount of people there. It would be even better to have a separate type of admission for that zone.
The Peak of crushing and crowding was when Major Lazer was on stage. The Jamaican trio warmed up the crowd so much that the atmosphere became almost unbearable. Security were helping people out. Hundreds of people have left. We were holding on to the fences and punching them away to have a chance to breath. I only wished this performance would end soon. For a moment I had a thought to leave. I was surprised that artists were paying no attention to what was happening in the crowd, and didn't try to calm people down.
After Major Lazer things have started to settle down, but people were still constantly leaving. Those who were standing at the fence were trying not to lose their places. It was still hard to breathe.
By 22.00 the stage was ready for Eminem. We all were waiting, screaming "Shady! Shady!". Blue lights, music, the black curtain goes down and Em rushes to the stage by the sound of the band intro. The crushing stopped immediately, people have completely forgotten about it.
Without any introduction he hit us with his greatest bangers: Square Dance, Won't Back Down, 3 a.m., Business, Kill You. One track followed the other. No dialogues. Only speed verses from Shady's lips. "What's my name?" – Em asks us. We scream :"Marshaaal". "Business ", "Kill You".. we sing along at the top of our longs. He was rapping and rapping, with no signs of tiredness. It seemed that nothing would stop him and he will spit all 33 song of his set list at once.
At the end of Kill You Marshall took a small break to catch his breath, drank some water and took hits at Trump.
Soon the stage was filled with the usual White America visual effects. It is one of my favorite tracks, and it's always a pleasure to hear it live.
White America had slowly changed into Mosh, and than to Evil Deeds. And all fans knew what it meant : it was time for Rap God.
"You all here will right now witness the one and only Rap God!" screamed Mr.Porter and we have heard the beat of the track Rap God. We were warned.
But no one can prepare himself for that. When a person raps so many words per second it amazes you every time you see it. Em was pleased to throw all these rhymes at us, and moved to the fastest part of the track with an even more contented face. People were screaming. The set list was the same as in Glasgow, so next came Soldier. Though I hoped that the list would change slightly, I was delighted to hear another great performance of Soldier.
You know, I love when Em sings his older songs at concerts . The crowd knows them and everybody sings along. He was rapping Just Don't Give a Fuck, and we were screaming every word. It was Slim Shady on stage, and he was capable of anything.
Before The Way I Am Em took another time out, while his band was playing some good music.
Right after that Royce 5'9 was announced, what was no surprise. But we were still happy to see him.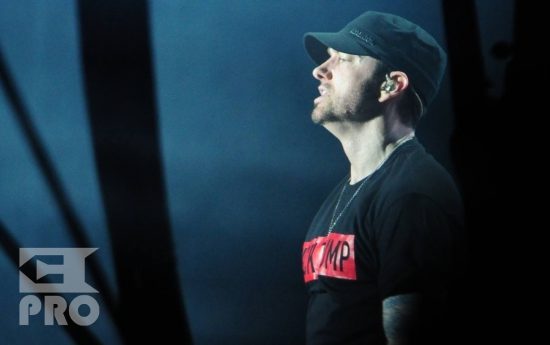 DETROIT!
Royce warmed us up with the verse from Detroit Vs Everybody, started to perform Fast Lane, and the Bad Meets Evil duo was on stage once again. Eminem had stormed to the stage as Evil and heated things up.
After Fast Lane Em had thanked Royce and then asked the crowd to help him sing The Hills. It was pure pleasure to hear this song live. But I kept asking myself why was it the only recent track in his set list? Why, Em?
This way Em started the part of his concert which consisted of his best collaborations. Drop The World, Airplanes Pt II, and, of course, Stan ( this time he didn't forget a single word).
Mr. Porter asked the crowd to light up their phones, it was time for Sing For The Moment. It was beautiful. Another track that was performed from the start to finish was Like Toy Soldiers. It was dedicated to those who have lost their loved ones.
Before his main promo hit from the Recovery album Love The Way You Lie Em and Porter had a chat with the audience a bit.
The night was cloudy, but the crowd was definitely dazzled by the performance. We have heard this song so many times, in 2010 it was everywhere, including Russia. Its popularity was outstanding. And at this concert the dream of many fans had come true, they have heard this track live. To our happiness, Eminem didn't skip a single line.
Before Berzerk Em and Porter had another dialogue.
Berzerk was not only the new song from his last album, but also one of the most visually interesting acts of this concert. Do you remember how Em introduced this single in August of 2013? I think, all fans loved this boom box. Eminem's team have created a great show for the song.
During Till I Collapse Eminem decided to honor the memory of Nate Dogg by asking the crowd to shout his name.
A bunch of tracks were performed non -stop. Till I Collapse, Cinderella Man and The Monster were sung with no interruption. These songs were extremely popular in Europe.
Closer to the concert's finale Em and Mr. Porter interacted with the crowd more and more. It was their usual conversation, same topics, same jokes. All this commonplace and repetitive jokes were delivered so artistically, everybody was enjoying them. I have even noticed that Jeremy Deputat was constantly smiling, and he has seen numerous Eminem concerts: Eminem and Mr. Porter have the ability to entertain the crowd, as real MCs.
After that came Slim Shady with his hits: My Name Is, The Real Slim Shady, Without Me – the songs loved by many, but unfortunately for many years now they are only performed as a mash of verses.
With a small passionate speech, Em announced his main anthem Not Afraid.
That was the saddest part of the concert, as it was obviously the end. But it's impossible to listen to Not Afraid live without admiration. This track is a masterpiece. And the chorus gets right through your chest, makes you wanna shout at the top of your lungs.
With the final chorus Em had said his goodbyes and left the stage. His band was still playing until the stage lights were out.
But we knew, that the best was yet to come. Many years the tradition remains the same. Fans were calling him by screaming "Lose Yourself! Lose Yourself!.
The pause was long to build anticipation. But soon the stage was lit again and we have heard that cosmic melody, in which we recognized the song. The crowd rejoiced to hear "Look.. If you had.. on shot, one opportunity.." and see Eminem back on stage.
And even though I have seen it many times before, this part of the show amazes and surprises me. It's witchcraft , a real musical sensation from one of the most ingenious artists of our time.
At the end Eminem showed his gratitude and flipped us a bird while leaving the stage.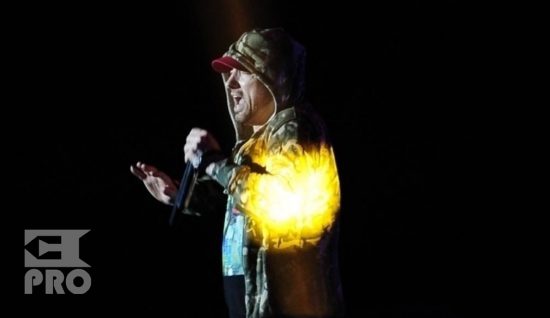 Tired but satisfied we moved on to the third and final destination point of our journey, which was Leeds Festival 2017, where Eminem was to have the last concert of his mini tour on August 27th.
Reading and Leeds Em's concerts were less the 24 hours away from each other, so I wasn't counting on getting a good spot at the front rows. I was really tired after two concerts, hours of waiting and fighting for the places in the front. But ePRO's friend Julia Podolskaya have saved the day by saving a place in the first row for me. Thanks, Julia!
After the concert in Reading we were overwhelmed with joy and excitement but we had to cover hundreds of kilometers to get from Reading to Leeds, and do it fast to get there on time.
After checking in to the hotel we took a taxi to Bramham Park, where Leeds Festival traditionally takes place. The park is located far from the city, so the taxi ride wasn't cheap. Reading and Leeds show organization are of similar quality, both festivals were organized really well. Though it was much harder to navigate in Abraham Park. We had detailed instructions from our friends and colleagues, but it still took us a while to figure out where the box office was.
Leeds Festival stage, day 2
After our struggle with collecting tickets we were finally in. We have decided not to waste time and went straight to our spots, which Julia had saved for us. I can't say that everybody liked our maneuvers, many people were not letting us through. But we finally made it.
What was next? Next was the reiteration of the previous day in Reading. We had to listen to all the warm up acts before Eminem. It was hard for me because I was just exhausted. All I was waiting for was for Eminem to wake me up.
Young Migos fans were here again, aggressively getting in the front, and just like the day before they were eager to listen only to their idols. After the Migos show they left immediately.
I must admit that the crowd in Leeds was totally different than the one in Reading. Everything was so calm and quite. Of course there were some cases of people fainting, collapsing, feeling sick, but that's normal for any big event.
Korn fans were the worst, they were acting inadequately. Korn's performance was the one to create a mess in the crowd.
Major Lazer was a pleasure to me, this time their show has become a perfect warm up before Eminem's concert.
I don't know how many of Em's concerts you have to visit to get tired of them. I have seen three in four days and still was impatiently waiting to see my favorite artist. This time we had the best places right in the middle of the front row. Same blue light, same band intro and same the same tension.
According to fans reviews Square Dance, Won't Back Down and 3a.m. Are not the best Em' tracks, but they are great for live performance. The first part of the set list had swept by in one breath.
The special trait of the whole UK tour was, well, dissing President Trump. Last year at Lollapaloosa festival in South America Eminem performed the track Fack, here it was not the case, but he used this song to make fun of president Trump. What made all this even more funny is that his t-shirt had the words "Fack Trump" printed out.
With the sound of the plane taking off Eminem started performing White America, and I think George Bush would be glad to see Eminem focusing on Trump this time.
Then everything went by the same scenario. Same songs, same guest appearance with Royce 5'9. But this time I was standing at the centre of the stage, and the whole show felt different. I got to see more of the lights and visual effects, especially this played its role during songs like The Way I Am, Drop The World and Berzerk, which have the best visual background.
I've seen Jeremy Deputat often during all three shows, and I've concentrated on the way he works. He always smiles while shooting Em and the animated crowd of his fans. This perfectly illustrates the atmosphere of Eminem's concerts, that incredible energy, which makes everyone happy and joyful.
Yeah, It's been a ride…
It was a wild ride, and I want to thank everyone who has been a part of it.
The next Eminem's tour is just behind the corner and all his fans are welcome to join ePRO on concerts in the US and Europe.